Posted on September 17, 2014
Filed Under Columns & essays, Events & news | 13 Comments | Email This Post
Friends who attended my mother's funeral on Tuesday asked if I would post a copy of the eulogy I wrote. In loving memory of Carlesta (Geisel) Gullion, the following was read at her memorial service on September 16, 2014.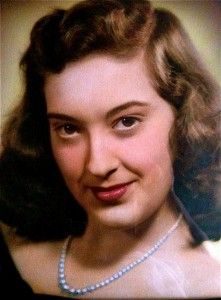 When you're deep in the trenches of caring for a parent who's battling advanced dementia, it gets harder with each passing year to remember the heart, the core, of the person he or she used to be.
The mother who drove you to the pediatrician becomes a child who requires an ongoing series of medical appointments and countless trips to the hospital. The father who once provided wisdom and advice can no longer make decisions about his own finances or even choose a brand of toothpaste. The mother who once cooked and hosted holiday dinners can barely hold a fork to her own mouth.
So, you find yourself at war with your own conscience, fighting sadness, anger, pity, denial, fatigue, and frustration. And then you feel guilty for feeling all of those feelings — because you remember that your mom or dad would never in a million years want to send you on this part of the journey.
Of course, nobody is ever truly prepared for The Phone Call — the final phone call that carries the mixed blessing. The phone call that announces Mom or Dad is finally at peace or "at home" in a better place. Like everyone else who loses a parent and goes about the somber business of making funeral arrangements, I used the time between that phone call and this funeral to reflect on earlier memories of my mother.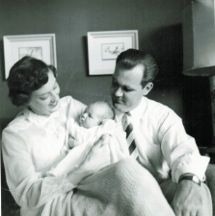 And for the first time in a while, I forgot about my mother's debilitating illness and remembered instead the beautiful heart and generous soul of Carlesta Gullion – the person my mother was before she lost herself and her memories to vascular dementia.
All at once, my feelings of sadness, guilt, and frustration gave way to a much larger emotion that has guided and comforted me throughout these past few days. That emotion is gratitude.
Looking through sepia-toned photographs of my mother as a young girl, I remembered many of the stories she shared with me about her difficult childhood.
Carlesta's father had abandoned her own mother before she was born, and later on, her mother and stepfather both struggled with alcoholism. But there were happy times too, and Mom shared those stories just as freely. She wanted me to hear about her maternal grandparents, who took care of her during the Great Depression while her mother worked. In her teens, Carlesta reconciled with her father — and even grew close to her new stepmother.
Mom also loved to tell me about her loyal collie dog, Sonny, and the carefree times they spent playing in her grandparents' Tudor house by a river in Indianapolis, her hometown. And she often shared stories of her beloved Irish grandfather — a watercolor artist and a great character whose creative talents she inherited.
Recalling the early challenges she had as a kid, I can't help but feel incredibly grateful for the happy childhood my mother gave me. She was determined to create the stable home and family she'd never quite had – and I have always been proud of her for accomplishing that.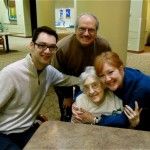 Among my earliest happy childhood memories are the times I sat next to Carlesta on the living room couch, or in bed, with a picture book propped in my lap. We'd read aloud and laugh through the sing-song stories of Dr. Seuss, who was a distant (Geisel) cousin of Mom's. Thanks to my mother, I learned to read before I entered kindergarten, and literature became a guiding light throughout my youth.
I'm grateful that she chose to marry Bill Gullion, who was the dearest and most reliable father any child could hope for. My dad was born to a sturdy pair of Scottish immigrants, and they were the anchors of my mother's new family in Detroit.
I like to think that the fine example set by my parents' marriage – which lasted 42 happy years until my father died – has been a loving influence in my marriage to Doug La Ferle, the love of my life, and my rock.
Carlesta often told me she couldn't have asked for a finer son-in-law than Doug. She was proud of Doug's talents as an architect and artist, and she regarded him as her own son.
Likewise, Doug helped me care for her as if she were his own mother. During Carlesta's long illness, there were many times in the hospital and in the nursing home when Doug gave her the comfort and reassurance she needed after I had lost patience as her caregiver. Surely there is a special place in the heart of heaven for spouses like Doug.
As an only child, my mother also had a close relationship with her sister-in-law, Chris Gullion, and the two of them took turns hosting many holiday dinners over the years.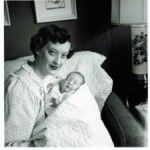 Having come from such a small family, my mother frequently reminded me that good friends are "a family one chooses." When I was growing up, she often advised me to choose my friends carefully. Teaching by example, Carlesta maintained many of her longtime friendships, some dating back to high school. She was also a member of a stock club, PEO, and the Starr House Guild.
I am deeply grateful for all the times my mother helped me become a mother after my son Nate was born. Carlesta loved her grandson more than the world, and I don't think she ever said "no" when I asked her to babysit him. Just as she had done for me, my mother created many happy memories for Nate, and she couldn't have been more proud of all his accomplishments.
Such was her love for her only grandchild, in fact, that she became a Notre Dame football fan while he was a student at the University of Notre Dame. Mom wasn't remotely interested in sports before then – so this was a testimony of their relationship. Going through Carlesta's papers recently, I found dozens of cards and letters from Nate, which she had lovingly saved, in just about every drawer in the house.
My mother worked as a freelance color artist for several photography studios — including Royal Oak's Bill Williams — throughout my childhood and teen years. She was among the first "work-at-home" moms in the late 1950s and '60s, setting up a home studio in our family room.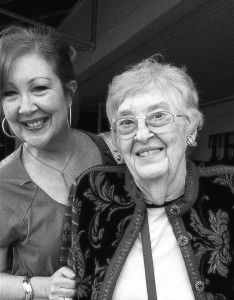 Later on, when I began my own career as a freelancer writer, I had my mother to thank for teaching me how to strike a balance between work and family. What a role model I had! I remember coming home from school as a kid and finding my mother at work at her easel, leaning over her photographs and mixing her oil paints. She always had time to listen as I shared the highlights or low points of my days at school.
I am forever grateful for that too.
As I type these thoughts, it occurs to me that what defined my mother more than anything was her reverence for home.
Though it's a small word with just four letters, "home" meant everything to Carlesta. Home was a refuge and a sanctuary. To her, the word encompassed the people inside its walls – both family and friends – as well as its gardens and furnishings. Inspired by our family's many road trips to historic Williamsburg, Virginia, and New England, she collected antiques and decorated every room in the house with treasures from our trips.
With her gift for hospitality, she entertained with style and care. She brought beauty to everything she crafted, whether it was a birthday party for a large group or a planter on the front porch. Making a home was an art form.
Once dementia had incapacitated her, moving Mom out of her beloved Royal Oak condo and into a nursing home was, by far, the hardest and most heartbreaking thing I've ever had to do.
All said and done, of all the gifts my mother has given me – including the gift of life itself – I'm most grateful for that abiding love of home.
This occurred to me not long after I learned that she had died. At the time, Doug and I were on the last day of our vacation. As soon as we got the call (at 5:45 on Saturday morning) we packed everything as quickly as we could and headed down the dark highway back to Royal Oak. It was the longest drive I've ever taken, though I don't think the reality of my mother's passing had really taken hold in my mind.
But finally, as we turned down Vinsetta Boulevard and our own house came into view like a mother with arms opened wide, the tears came and I felt embraced by something I can only describe as boundless gratitude for my home, my family, and this community – the roots of which my mother had planted inside me years ago.
My father, who passed away in 1992, had always found comfort in the Bible passage (John 14:2), "My father's house has many dwelling places."  It was read at his own mother's funeral. When Dad died, I asked a pastor to read that verse in the eulogy I wrote for him.
And so, with a full and thankful heart, I hope my parents have found their place together in the "house with many dwelling places," and that they are, finally, at peace and at home.
After this eulogy was read by pastor John Miller, my son Nate La Ferle read my favorite poem by Celtic poet David Whyte, "The House of Belonging." Please click here to read it. 
Carlesta Gullion's obituary is posted here.
Posted on September 6, 2014
Filed Under Columns & essays | 2 Comments | Email This Post
Like most caregivers, I struggle with feelings of guilt. Even when I've done my best to manage my elderly mother's healthcare, I wonder if I could have — or should have — done more. Focusing on this topic, "The Caregiver's Guilt Trip" is my new column in the September 7 issue of Michigan Prime. If you're a caregiver, or know someone who is, I hope you'll share the column. The magazine is delivered to subscribers of the Sunday Detroit News and Free Press. You can read it online here.
Posted on August 29, 2014
Filed Under Events & news, Owning a Wright home | 3 Comments | Email This Post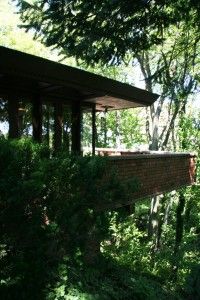 For years I've admired Michigan Blue, a gorgeous regional magazine celebrating our third coast. So I'm very excited to have an essay of mine included in the Fall 2014 issue. "Restoring Wright" chronicles our decision to purchase and renovate a Frank Lloyd Wright home in St. Joseph, a beach town on Lake Michigan. The magazine is available in many bookstores, including Barnes & Noble, in the upper Midwest.
To read more about our Frank Lloyd Wright home, please visit the Schultz House Web site. If you "like" its public Facebook page, you'll get regular updates and photos of our ongoing renovation projects.
Posted on August 20, 2014
Filed Under Events & news | 2 Comments | Email This Post
Come fall, I can't resist the maternal impulse to shop for back-to-school supplies, even though it's been a while since I've had a student at home.
My only child did exactly what most parents hope their kids will do: He grew up, earned a degree from the university of his choice, found a place of his own, and started a grown-up job soon after.
I'll never forget the day his dad and I helped load his possessions into the back of his SUV, then followed him west across I-94. After unpacking his clothes and computer equipment, we waved a tearful good-bye in front of his new flat in Chicago and drove back to Detroit as official empty nesters.
Today, five years later, we still reminisce about our early years of parenthood and marvel at how quickly they flew.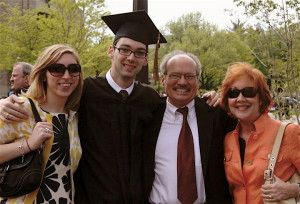 Even so, our empty nest transition wasn't nearly as wrenching as so many magazine articles had led us to believe.
Just as menopause isn't a disease to cure, the empty nest isn't a syndrome to overcome. Sending children to college, helping them move to their first apartments, and watching them exchange wedding vows are natural rites of midlife passage.
Better yet, many of my Boomer friends are happily redesigning their lives after raising families. One is booking exotic cruise trips with her husband; another started violin lessons. Others are busy refueling stalled careers and sluggish relationships.
 Rolling with the changes
So maybe we need a better term to describe our empty nest years?
"A word signifying a void or a vacuum is an unfair way to describe a time when life can be full of growth possibilities," note Laura Kastner and Jennifer Wyatt in The Launching Years (Three Rivers Press). The authors also remind us that young adults fare better on their own when they know their folks are adjusting to the changes, too.
In other words, helicopter parenting doesn't benefit anyone. Letting go means allowing our kids to score their own victories and learn from their own mistakes — without our hovering.
Still, it's normal to grieve the loss of your old parenting role. And there's no shame in admitting you've got an achy little tug on your heart when you first unload your grocery cart and notice you're buying half as much ice cream as you did when the kids were home. When that happens, indulge yourself (like I did) in a private meltdown in the car. Or adopt another pet (like I did) from the local shelter.
But don't make your child feel guilty for leaving you with an empty bedroom to redecorate. Let her know you're proud of her independence – and celebrate the life you are crafting outside the boundaries of parenthood.
"There's a trick to the Graceful Exit," wrote syndicated columnist Ellen Goodman in her farewell piece. "It begins with the vision to recognize when a job, a life stage, or a relationship is over. It involves a sense of future, a belief that every exit line is an entry, that we are moving on rather than moving out."
Even if your kids have flown the nest – and even if you don't have grandkids — treat yourself to some new school supplies this fall. Grab a fresh notebook and a set of pens in every color. Start taking notes on everything you want to do with the rest of your life.
This column originally appeared in the September 2013 issue of Michigan Prime. 
Posted on August 18, 2014
Filed Under Columns & essays, Events & news | Leave a Comment | Email This Post
Like many flood victims in Oakland County, we'll soon have a dumpster in our driveway and a construction crew in the basement. Watching our contractor haul rolls of soggy carpeting to the curb this morning, I recalled the following column, which I wrote in 2003. The full version is reprinted in Writing Home.
Zen and Remodeling
We are always in transition. If you can just relax with that, you'll have no problem. – Pema Chodron, Buddhist nun
The construction crew hasn't even started yet, but I'm already bracing myself for several weeks of chaos and plaster dust. Half of our clothes and most of our toiletries have been temporarily stashed in other regions of the house. With the exception of our master bedroom, in fact, everything upstairs is in a state of minor upheaval. I hate living like this.
It's all in preparation for our next remodeling project, which includes new plumbing, tile, and fixtures for our circa 1926 bathroom, plus expanded closet space and a paint job for the spare bedroom. The crew is scheduled to begin this week, but that's just what they tell me. Until I see trucks in the driveway, I know better than to count on anything. Being married to an architect and having survived several remodeling projects, I now have a grasp of what I call "building trade ethics."
Even in the most professional situations, building trade ethics bear little resemblance to the Protestant work ethic. For starters, people in the building trades do not follow a nine-to-five schedule. These guys have their own system, and it's up to you to figure out what that is.
They also speak a different language. For example, if the plumber who's installing your new toilet says he'll be back to finish at noon on Friday, it's possible that he really means maybe sometime on a Friday next month.
With few exceptions, though, the results are worth it. If you love your old house as much as we love ours, you realize that a disrupted schedule is a small price to pay for the lifestyle improvements you'll get eventually.
And if you really want to feel smug, you can tell yourself that your renovation project is also for posterity. Fixing up an old house is a gift to the community – which is why I cringe every time someone tears down a perfectly decent old home, only to replace it with a brand-new Big Foot palace. But that's a topic for another time.
Right now, I'm trying to focus on the positive. Compared to one of our last projects – a kitchen makeover and a sun room that took nine months to complete — this next effort should be … less of an effort.
Still, every time our walls give way to a sledge hammer, I'm reminded that change is messy. More often than not, you must tear something apart and disrupt your routine to make things better. You can't install a new shower, for instance, without uprooting the old one. You can't hang new wallpaper over old wallpaper and expect to end up with a smooth, bubble-free finish. And you must never varnish a hardwood floor before sanding away its stained or splintered imperfections.
Likewise, you can't sugarcoat the rigors of self-improvement.
Come January, everyone wants to be thinner, healthier, wiser, smoke-free, and less wrinkly. And we'd like to achieve these goals as quickly as possible, preferably with a single-dose pill that works while we're asleep.
But self-improvement takes time and willpower, which is why some of us give up before we've hit the target. As every dieter knows, the "in between sizes" stage – the first plateau — is the trickiest. The process is ongoing, arduous, and more than an act of faith.
My dear old house is also a work in progress. It has taught me how to be patient and how to make sense of the chaos that precedes any kind of transformation. With a little luck, I think we can survive another month of plaster dust together.
So, bring on the building crew. Whenever.
« go back
—
keep looking »