Posted on June 21, 2014
Filed Under Events & news | Leave a Comment | Email This Post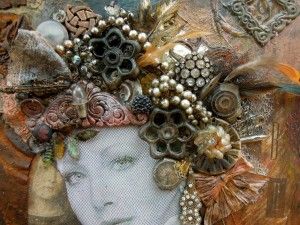 My award-winning mixed-media artwork is on display this summer in several juried shows throughout Michigan.
To see what I've been up to — and where to view my pieces — please visit Cindy La Ferle's Mixed Media
In August I'll be part of a self-portrait exhibit on Michigan's west coast; details to be announced. Meanwhile, I hope you'll have a chance to enjoy at least one of our beautiful state's outdoor art fairs and juried exhibits. Here's to a happy and creative summer!
Posted on June 7, 2014
Filed Under Columns & essays, Events & news | 2 Comments | Email This Post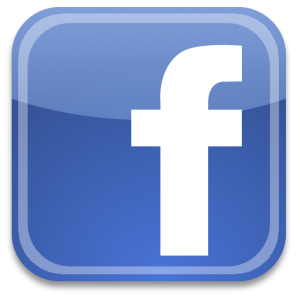 Are you savvy when it comes to social media skills? If not, don't miss the June issue of Michigan Prime, delivered with your Sunday Detroit News and Free Press this weekend. The issue includes a helpful feature on using social media to find jobs — plus my new column detailing what I missed when I took a break from Facebook. Click here to read the online issue, and flip to page 9 to read my column.
Posted on May 24, 2014
Filed Under Columns & essays, Just for writers | Leave a Comment | Email This Post
A garden is always a series of losses set against a few triumphs, like life itself."  ~May Sarton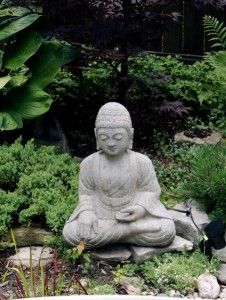 I'm taking time off to work in the garden, so I'll leave you with one of my gardening essays. This one was published in Victoria magazine, March 2010. I'll be back next week after a few more trips to the nursery ….

ZEN AND THE ART OF MIDLIFE GARDENING
Last spring, members of our Oakland County Master Gardener Society invited me to speak at one of their meetings. I was honored, at first, but as soon as the date of the talk rolled around, I started getting nervous. And with good reason.
Master Gardeners aren't just fooling around with bulbs and Miracle-Gro. These folks earn a minimum of 40 hours of instruction in horticulture science. Meeting for at least 11 weeks, they take classes in caring for indoor and outdoor plants; establishing lawns; growing vegetables and fruit trees. I bow to their expertise.
Sure, I've written a few magazine essays and newspaper columns on my romance with plants and flowers. I've shared back-yard memories of sweet peas and apple trees and my grandfather's ferns. But set me loose with a shovel, and I'm a dangerous amateur with a record of murdering rose bushes and planting azaleas in the wrong spot.
Regardless, the kindly president of our Master Gardener Society assured me that his group of green thumbs would be open to anything I had to say about writing and gardening. They would humor me — and even offer some tips on deadheading tulips. Somewhat relieved as I prepared for the talk, it occurred to me that gardens have taught me many valuable lessons. At this stage of my life, especially, gardening is rich with metaphor.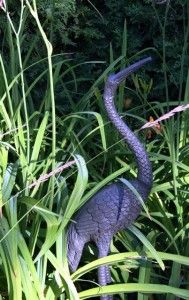 Five years ago, when my husband and I turned 50, our only child left home for college. That same year, we also lost several stately maple trees to disease. The removal of those trees wreaked havoc on our back yard: The lawn was totally destroyed and the surrounding beds were trampled. Not a single root or shoot was left of the delicate woodland shade perennials – trillium, Solomon's seal, or bleeding heart – that I'd collected over the years.
As every gardener knows, the natural world reminds us that change and upheaval are part of the master plan. Likewise, our bulldozed back yard reflected my emotional state as I adjusted to the changes in my menopausal body and my newly emptied nest. For a while, I felt uprooted in my own household. Yet it also occurred to me that when a new space opens up – by choice or by accident – you have an opportunity to try something else; something you couldn't do before.
A Japanese garden had been at the top of my wish list for several years, but until all those dead trees were removed, I'd never had the right spot for my dream garden. And so, with the help of a landscaping team, I created a path and some raised beds for my meditation garden, which now includes a small wooden bridge and a dry river of beach stones my husband and I collected from Lake Michigan. The garden has become an outdoor sanctuary, a peaceful escape from deadlines and the clutter inside our home. It's also living proof that middle age can be a signpost to a new life — not just the end of our greener years.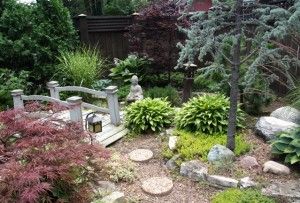 At the end of my talk, I reminded the Master Gardeners that I often struggle with acute writer's block, or fallow time. I would guess that anyone who's been doing the same work for so many years does too. Fallow time is the desert where ideas shrivel and evaporate, if they sprout at all. Fallow time is the waiting season, the creative slump, when black moods hover like pending thunderstorms.  But we can turn to the garden for another lesson.
Michigan winters are incredibly long and dull. For those of us who battle the blues, it's easy to believe that spring might forget us on its way north. But just when things can't get any gloomier, usually in early April, along comes a balmy 60-degree day — a day drenched in the scent of moist earth, tulip bulbs, and tender new grass waking up. Suddenly, a glimmer of hope breaks through, melting all those months of doubt and dejection. The frozen river thaws. Possibility stirs. And that when I know it's time to grab my tools, dig in, and begin again. – Cindy La Ferle
–Reprinted from Victoria magazine. All garden photos copyrighted by Cindy La Ferle. Please click on each photo for a larger view. –
Posted on May 11, 2014
Filed Under Columns & essays, Events & news | 6 Comments | Email This Post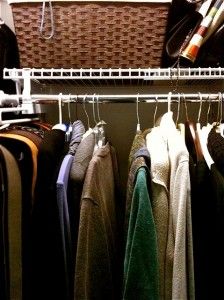 Ladies, if you've ever wondered if your wardrobe is aging you, don't miss the May 11 issue of Michigan Prime featuring Cindy Papasian of Leon & Lulu. You'll find my column on age-appropriate dressing in the magazine (in today's Sunday Detroit News and Free Press) or in the online edition here.
On another topic: Do you feel drained after encountering folks who can't stop talking about themselves? My guest column this week on Dr. Irene Levine's Friendship Blog tackles this painful social dilemma with suggestions on how to be a better conversationalist. Please click here to read the column.
Posted on May 7, 2014
Filed Under Columns & essays | 5 Comments | Email This Post
This essay was written three years ago, before my mother was moved to a nursing home. I'm republishing it this week, in honor of Mother's Day.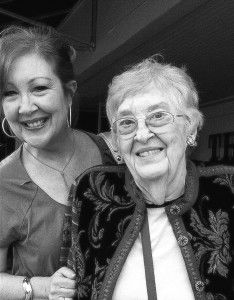 Crafted from fine cotton yarn, the duster-length black sweater has been a staple in my spring wardrobe ever since my mother bought it for me several years ago.
Pulling it out of winter storage last month, I suddenly recalled a happier memory of my mother – and a time when I wasn't overwhelmed by what social workers refer to as "caregiver's burnout."
Then came an unexpected flood of tears.
It's not like me to fall apart over a sweater while I'm reorganizing my closet, but then again, my 80-year-old mother hasn't been herself lately, either.
Up until this year, Mom's decline has been gradual. In 2008, not long after my son earned his college degree, everyone in the family noticed she was repeating her favorite stories even more than usual. Her friends began calling to report that she'd missed  club meetings and lunch dates. At first I dismissed these episodes as normal signposts of the aging process — or blamed them on medication side effects. But a phone call from Mom's primary care physician, who was treating her for several cardiovascular issues, confirmed what we'd suspected all along.
"I'm concerned that your mother's memory loss could be a symptom of progressing dementia," the doctor told me. "It's time to look into it."
Getting a diagnosis and some help
So began a series of tests and appointments at Beaumont Hospital's Geriatric Evaluation Clinic, where my mother's vascular dementia was officially diagnosed. A team of geriatric specialists outlined their prognosis, offering safety precautions and lifestyle tips that would foster Mom's independence as long as possible. There was good news to sweeten the bad: The doctors agreed that Mom, a widow, was capable of living alone in her condo a while longer — but that she shouldn't be allowed to drive.
That was last November, but Mom doesn't remember visiting the clinic, nor does she use the word "dementia" to describe her frequent memory lapses. Of course, she's devastated by the loss of her driving privilege and wants to believe she'll get it back.
Meanwhile, I learned about Beaumont Hospital's Helping Hands program, a private hire service that assists older adults with transportation and light housekeeping. Our Helping Hands companion, Barbara, has become my mother's new best friend – and she's my weekly respite from errand running. But Barbara's part-time assistance is only a temporary solution.
Friends and family members are trying to talk Mom into moving to an assisted living facility while she's still able to make her own choices, but she's totally resisting the idea. "There are too many old people there, and I'm not ready for that," she said after touring one of the nicest eldercare facilities in the area.
Of course, I can't blame her for seeking refuge in denial. These days, I find myself wishing I could rewrite this sad scenario, too.
Remembering a mother's heart
Like most dementia patients, my mother is often preoccupied with real and imaginary problems. She calls me in a panic when she can't find her TV guide, or thinks a thief snatched her garden hose. As per her doctor's orders, I organize her pills and visit daily to ensure she takes them on schedule. When her anxiety mimics a heart attack (which happens often) she'll ask to be driven to the ER. But she no longer calls just to chat or to express interest in what I do when I'm not managing her medical care.
To be fair, she's lost interest in nearly everything she once enjoyed, from needlework to lunch with friends. And shopping.
Years before she became ill, my mother's favorite sport was bargain shopping. While my father bonded with his buddies at Tiger games, Mom and I would hit the malls and discuss our wardrobe scores over lunch. Even after I grew up and had a child of my own, she'd still purchase a new item of clothing for me whenever the seasons changed.
Which brings me to the story of how I acquired my black sweater.
Several years ago, I told my mother I'd been hunting for a transitional sweater that would substitute for a spring jacket. I'd looked for one in several clothing stores and had nearly given up the quest when, one spring afternoon, I found a T. J. Maxx shopping bag hanging on the side door to my house. In it was the perfect black sweater, which my mother had purchased at her favorite discount store.
Rediscovering the sweater in my closet last month, I remembered the mother and best friend I sorely missed. My tears released a tsunami of mixed emotions, from anger to despair. As Kahil Gibran wrote, "When you are feeling sorrow, look again in your heart, and you will see that you are weeping for that which was once your delight."
Until that moment, I'd been privately raging against the dementia that was slowly devouring my mother's life; her self. And I hadn't fully grieved the loss of the woman she once was – the strong, thoughtful woman who had shared household tips and recipes; encouraged my career; baby-sat my son when he was small; and took delight in shopping for new clothes.
I wore the black sweater again last week when I drove Mom to an appointment at her pacemaker clinic. "That's a pretty sweater you're wearing. Is it new?" she asked, trying to make small talk as we headed down Woodward Avenue. Not surprisingly, she had no recollection of buying the sweater.
So I reminded her that she'd surprised me with it a few years ago, and that it was one of my favorite things. She looked genuinely pleased. I also noticed a familiar sparkle in her eyes when I mentioned T.J. Maxx – and I made a mental note to take her shopping soon. – Cindy La Ferle
Top photo: Mom and me, Mother's Day 2011
« go back
—
keep looking »