Posted on May 11, 2014
Filed Under Columns & essays, Events & news | 6 Comments | Email This Post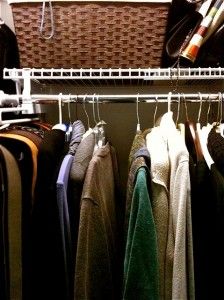 Ladies, if you've ever wondered if your wardrobe is aging you, don't miss the May 11 issue of Michigan Prime featuring Cindy Papasian of Leon & Lulu. You'll find my column on age-appropriate dressing in the magazine (in today's Sunday Detroit News and Free Press) or in the online edition here.
On another topic: Do you feel drained after encountering folks who can't stop talking about themselves? My guest column this week on Dr. Irene Levine's Friendship Blog tackles this painful social dilemma with suggestions on how to be a better conversationalist. Please click here to read the column.
Posted on May 7, 2014
Filed Under Columns & essays | 5 Comments | Email This Post
This essay was written three years ago, before my mother was moved to a nursing home. I'm republishing it this week, in honor of Mother's Day.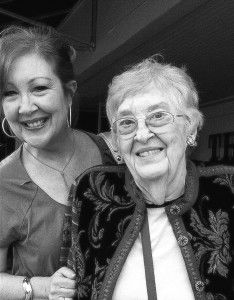 Crafted from fine cotton yarn, the duster-length black sweater has been a staple in my spring wardrobe ever since my mother bought it for me several years ago.
Pulling it out of winter storage last month, I suddenly recalled a happier memory of my mother – and a time when I wasn't overwhelmed by what social workers refer to as "caregiver's burnout."
Then came an unexpected flood of tears.
It's not like me to fall apart over a sweater while I'm reorganizing my closet, but then again, my 80-year-old mother hasn't been herself lately, either.
Up until this year, Mom's decline has been gradual. In 2008, not long after my son earned his college degree, everyone in the family noticed she was repeating her favorite stories even more than usual. Her friends began calling to report that she'd missed  club meetings and lunch dates. At first I dismissed these episodes as normal signposts of the aging process — or blamed them on medication side effects. But a phone call from Mom's primary care physician, who was treating her for several cardiovascular issues, confirmed what we'd suspected all along.
"I'm concerned that your mother's memory loss could be a symptom of progressing dementia," the doctor told me. "It's time to look into it."
Getting a diagnosis and some help
So began a series of tests and appointments at Beaumont Hospital's Geriatric Evaluation Clinic, where my mother's vascular dementia was officially diagnosed. A team of geriatric specialists outlined their prognosis, offering safety precautions and lifestyle tips that would foster Mom's independence as long as possible. There was good news to sweeten the bad: The doctors agreed that Mom, a widow, was capable of living alone in her condo a while longer — but that she shouldn't be allowed to drive.
That was last November, but Mom doesn't remember visiting the clinic, nor does she use the word "dementia" to describe her frequent memory lapses. Of course, she's devastated by the loss of her driving privilege and wants to believe she'll get it back.
Meanwhile, I learned about Beaumont Hospital's Helping Hands program, a private hire service that assists older adults with transportation and light housekeeping. Our Helping Hands companion, Barbara, has become my mother's new best friend – and she's my weekly respite from errand running. But Barbara's part-time assistance is only a temporary solution.
Friends and family members are trying to talk Mom into moving to an assisted living facility while she's still able to make her own choices, but she's totally resisting the idea. "There are too many old people there, and I'm not ready for that," she said after touring one of the nicest eldercare facilities in the area.
Of course, I can't blame her for seeking refuge in denial. These days, I find myself wishing I could rewrite this sad scenario, too.
Remembering a mother's heart
Like most dementia patients, my mother is often preoccupied with real and imaginary problems. She calls me in a panic when she can't find her TV guide, or thinks a thief snatched her garden hose. As per her doctor's orders, I organize her pills and visit daily to ensure she takes them on schedule. When her anxiety mimics a heart attack (which happens often) she'll ask to be driven to the ER. But she no longer calls just to chat or to express interest in what I do when I'm not managing her medical care.
To be fair, she's lost interest in nearly everything she once enjoyed, from needlework to lunch with friends. And shopping.
Years before she became ill, my mother's favorite sport was bargain shopping. While my father bonded with his buddies at Tiger games, Mom and I would hit the malls and discuss our wardrobe scores over lunch. Even after I grew up and had a child of my own, she'd still purchase a new item of clothing for me whenever the seasons changed.
Which brings me to the story of how I acquired my black sweater.
Several years ago, I told my mother I'd been hunting for a transitional sweater that would substitute for a spring jacket. I'd looked for one in several clothing stores and had nearly given up the quest when, one spring afternoon, I found a T. J. Maxx shopping bag hanging on the side door to my house. In it was the perfect black sweater, which my mother had purchased at her favorite discount store.
Rediscovering the sweater in my closet last month, I remembered the mother and best friend I sorely missed. My tears released a tsunami of mixed emotions, from anger to despair. As Kahil Gibran wrote, "When you are feeling sorrow, look again in your heart, and you will see that you are weeping for that which was once your delight."
Until that moment, I'd been privately raging against the dementia that was slowly devouring my mother's life; her self. And I hadn't fully grieved the loss of the woman she once was – the strong, thoughtful woman who had shared household tips and recipes; encouraged my career; baby-sat my son when he was small; and took delight in shopping for new clothes.
I wore the black sweater again last week when I drove Mom to an appointment at her pacemaker clinic. "That's a pretty sweater you're wearing. Is it new?" she asked, trying to make small talk as we headed down Woodward Avenue. Not surprisingly, she had no recollection of buying the sweater.
So I reminded her that she'd surprised me with it a few years ago, and that it was one of my favorite things. She looked genuinely pleased. I also noticed a familiar sparkle in her eyes when I mentioned T.J. Maxx – and I made a mental note to take her shopping soon. – Cindy La Ferle
Top photo: Mom and me, Mother's Day 2011
Posted on April 29, 2014
Filed Under Events & news, My artwork | Leave a Comment | Email This Post
"If you ask me what I came to do in this world, I, an artist, will answer you: I am here to live out loud." — Emile Zola

When spring rolls around, you'll typically find me outside, preparing my herb and perennial gardens for summer. But with garden season off to a slow start in Michigan, I've been spending more time upstairs in the art studio. Happily, some of my newest creations are cropping up in art shows across the state, from St. Joseph Michigan's Box Factory Spring Exhibit to the Birmingham-Bloomfield Art Association's Annual Fine Arts Competition. For regular updates, please visit Cindy La Ferle's Mixed Media.
Posted on April 10, 2014
Filed Under Book reviews, Columns & essays | Leave a Comment | Email This Post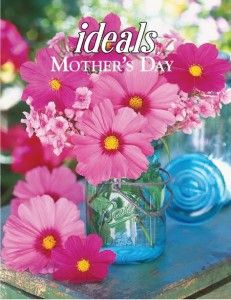 Ideals magazine was launched in 1944 with a Christmas issue compiled by Van B. Hooper, a public relations manager for a Milwaukee, Wisconsin, manufacturer. Over the years it has featured the writings of well-known authors such as Edgar Guest, Sue Monk Kidd, Chris Bohjalian, Susan Allen Toth, Garrison Keillor, and many others.
Now produced by Guideposts and edited by Melinda Rumbaugh, the magazine continues its nostalgic celebration of American holidays with timeless stories, quotations, poetry, recipes, and fine art illustrations.
Since 2008, several of my own essays (including a few from my book, Writing Home) have been published in several issues of Ideals and its hardcover gift anthologies.
This spring, my essay describing my son's first year away from home ("Field Notes on an Empty Nest") is included in Ideals' Mother's Day 2014 issue — complete with a beautiful painting by Lee Kromschroeder. The magazine is available where books are sold, including Barnes and Noble, Costco, Target, Family Christian, Books-a-Million, and Mardel.  To purchase the magazine directly from Ideals, click here.
Posted on April 5, 2014
Filed Under Columns & essays, Events & news | 4 Comments | Email This Post
We must embrace pain and burn it as fuel for our journey. ~Kenji Miyazawa
I was in my early forties when I was diagnosed with degenerative osteoarthritis in both hips. Unable to walk without assistive devices for more than a year, I had a glimpse of what it's like to be disabled….Read the rest of the story in this month's Michigan Prime, delivered this weekend with your Sunday Detroit News and Free Press. To read my column online, please click here and turn to page 5.
« go back
—
keep looking »