Posted on July 30, 2014
Filed Under Columns & essays | 4 Comments | Email This Post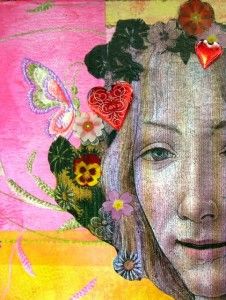 The old proverb, "Beauty is as beauty does," assumes a whole new meaning for women of a certain age. 
Apparently, we've got a lot of work to do. Pick up any women's magazine and you'll notice the terms "anti-aging" and "age-defying" are used to market products to girls who've barely graduated from high school. In television ads, surgically altered actresses tout the wonders of lifting serums and other "miracle" creams.
We get the message: Aging is shameful and must be fought at any cost.  She who looks youngest wins.
The anti-aging movement has spawned a new crop of books addressing the "surgery vs. product" faceoff.
"Both the subliminal and obvious messages of the beauty trap are designed to make you dissatisfied with your looks — and to make you go to great lengths and expense to change them," notes celebrity dermatologist Dr. Harold Lancer in Younger: The Breakthrough Anti-Aging Method for Radiant Skin (Grand Central; $27).  "That being said, there is nothing wrong with wanting to improve your appearance."
Lancer advises women to focus first on skincare and nutrition, reserving dermal fillers or cosmetic surgery as a last resort.
French mystique
Years ago, I swore I'd never waste a minute worrying about under-eye bags or any other flesh that was starting to head south.  I promised to age gracefully; to make peace with the inevitable march of time and the pull of gravity.
I was kidding myself. Today, my medicine cabinet proves I've become another foot soldier in the war on wrinkles. Armed with an arsenal of products, I'm constantly battling the encroaching lines on my face.
Of course, expensive creams are easier to justify than cosmetic surgery. While fillers and facelifts have gone mainstream, there's still a feminist stigma attached to "getting work done" — especially if you end up looking like an homage to Joan Rivers.
"Cosmetic surgery all over the world is becoming almost a religion, and many people worship at the doctor's office till they are stretched like a too-tight blouse and bear frozen smiles," writes Mireille Guiliano in her new book, French Women Don't Get Facelifts (Grand Central; $25).
Guiliano reminds us that mature women are still considered sexy in France – and that cosmetic surgery isn't as popular there as it is in America. French women might "partake in a little Botox or another filler," Giuliano reports. But for the most part, she says, they rely on good skincare and cleverly tied scarves to enhance their seasoned beauty.
A second look
Sadly, miracle creams really don't work miracles. This morning I caught a glimpse of my tired reflection in the bathroom mirror, and for a moment I considered booking my first Botox treatment. Then I felt guilty for being so hard on myself.
Yes, there's more work to be done.
For starters, we all need to stop judging the cosmetic choices of other women. At the same time, I believe each of us should choose carefully, whether we opt for a facelift or fillers, or simply settle for an attitude adjustment.  And short of moving to France, we must keep challenging our own culture's ambivalent views on aging.
As Dr. Lancer notes in Younger, "True beauty is being the best you can be in all aspects of your life." Beauty is as beauty does.
 Original artwork by Cindy La Ferle; collage with borrowed detail from Botticelli's Primavera.
Posted on July 19, 2014
Filed Under Columns & essays, Events & news | 8 Comments | Email This Post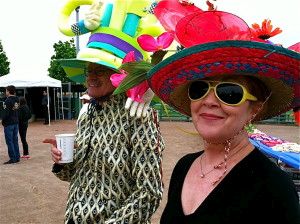 I'm still trying to wrap my mind around the fact that several of my friends turned 60 last year. 
At birthday parties large and small, they raised their glasses to six eventful decades. Some recalled pivotal moments and milestones of our youth: Kennedy's assassination … the Beatles' American debut on The Ed Sullivan Show… Neil Armstrong's first step on the moon. Others joked about wrinkles and hair loss, yet also expressed sincere gratitude for the hard-won gifts of maturity.
Even harder to digest is the fact that I will turn 60 next month. For starters, I don't feel much different than I did when I turned 30. Aside from the lower back pain that underscores a long day of gardening, I'd have to say I'm in better shape — physically and emotionally — than I was 12 years ago following bilateral hip replacement surgery.
Regardless, like Janus, the two-faced Roman god of beginnings and endings, I'm reflecting on what I've learned from past mistakes while mapping a nebulous future. I'm reconsidering what it means to grow up and grow old. Ready or not, I've arrived at the doorstep of seniority.
Wearing it well
Along the way it occurs to me that ageism isn't going away without a fight. At 60, we're more likely to see our peers represented in Viagra commercials than cast as romantic leads in a TV series. Fashion editors overlook us. Teenagers dismiss us. And even if we manage to keep pace with technological changes, we still work twice as hard to stay visible in our professions. Sixty is the new old.
Yet we've earned some real advantages too. We've achieved goals and survived crises we couldn't have imagined in our twenties. Our bank of experience is so much richer now.
"One of the useful things about age is realizing that conventional wisdom is often inertia with a candy coating of conformity," writes Anna Quindlen in her midlife memoir, Lots of Candles, Plenty of Cake (Random House).
My 60-year-old friends would agree. Conducting an informal poll, I asked a dozen older folks I admire to list the biggest perks or benefits of maturing. Not surprisingly, I got several versions of the phrase: "I've stopped caring what other people think of me."
For instance, a woman who'd been fretting over dressing appropriately for her age said she finally decided to ignore the fashion police and wear what she loves. Her purple nail polish and cowboy boots wouldn't work on just anyone — regardless of age — but isn't that the charm of authentic, original style? I admire how my friend's wardrobe matches her damn-the-torpedoes attitude. She isn't wearing her age the way my grandmother did.
Likewise, I was impressed at how many 60-year-olds said they don't lie about their age. They own it. After all, fibbing about something as fundamental as your birth year only makes you appear vain or deceitful, not younger. The absolute-coolest human beings I know have stopped trying to hide who they are.
Taking no prisoners
Age seems to have blurred our stubborn edges, too. Or maybe it's just that we're tired of playing small. By the time we hit 60, we've endured enough heartache and buried enough loved ones to know that nursing crusty old grudges (or regrets) is a waste of precious time.
Maturity enables us to accept apologies and admit when we've been wrong or controlling or foolish. Maturity is expansive. It teaches us that forgiving others — and ourselves — clears the path to inner peace. We can't be right all the time, just as surely as we can't please everyone.
That said, we've earned enough self-respect to realize we don't have to endure abuse, neglect, duplicity, rudeness, and other "less than" treatment from friends, family, or business associates. We've discovered, as Ann Landers once pointed out, that nobody can take advantage of us without our permission.
We've learned that every strong relationship is a gift and a privilege — and should be treated as such. We know that real grown-ups look for opportunities to reciprocate a favor or pay it forward. We know that good fortune — in our careers and in our relationships — doesn't go half as far as sheer effort, and that taking anything wonderful for granted is the first step toward losing it.
Watching my fifties vanish in the rear-view mirror, I'm still struggling with what it means to age "gracefully." One pal tells me it's a matter of knowing when to quit, but that sounds like another euphemism for giving up. It's too passive. Then again, unless you're Mick Jagger or Tina Turner, it's probably wise to have at least one alternative career plan. The way I see it, as long as you're sincerely committed to the passion that fires you up in the morning, whether you're talking animal rights or landscape design, well, it's all up for grabs.
My 60-year-old pals and I are just gearing up for the next part of this crazy ride. So far, it looks like we're seizing the next decade with moxie — and grace has taken a back seat. I'm actually looking forward to this.
This is a revised version of a shorter essay originally published in the January 2014 issue of Michigan Prime. The top photo of Doug and me (at a Boys & Girls Club fundraiser last year) was taken by our old buddy, John Schultz.  

Posted on July 5, 2014
Filed Under Events & news | 4 Comments | Email This Post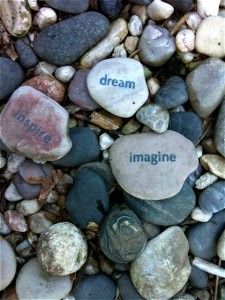 Author Anne Morrow Lindbergh found metaphors in the seashells she collected on Captiva Island, but I've composed my own meditations while scouting for beach stones in northern Michigan.
To read my July column on the topic, look for Michigan Prime magazine, delivered this Sunday with your Detroit News and Free Press.
Original photo (left) by Cindy La Ferle
Posted on June 29, 2014
Filed Under Columns & essays | 10 Comments | Email This Post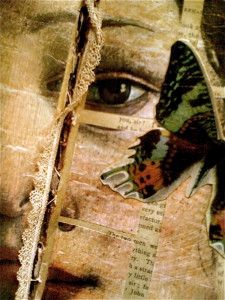 My dermatologist spotted it immediately during a full-body check in May – an appointment I'd neglected to schedule for two years.
I had noticed the subtle indentation on my right cheek, too, but dismissed it as a stubborn acne scar that was easily disguised with an extra swipe of powder blush. Besides, I'd sworn off sunbathing — years ago — after an earlier brush with skin cancer on my shoulder and another that resulted in a grueling plastic surgery above my upper lip. I thought I was free and clear.
But the biopsy report confirmed that a large basal cell epithelioma was spreading its roots deep beneath the surface of my cheek, just an inch below my right eye.
To avoid as much scarring as possible, my dermatologist referred me to a surgeon who specializes in the Mohs method, a microscopically controlled cancer surgery developed by Dr. Frederic Mohs in the 1930s. Typically lasting from five to seven hours, Mohs surgery involves removing and examining a patient's cancerous skin tissue one layer at a time until only cancer-free tissue remains. Afterward, the surgeon might opt to close the wound using plastic surgery techniques or allow it to heal by itself, depending on its location.
The cure rate is high — up to 99 percent for some cancers. And while the stellar reputation of my surgeon was equally reassuring, I'd be lying if I said I wasn't nervous about the procedure and the new scar I'd soon acquire.
And I'd be lying if I told you the surgery wasn't painful — or that it healed quickly.
Facing up to shame
There was a time when I thought I'd waded past the shallow waters of vanity and earned a deeper respect for my aging face and body. In my mid-forties, bilateral hip replacement surgery left me with a matching pair of 10-inch scars on my thighs. During the weeks of rehab after both hip surgeries, I often reminded myself that scars are emblems of a richly textured life — a survivor's life. Whether we've endured major surgery or military combat, scars document our personal history and bear witness to the challenges we've met.
But a three-inch, deep-purple scar on the face isn't as easy to reconcile.
In our celebrity driven culture, appearance matters a lot more than we'd like to admit. For women, especially, it's hard to ignore the standards of beauty trumpeted by magazine editors and product advertisers. And it's hard not to feel judged if we fall short of airbrushed perfection.
In her new best-seller, Daring Greatly: How the Courage to Be Vulnerable Transforms the Way We Live, Love, Parent, and Lead (Gotham), sociologist Brene Brown devotes several pages to the tender topic of female self-image and shame.
"After all of the consciousness-raising and critical awareness, we still feel the most shame about not being thin, young, and beautiful enough," she explains. Brown's shame research hit home the day after my Mohs surgery.
Removing my pressure bandage, I suddenly felt ashamed to show my black-and-blue, three-inch "Frankenstein scar" to my own husband. Adding to the ghoulish effect, my right eye was swollen shut, making me look as though I'd just crawled out of a terrible car accident. My shame took me by surprise because I know the man loves me unconditionally, even in my frumpiest moments. Yet I avoided exposing my wound to him – and everyone else — until I'd made peace with it myself.
Healing takes time
As I recovered, I recalled a line from my surgeon's post-op instructions: Scars will go through "a maturation process" and sometimes look worse as they heal. In other words, healing and maturity require infinite patience.
Ironically, a week before the cancer diagnosis, I'd been scouting local cosmetic departments for the best anti-wrinkle creams available. My crow's feet and droopy jaw line were underscoring my impending senior status – and I was determined to fight them.
But my skin cancer surgery quickly altered my stance in the battle against aging. Now, wrinkles and age spots aren't such a threat to my pride. The health of my complexion has usurped my quest to appear younger, and wearing a good sunscreen tops my cosmetic priorities.
The scar is healing slowly now, morphing from eggplant purple to pale pink as the weeks pass. My dermatologist tells me it could a full year — or more — before the incision is undetectable without makeup. In the meantime, I'm learning what it has to teach me.
As Brene Brown points out, our "imperfections" are visible reminders of our humanity, not inadequacies. I only wish it hadn't taken so many years – and a sobering medical diagnosis — to finally arrive at this quiet harbor of self-acceptance.
Parts of this essay were originally published last summer in Michigan Prime. Original artwork, above, by Cindy La Ferle.
Posted on June 21, 2014
Filed Under Events & news | Leave a Comment | Email This Post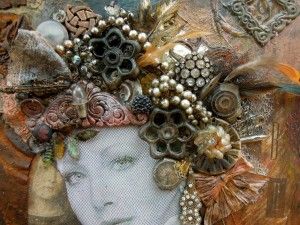 My award-winning mixed-media artwork is on display this summer in several juried shows throughout Michigan.
To see what I've been up to — and where to view my pieces — please visit Cindy La Ferle's Mixed Media
In August I'll be part of a self-portrait exhibit on Michigan's west coast; details to be announced. Meanwhile, I hope you'll have a chance to enjoy at least one of our beautiful state's outdoor art fairs and juried exhibits. Here's to a happy and creative summer!
« go back
—
keep looking »