Posted on February 5, 2014
Filed Under Events & news, My artwork | 6 Comments | Email This Post
No, I haven't gone missing — it's just that I've been lured "off-campus" by my other blog. This year, I finally gathered a portfolio of my artwork and started building a separate site for it. I've created the new art blog by myself — no help from the family geeks — and I'm having a blast learning how to build and customize the pages. I just added a separate page of quotes on creativity and links to my favorite artists. Too much fun!
Once traffic builds there, I'll post regular updates. And, if there's enough interest, I'll include a few tutorials on mixed-media art projects you can make at home. Meanwhile, here's the new link: Cindy La Ferle's Mixed-Media. I hope you'll visit the site and subscribe for updates. (It might be the only place to find me until spring break.)
P.S.: My art is featured this week in The Oakland Press and The Macomb Daily(4/14). Click here to see it.
Posted on January 28, 2014
Filed Under Book reviews, Events & news | 6 Comments | Email This Post
Digital busyness is the enemy of depth." — William Powers
I really couldn't put it down. When Hamlet's Blackberry: Building a Good Life in the Digital Age arrived last week, I promised myself I'd give it a quick glance and return to it later. (So many other books in my need-to-read stack!)
But I got hooked after the first few pages, then ended up dragging my chair closer to the fireplace, where I stayed and devoured several chapters until dinner time.
Here's part of the review I wrote on Amazon.com:
In Hamlet's Blackberry, author William Powers has managed to put into words all the vague feelings of disconnection and superficiality that I've battled ever since I began living and working behind a computer screen. Citing numerous studies and reputable sources, he articulates the emptiness many of us are experiencing — even if we've got hundreds of Facebook friends and followers on Twitter.
"The more connected we are, the more we depend on the world outside ourselves to tell us how to think and live," Powers writes.
Powers nails it when he explains that what we're missing today — what we long for — is depth. Depth in our relationships. Depth in our work. Depth in our daily activities. We're skimming the surface of too many people and things; drowning in the shallow waters of over-connectedness.
But Powers offers a balanced view of this growing problem. In particular, I like the way he reminds us that technology is an incredibly useful and amazing tool. He's not suggesting that we totally unplug and head for a lone cabin in the woods.
Instead, he approaches the topic as a philosopher and a humanitarian, asking us to examine WHY we've become reliant on our gadgets at the expense of deeper relationships and personal freedom. He asks us to consider WHAT is really dictating our lifestyle — the online "crowd" (as he terms it) or our inner compass? He invites us to reexamine creative folks throughout history who've accomplished masterpieces and major achievements — despite the various distractions of their time.
Most important of all, Powers's writing style is crisp, clear, and direct, making it easier to digest difficult material from important philosophers, from Socrates to McLuhan. A surprisingly easy read, this is an important book and ought to be required reading. But those who need it most will probably dismiss it. Their loss.
For another excellent spin on this topic, read Melissa Joy King's essay, "You Are Wasting More Time on Social Media Than You Think" 
Posted on January 20, 2014
Filed Under Columns & essays, Events & news, My artwork | 4 Comments | Email This Post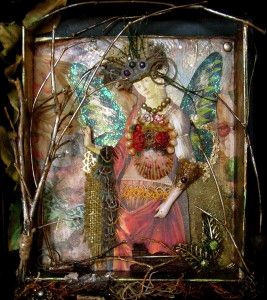 Several years ago, I stumbled on collage as a way to conquer writer's block. It still works like magic.
While I love being a journalist, sometimes I'm restricted by editorial guidelines and word counts, not to mention deadlines. But my altered art projects are crafted freely from my own imagination, at my own pace. I like to think of them as another form of storytelling.
Inspired by art and craft magazines, I started experimenting with a variety of mixed-media techniques and entering juried competitions.
It doesn't matter if my work is selected or not; I take pleasure in making art from things that other people discard. Given that I'm such a magpie, it's not unusual for rusty hardware, religious medals, recycled greeting cards, vintage fabrics, feathers, and broken costume jewelry to find their way into my mixed-media pieces.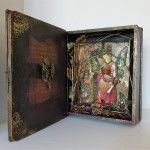 Last week, I was happy to learn that "Fairy Tale" — one of my new altered art pieces — was chosen for Anton Art Center's Michigan Annual XLI competition (Gilda Snowden, juror). Opening this Friday, the statewide exhibition showcases a variety of media and a display of Michigan art history. (UPDATE: "Fairy Tale" won the First Place award in the exhibition.)
This piece is my homage to childhood vacations with my maternal grandparents. My Granny Bee, a believer in magic, was the first to introduce me to the wonder of fireflies glowing on hot summer nights in southern Indiana. She knew how to spark a child's imagination — and knew how to conjure happy memories from ordinary experiences.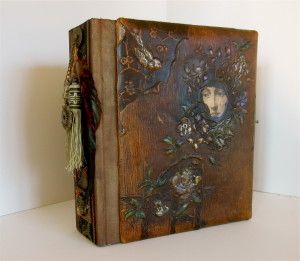 We'd often explore the woods near my grandparents' house. To keep me busy while the grown-ups scouted for edible mushrooms, Granny Bee would give me a small birdcage for capturing elves and fairies. (I never caught very many.)
I made "Fairy Tale" from a promotional whiskey box. Drained of its original contents, the wooden box had found its way to a flea market in downtown Clawson, where I purchased it for five dollars. Stamped with the words, "The Glenlivet Scotch Story," the front cover opened like an old-fashioned storybook and was ready to tell a different tale.
The leather covers (on the back and front of the piece) were rescued from Granny Bee's Victorian family photo album — a brittle relic that was literally falling apart at the seams. Before attaching the covers to the box, I repaired the tooled leather and preserved it with a matte coating.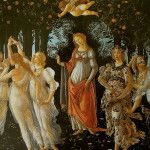 The woodland "fairy" inside the box was borrowed from Botticelli's "Primavera" — a favorite image of mine — and is dressed in vintage found objects and fabrics. For a closer look, click on all the photos in this post.
The Michigan Annual XLI runs from Jan. 24 through Feb. 21. Anton Art Center is located at 125 Macomb Place, Mount Clemens, Michigan. Please visit the Web site for hours and directions. 
To view a gallery of my artwork, please visit my new art site: Cindy La Ferle's Mixed-Media.
Posted on January 14, 2014
Filed Under Events & news, Owning a Wright home | 1 Comment | Email This Post
The greatest gift of the garden is the restoration of the five senses."  ~Hanna Rion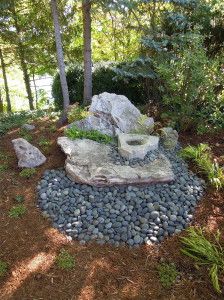 Last fall, I posted an update on the renovation of the Carl Schultz house, the mid-century modern Frank Lloyd Wright home that Doug and I purchased in 2008. The project has been hammered with challenges, pardon the pun, but rewarding, too.
As the avid gardener in our family, I've been pushing to improve the property around the house. (Doug, my architect husband, worries more about little things like roof leaks and cracked foundations.) Just outside the master bedroom, for instance, there was an overgrown Japanese rock garden in need of attention. And lots of manual labor. Tangled with ivy and weeds, it was too large a task for an amateur gardener with hip replacements.
So I owe a debt of gratitude to landscape designer Anna Brooks of Arcadia Gardens for making my dream garden a reality. To create a soothing zen oasis, Anna cleared the overgrown site, reconfigured the original rocks, and added a "dry pond" of river stones and a few deer-resistant plants. (I hope to add a water feature when our budget allows.) I've always had a passion for zen gardens, but I'm especially excited about this one.
Anna's team also re-landscaped several other key areas around the Schultz house, including the front entrance. It all looks amazing — and complements Wright's organic architecture.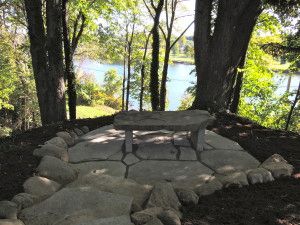 Of course, it's the dead of winter, and few of us in Michigan are thinking about gardening right now. But I couldn't resist sharing Anna's article in the Winter 2013/2014 issue of The Designer, the magazine of the Association of Professional Landscape Designers. A fellow MSU grad, Anna did a great job documenting the challenges and highlights of working on our project. We're honored to be featured. Using this link, you can flip to page nine, where you'll find Anna's beautiful story with photos: "My Summer Fling With Frank."
For more about the Carl Schultz house, including photos and renovation updates, please visit its official Web site: Frank Lloyd Wright's Carl Schultz House.  Photos of the zen garden in this post by Cindy La Ferle. Click on the photos for a larger view.
Posted on January 5, 2014
Filed Under Columns & essays, Events & news | 3 Comments | Email This Post
You are only young once, but you can stay immature indefinitely." — Ogden Nash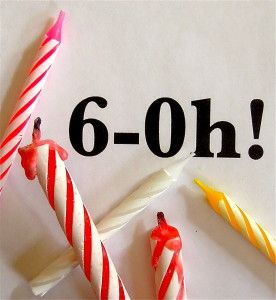 Holy smoke: 2014 is the year I turn 60! But I've still got a few months to start collecting candles for my birthday cake (make it a cheesecake, please). Meanwhile, I'm reflecting on what it means to mature — and watching my 60-year-old pals navigate their newly acquired seniority.
Is sixty the new old? Or are we just getting started? You can read my thoughts on this topic in the January issue of Michigan Prime, delivered with your Sunday Detroit Free Press this morning. Or, look for "Not Your Grandmother's Sixties" on page three of the online edition.
« go back
—
keep looking »