Posted on December 27, 2013
Filed Under Book reviews, Events & news, Just for writers, My artwork | 11 Comments | Email This Post
Your art is what you do when no one can tell you exactly how to do it. Your art is the act of taking personal responsibility, challenging the status quo, and changing people." — Seth Godin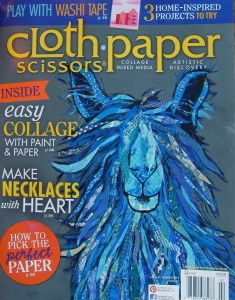 I've been publishing my essays and articles since I was in college, yet I still get that little thrill each time I see my byline in a glossy magazine or a newspaper. Until this year, though, I didn't have the nerve to submit my artwork to publishers — so I was honored when two of my pieces were chosen to illustrate the Rust Belt Rising Almanac this spring.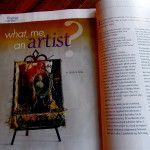 Another exciting "first" for me: getting my work published in Cloth, Paper, Scissors, a full-color national magazine for mixed-media and collage artists.
The January/February 2014 issue of CPS includes my essay on struggling to call myself an "artist" — a theme that speaks to writers and artists alike. My essay is illustrated with a full-page color photo of "The Importance of Ancestors," a mixed-media piece of mine that's been displayed in juried art competitions in Michigan. You'll find the magazine at Michaels craft stores or Barnes & Noble, in the art magazine section.
TO SEE MORE OF MY MIXED-MEDIA ARTWORK, PLEASE VISIT MY new ONLINE GALLERY 
Posted on December 24, 2013
Filed Under Events & news | 8 Comments | Email This Post

Sending wishes of peace and goodwill to all. Heartfelt thanks to all of you who've visited my blog and left comments this year. I hope you'll have time to pull back from the busyness of the holiday season to experience its magic, its real heart. – Cindy
Original Christmas card design by Cindy La Ferle
Posted on December 14, 2013
Filed Under Columns & essays, Events & news | 22 Comments | Email This Post
Most people have less than perfect holiday gatherings — they have family tension, melancholy, and dry turkey too." — WebMD article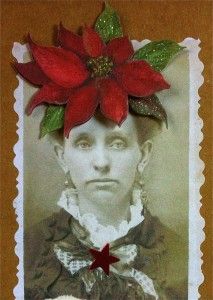 Update: A slightly edited version of this piece is currently featured on David Crumm's Read the Spirit. I'm honored by David's lovely introduction to the column on his site.
Christmas is my least favorite holiday, and I'm no longer ashamed to admit it. In newspapers across the country and in blogs throughout cyberspace, scores of fellow grinches are expressing their Yuletide angst. And you know there's something to it when health and medical Web sites like WebMD publish serious articles on how to survive this stressful season.
My annual winter holiday dread has little to do with religion. In fact, at this point in time, Christmas itself has little to do with religion. Christmas has become a performance art; a commercially manufactured event designed to benefit our nation's retailers. Even worse, it's a form of emotional blackmail — cleverly repackaged with Martha Stewart trimmings.
Originally a pre-Christian Roman celebration known as Saturnalia, December 25th was converted to Jesus's birthday celebration by the Roman Catholic Church. What started out as a rowdy solstice festival involving the lighting of torches, drinking to excess, and doing all manner of wild things to chase away winter's darkness has slowly evolved into a rowdy Christian festival involving the lighting of torches, drinking to excess, and doing all manner of wild things to chase away winter's darkness.
And while I'm on a rant, why do we insist on keeping Christmas in the winter, risking our lives by traveling in god-awful snow and ice storms to eat ham with relatives? If celebrating Christmas is non-negotiable, why not pretend that Jesus's birthday is in July, and throw a barbecue?
So there you have it. Just don't accuse people like me of being sacrilegious for wishing the holiday would melt away quietly with the weekend snowfall. Regardless, as Garrison Keillor once said, Christmas is "compulsory, like a thunderstorm, and we all get through it together."
We feel steamrolled by the sheer force of family tradition. The key is to take some control over the holidays, instead of letting them control you." — WebMD
Meanwhile, here's what I've come to believe about Christmas — plus how I've learned to cope with it and (sort of) enjoy it:
*Giving to a favorite charity always restores my drooping holiday spirit. When the bah-humbugs start biting, there are two antidotes: (1) Roll up my sleeves and help someone who needs me. (2) Pull out the checkbook and make a donation to a good cause.
*I remind myself that it's not my job as a woman (or a family member) to make Christmas merry for everyone. Seriously, we all must STOP relying on women — usually the elderly — to keep cranking the Christmas Machine for us. Either we all contribute to the festivities — in any way we can — or settle for the holiday we get. Unless you're still in college, you're too old to hold your mom, your grandma, or your aunts totally responsible for your holiday happiness.
*I resist the pressure to bake and I've stopped feeling guilty about it. I love to cook, but I'm not a baker. This is the secret to holiday weight loss. I even purchase pre-made pie crust for our Christmas morning quiche, and nobody seems to mind. My lack of participation in the annual cookie exchange doesn't mean I don't admire everyone's Yuletide talents. Just not my thing.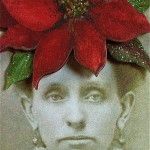 *When Christmas makes me sad or angry, I remember I'm not alone. I've grown more sensitive to the fact that many people are grieving losses (including death, health crises, and divorce) during the holidays. With its glaring focus on family unity, Christmas illuminates all the vacancies at the holiday table as well as any emotional distance that separates us from extended family. Talking with my friends, I've learned that almost everyone is facing some sort of holiday change or challenge, and is trying to make the best of it. Nobody's having loads more fun than anyone else.
*I can decorate the way I want, and stuff the rest in the attic. Every year, Doug banks our fireplace mantel with evergreens, pheasant feathers, twigs, and twinkle lights. It's a set-designer's fantasy that delights everyone who sees it — especially me. That tradition is a keeper. But over the years I've pared down to a few sentimental treasures, including a sterling silver bell (dated 1985) that was given to us by a dear friend when our son Nate was born. In recent years, Doug and I have lost interest in putting up a Christmas tree — which baffles some holiday visitors.  We reserve the right to change our minds in the future.
*I do something ordinary, with people I know and love. Forced merriment is not my idea of a good time. Even with people I like. So I have to question the need to cram our calendars with "special events" between December and January. Why not spread the love throughout the year? Likewise, I enjoy giving gifts — but not under pressure and not all at once. What touches me more are the simple, reliable, consistent efforts made all year 'round by my nearest and dearest. I'm nourished by un-fussy gatherings with both friends and relatives who don't expect me to turn myself into a pretzel just because it's Christmas. 

*I've lowered my expectations and welcomed the new. Nobody will ever throw a Christmas party like my Scottish immigrant grandparents did when I was a kid. But I usually encounter a dash of their old-country energy and gregarious spirit at the Christmas Eve open house hosted by my son's Croatian mother-in-law every year.  Following my grandparents' example, I try to bring some Celtic cheer (and a bottle of Bailey's) to every party I attend. That said, I also privately acknowledge the times I feel mournful or alone — even in a big roomful of partying people.
*I've accepted the fact that I've finally grown up. I cannot return to the home of my childhood Christmases (the house was sold years ago). My beloved father has been dead for more than 20 years, and my mother's dementia has progressed to the point where she doesn't know it's Christmas. My son Nate is 28 years old now, and married to a woman we all adore. As much as I love to recall the memory of Nate's first train set chugging around the tree when he was small, our family's early traditions and special moments cannot be recreated or reenacted. And that's the way life is supposed to work — every month, every day, of each beautiful year we're given. We grow, we change, we endure, we mature, we move on … Glory be.
– Photography and artwork by Cindy La Ferle – 
Posted on December 11, 2013
Filed Under Columns & essays | 3 Comments | Email This Post
Most conversations are simply monologues delivered in the presence of a witness."  ~Margaret Millar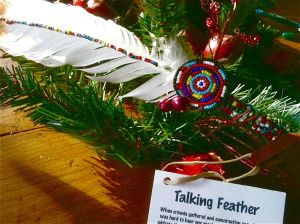 Like many of the items at The Leaping Lizard gift shop in Traverse City, Mich., the talking feather is steeped in Native American lore. The moment I spotted it, I knew I had to own it.
Attached to a thin leather cord, the feather is nicely embellished with strands of brightly colored beads. But the legend printed on the card that came with it is what cinched my decision to buy it:
"When crowds gathered and conversation grew louder, it was hard to hear one speaker, so the person wishing to address the crowd was passed 'the talking feather.' It was held above the crowd to signify that the person had the floor as speaker."
I'm no expert on Native Americana, so I can't vouch for the authenticity of this charming legend. Regardless, it occurs to me that — given a fair chance — the talking feather could restore the dying art of two-way conversation.
I won't even touch on political discussions in Washington. But just imagine what would happen if you brought the talking feather to family gatherings — especially during the holidays — where several conversations are carried on simultaneously, in competition with televised football games. Every in-law would be entitled to speak his mind while the rest of the family would listen intently, the room hushed. The magic words, "Please pass the talking feather," would enable everyone to get a word in edgewise. There would be fewer interruptions and better digestion.
And imagine how different things would be if everyone carried a talking feather to work. Colleagues would air opinions more carefully, taking time to breathe between sentences. Inspiration would have a chance to percolate at morning coffee breaks.
What if I carried the talking feather in my purse, or hung it around my neck, to remind myself to think carefully before speaking?
In any type of social situation, the well-timed use of a talking feather could silence — at least temporarily — the ramblers, egotists, narcissists, braggarts, jabberwocks, and other conversation dominators who love to hear themselves talk (even if nobody else does). In classrooms, too, teachers could silence a roomful of chatty youngsters with a mere wave of a feather.
A born talker, I'm inclined to interrupt, and sometimes I let my thoughts rush out of my mouth like too much salt from a shaker. I often find myself wishing I could take back the foolish things I've said. But what if I carried the talking feather in my purse, or hung it around my neck, to remind myself to think carefully before speaking?
"The right word may be effective," Mark Twain once said, "but no word was ever as effective as a rightly timed pause."
All said and done, good conversation is a reciprocal exchange between people — never a monologue. So here's a simple test: The next time you leave a holiday party, ask yourself if you've spent more time explaining yourself — or learning something new about someone else. Just sayin'.
This is an excerpt from a longer and slightly different essay published in my collection, Writing Home.
Posted on December 8, 2013
Filed Under Columns & essays, Events & news | 1 Comment | Email This Post
If you do a good job for others, you heal yourself at the same time." — Dietrich Bonhoeffer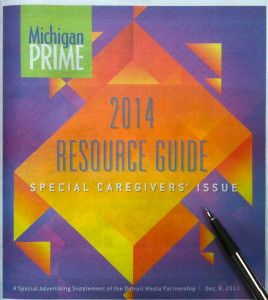 Until my mother was officially diagnosed with vascular dementia in 2009, I wasn't sure how to deal with her changing behavior. And I didn't know where to turn, at first, to get the help we'd both need as her disease progressed. I was often frustrated and exhausted — and frightened.
Whether your elderly parent is showing signs of a memory loss disorder or other major health problems, you won't want to miss Michigan Prime's 2014 Resource Guide: Special Caregivers' Issue.  My column in this issue recalls how I faced the early stages of my mother's dementia. The issue also includes a feature and checklist on how to choose an assisted living residence. (You can read my piece on page 6 of the online edition.)
I wish I'd had a resource like Michigan Prime several years ago. And that's why it's so important to me to write about caregiving issues today. I hope that my experience — including a few blunders along the way — will serve as a guidepost for others who are starting this difficult journey with their own parents.
« go back
—
keep looking »