You must learn one thing. The world was made to be free in." — David Whyte, "Sweet Darkness"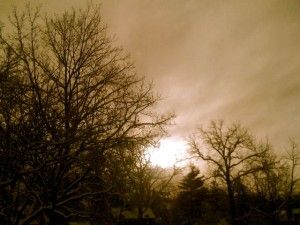 I often read favorite poems aloud in my writing workshops. I do this not only because I love good poetry, but because I believe everyone will benefit from exploring it. The right poem can work magic, and even change a life.
Typically, I select poems that remind us to honor our true nature — or encourage us to keep working even when we're blocked or discouraged. Some, like David Whyte's poem, below, ponder the loneliness of being an artist or a creative outsider. Others, including a Billy Collins poem I'll share later on, offer writing advice with a sense of whimsy and humor. My students seem to enjoy discussing the poems — even the ones who claimed they never cared much for poetry — and many ask for copies to take home.
It's important to read a poem several times, listening for new meaning to reveal itself.  Whyte's "Sweet Darkness" is a longtime favorite of mine. But after rereading it in the new year (with middle-aged perspective) I find that different lines touch a chord in me now. This time around, the poem reminds me that life is short. It urges me to fill my days with non-toxic, supportive people — and to get on with the work I was meant to do.
Today I'm excited about launching a new series for this blog. Every week or so, I'll post a poem here that speaks to the creative process, or inspires me in some way. At the end of each poem I'll include the name of the book in which the work originally appeared — in case you'd like to read more of the poet's work. I'll save all of the poems in a new category titled "Poems to inspire." I promise they'll be accessible — and appeal to everyone who dreams big and deep. — CL
SWEET DARKNESS
By David Whyte
When your eyes are tired
the world is tired also.
When your vision has gone,
no part of the world can find you.
Time to go into the dark
where the night has eyes
to recognize its own.
There you can be sure
you are not beyond love.
The dark will be your home
tonight.
The night will give you a horizon
further than you can see.
You must learn one thing.
The world was made to be free in.
Give up all the other worlds
except the one to which you belong.
Sometimes it takes darkness and the sweet
confinement of your aloneness
to learn
anything or anyone
that does not bring you alive
is too small for you.
–Reprinted from The House of Belonging, by David Whyte (Many Rivers Press); 1997
— Top photo, "Winter Sky" (copyright) by Cindy La Ferle —