"Maybe we are all cabinets of wonders."
?
Brian Selznick
,
The Invention of Hugo Cabret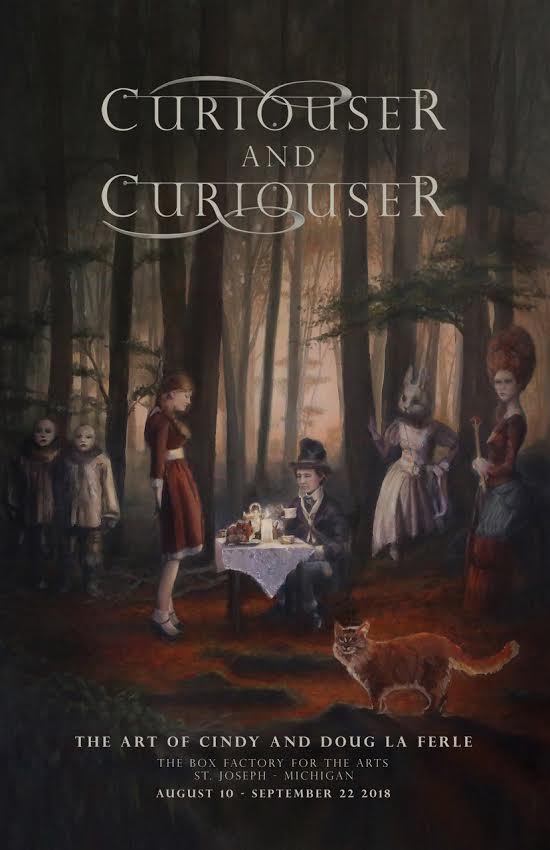 Poster art for The Box Factory exhibit by Douglas La Ferle
It's often said that married couples eventually start to resemble one another. While I'm not sure that's true of the two of us, Doug and I have noticed many common themes in our artwork. Anyone who visits our home studio agrees that our pieces, grouped together, look as though they were plucked from a very quirky cabinet of curiosities.
So we're very excited about our first joint art exhibit opening this weekend at
The Box Factory for the Arts
in St. Joseph, MI.
The Problem with Conformity by Cindy La Ferle

The title of our show, "Curiouser and Curiouser," was inspired by a favorite quote from Alice's Adventures in Wonderland by Lewis Carroll. As longtime collectors of found objects, ephemera, and other curiosities, we both enjoy finding unique ways to use these treasures in our artwork. Whether we're crafting kinetic sculptures, altered books, or mixed-media assemblages, we like to think of our work as creative recycling.

The show runs through September 22, and was featured in today's edition of The Herald-Palladium. ~Cindy La Ferle



Parts of this blog do not show on digital devices. Please visit the home page for additional photos and content.