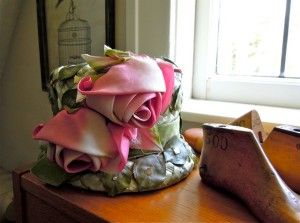 Digging through my clip file last week, I unearthed an old Easter essay I wrote for the op-ed page of  The Christian Science Monitor. A tribute to hats, it was originally published on March 28, 1997. I'm reprinting a shorter version here. Happy Easter! — CL
On Easter Sunday, There Were Always Hats…
Along with impossibly shiny patent-leather shoes, my childhood Easter wardrobe wasn't complete without a brand-new hat. I remember one in particular: a white straw number with satin flowers lining its brim and a long satin ribbon streaming down the back.
In those days, my mother always wore a hat to church, as did my proper Scottish grandmother. My favorites from their collections were fashioned from delicate tulle and feathers, reminding me of the birds' nests I'd find in my back yard. No doubt, those hats would be highly collectible at our local vintage clothing shops today.
In his lyrics for "The Ladies Who Lunch," songwriter Stephen Sondheim asks, "Does anyone still wear a hat?" These days, hats aren't nearly as popular unless you are under nine or over 90. Which seems odd, and a little sad, considering that it wasn't so long ago when men and women weren't considered fully dressed without them.
"If, as the saying goes, clothes make the man, it might also be said that hats make the woman. Over the centuries and over the world, hats have provided a quicker way than clothes to identify a woman," writes Nancy Lindemeyer in The Romance of Hats (Victoria Magazine/Hearst Books).
Veiled or wide-brimmed, tilted above one eye or pulled down over the brow, a hat lends an air of mystery. The protection it provides from the elements is of secondary importance.
And I can't think of remarkable people without thinking of remarkable hats. Scarlett O'Hara's coquettish garden hat. Jackie Kennedy's iconic pillbox. Leslie Caron's picture-brim in Gigi. Diane Keaton's floppy fedora in Annie Hall. Charlie Chaplin's dapper bowler. And, of course, the endearing Harpo Marx's battered topper.
Earlier this year I hosted a "Women of Many Hats" tea party, hoping to get better acquainted with my neighbors while chasing the winter blues. On the invitations I asked my guests to wear "silly or serious hats" — only if they wanted to — just to keep things from getting too stuffy. Surprisingly, the majority arrived wearing hats — beautiful hats, crazy hats, lushly feathered hats, vintage hats. Just as I'd hoped, the hats lightened the mood of the party and launched some lively conversations.
One guest said she wondered why we didn't wear our hats more often.
"We're victims of what's in fashion," another answered. "Not many people are wearing hats now, so I just don't feel comfortable putting one on." I knew how she felt, as I own several hats but rarely gather enough courage to wear one unless I'm attending a costume party.
The fact that few of us wear hats, I think, is another sign that Americans have lost their flair for romance and mystery. These days, we have no problem baring our hearts (and sundry other parts) in public. Choosing comfort over formality, some of us even wear shorts and blue jeans to church.
In honor of Easter Sunday, though, I might muster the nerve to wear one of my vintage hats to church. For old times' sake. — Cindy La Ferle (March 28, 1997)

— Top photo: One of several vintage hats from my collection. This one reminds me of the ones my Scottish grandmother wore in the 1960s, and is one of my favorites. Photo by Cindy La Ferle —