Daybooks for a new, improved you
"When we begin to make authentic choices, we discover our true place in the world for the first time. But this self-knowledge is not easily acquired. It takes tenacity and daring to travel to the darkest interior of one's self." ~Sarah Ban Breathnach, Simple Abundance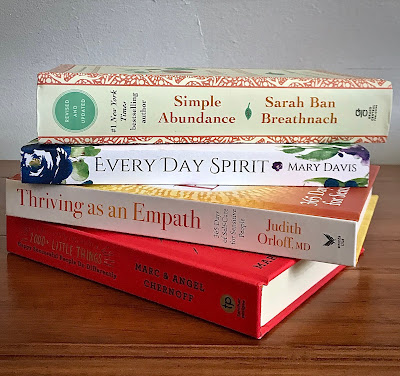 Cindy La Ferle
The beginning of a year is the perfect time to treat yourself to a new daybook. If you're unfamiliar with the concept, a daybook is a collection of short daily readings or meditations, each providing a dose of wisdom, comfort, or motivation. Some daybooks support spiritual growth and religious faith, while others offer practical advice for self-improvement.

The right daybook can serve as an antidote to the onslaught of upsetting news on TV and in social media feeds. I've always tried to fill my head with as much uplifting material as possible, and have collected a variety of daybooks for this purpose. I often read two or more at a time — one meditation to start the morning, and another (from a different book) before I fall asleep at night.

I started my daybook habit years ago with Sarah Ban Breathnach's Simple Abundance: 365 Days to a Balanced and Joyful Life (Grand Central Publishing). First published in 1995, the Oprah-endorsed book set a standard for women's inspirational reading and made the popular "Gratitude Journal" a household word. Now welcoming a new, younger readership, Simple Abundance was revised, updated, and republished in a 25th anniversary edition late last year. As Ban Breathnach explains, "I've refreshed some meditations, revamped others, replaced many." The new Simple Abundance reflects social changes and current issues, including social media addiction, but still speaks to women who are juggling work, family, and home life.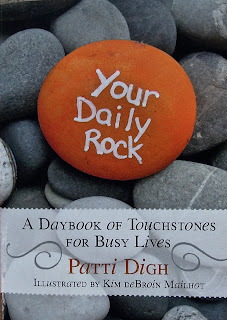 Another old favorite of mine is Your Daily Rock: A Daybook of Touchstones for Busy Lives (Taylor Trade Publishing).Written by multi-media artist Patti Digh, each essay begins with a pithy quote and focuses on topics of special interest to writers, artists, and other creative souls. My copy is highlighted, scribbled with notes, and dog-eared with folded corners of pages I want to reread later.

New to my stack of daybooks this year is Dr. Judith Orloff's Thriving as an Empath: 365 Days of Self-Care for Sensitive People (Sounds True Publishing). When I read the publisher's invitation to receive a review copy, I couldn't refuse. Orloff, a respected psychiatrist and a leading voice in the fields of medicine and psychiatry, designed her daybook to help sensitive people flourish while managing stress and burnout in an insensitive world. As someone who's criticized often for being "overly sensitive," I was grateful to find a tool that values empathy and gives clinical reasons to support it.

Every Day Spirit: A Daybook of Wisdom, Joy, and Peace (Rich River Press), came highly recommended by a friend. Author Mary Davis is a self-described "spiritual seeker," yoga teacher, artist, and bereavement counselor. Davis started writing her daybook when she moved to a remote cabin in the Blue Ridge Mountains while facing a difficult period in her life. Seeking comfort in God, nature, and ordinary things, she calls this daybook her "survival manual." The daily meditations in Every Day Spirit are ecumenical at heart, and will appeal to all seekers of inner peace.

~Cindy La Ferle


For additional content and social media sharing options,