Pictures from an exhibition
"If you ask me what I came to do in this world,
I will answer as an artist: I am here to live out loud."
~
Émile Zola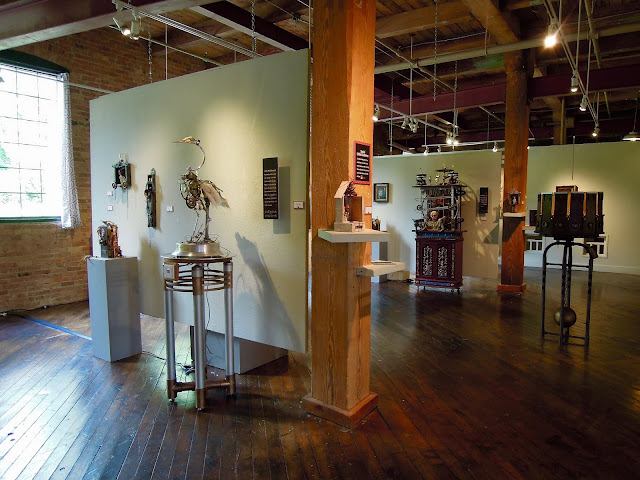 Our exhibit

at The Box Factory for the Arts, St. Joseph. MI /

Cindy La Ferle

Two weeks ago, I mentioned the opening of our art exhibit, "Curiouser & Curiouser: The Art of Cindy and Doug La Ferle," at The Box Factory for the Arts in St. Joseph, MI.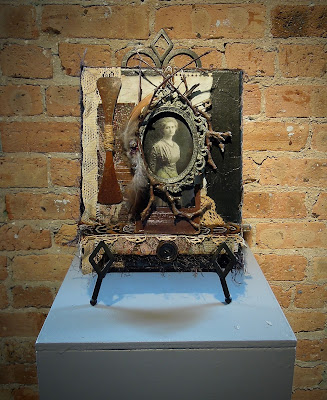 "The Importance of Ancestors" by Cindy La Ferle

Recovering from multiple surgeries on my eyelid at the time, I was unable to help Doug set up the show or attend the opening. But I did make it out to The Box to see the show earlier this week, and I wanted to share a few photos with you in this post. (For a larger view of each photo, please click on the image.)



Doug and his buddy Dave did an amazing job setting up the exhibit, and The Box Factory staff provided beautiful graphics to enhance the pieces. The Box Factory — originally built as a paper box manufacturing company in 1903 — is the perfect venue for our mixed-media artwork. The vintage brick building was converted in the 1990s to a multi-use arts facility, with much of its historic character intact.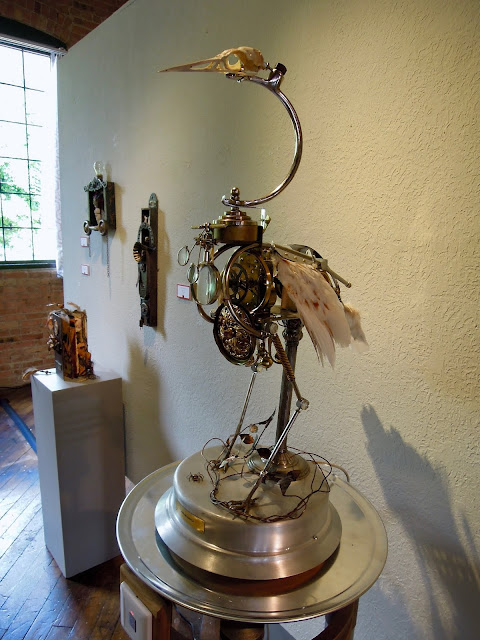 "Avis Mechanica" by Doug La Ferle
The exhibit runs through September 22 and includes about 30 of our favorite pieces — including Doug's kinetic sculptures and paintings, plus my altered books and assemblages. So far, Doug's kinetic sculptures have been the biggest hit with visitors, since many of them move or light up, make noise, and invite viewer participation.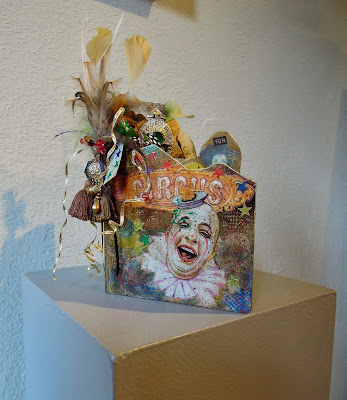 "Damn Everything but the Circus," by Cindy La Ferle
Having a joint art show has been one of our pipe dreams for several years, so we're especially grateful to The Box Factory for inviting us to exhibit and making it a reality.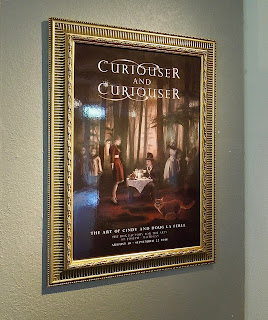 Exhibit poster by Doug La Ferle
If you're planning to visit: St. Joseph is located on the southwest coast of Lake Michigan — a three-hour drive west of Detroit. ~Cindy La Ferle