"The wound is the place where the Light enters you."
~
Jalaluddin Rumi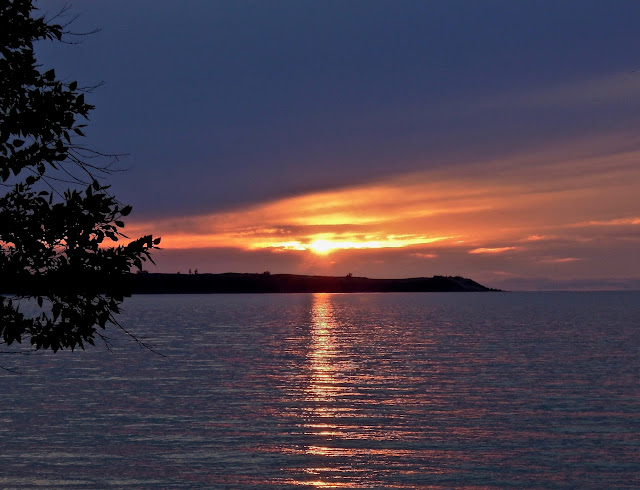 Lake Michigan sunset / Cindy La Ferle

On Thursday, I had surgery for the removal and biopsy of a lesion on my lower right eyelid. It was the fourth time a surgeon sliced into my face for skin cancer — so you'd think I'd be used to this sort of thing by now.

This time, however, the problem was right next to my eye, making the procedure more creepy — and me more nervous — than usual. And this time, I knew I'd be knocked out with anesthesia, which added another layer of complexity. As my ophthalmic surgeon explained, she would be cutting "a wedge" into my eyelid, removing the lesion and surrounding tissue, then sewing it back together. A week before surgery, I lost several nights of sleep while my imagination worked overtime: How far had the cancer spread, if it was cancer? Would the surgical scar interfere with my vision or leave me disfigured?

Arriving home a little groggy after the surgery, I was bone-deep relieved to have the ordeal behind me. As is typically the case, it wasn't nearly as awful as what I'd anticipated.

Luckily, too, my surgeon told me I can expect minimal scarring. (I've decided not to worry about the biopsy results until my follow-up appointment.) As instructed, I'm dutifully obeying a few restrictions and applying ice packs once every hour for 15 minutes. The toughest part has been trying to type and read while wearing a gooey layer of antibiotic ointment in my right eye.

Still, there's something luxurious about being told to do nothing but rest and shuffle around the house in bedroom slippers for a few days. It's an opportunity to reflect and take stock of what matters.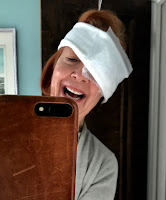 A post-surgery selfie

It has occurred to me throughout the weekend, for instance, that serious surgery makes even the strongest among us feel anxious and vulnerable. No matter how old we are — and especially if we've lost our mothers — we all want to be nurtured and comforted when we're in pain.

And sometimes it takes an unexpected challenge or roadblock to remind us that we shouldn't take our blessings for granted. Over the years, my surgeries (hip replacements included) have underscored how fortunate I am to have loved ones I can count on.

For starters, my husband, Doug, is always ready to run errands, fill prescriptions, and make domestic chores easier during recovery. While I was in surgery Thursday, Tilda, our longtime neighbor and family friend, came over to let Coco outside — and left a container of her world-class minestrone for our dinner. Thanks to other dear friends, neighbors, and my mother-in-law, we now have a fridge packed with enough delicious soup, vegetarian casseroles, salad, and coffee cake to keep us fed for a week. I feel deeply nourished and grateful.

Emotional support is nurturing, too. I've also appreciated every thoughtful card, text, and email message from friends and family, each one wishing me luck and cheering me onward. Thank you so very much.

Knowing that others care is the light that heals our wounds. ~CL