Growing old is mandatory; growing up is optional."  ~Chili Davis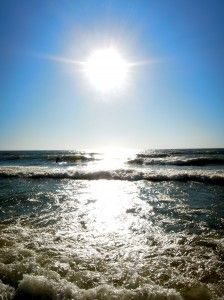 Doug and I just returned from a long birthday weekend in St. Joe. To be perfectly honest, my birthday (Saturday) felt a bit sad this time around, as if someone had let the air out of all the party balloons.
I suspect my blue mood had a lot to do with the fact that my mother totally forgot my birthday again this year. Of course, I'm not surprised. Mom's dementia has progressed to the point where she no longer looks at the calendar I gave her, nor does she care what day or month it is. She still remembers her own birth date when hospital staffers ask her for it, but she can't keep track of holidays and other special events — even when we write them down to remind her.
Not so long ago, before vascular dementia consumed her former, thoughtful self, my mother would call to schedule my birthday dinners at least a week in advance. And she'd always treat me to something special on a shopping trip we'd take together. Though I've learned how to deal with a new and difficult version of my mother, last week I found myself battling the same waves of grief I experienced on my birthday following my father's death in the summer of 1992.
Watching our parents turn ill (or die) is a grim reminder of our own mortality — not exactly the frosting anyone would choose for her proverbial birthday cake.
It didn't help that August 4th was blistering hot in St. Joe. And just before we left for dinner that night, a huge turkey vulture swooped down to perch in a poplar tree behind our house. It seemed like an awful omen of some kind. (Another vicious year ahead? Or am I reading too much Alice Hoffman?) Topping it off, a violent storm erupted while we were driving to a local restaurant for my birthday dinner.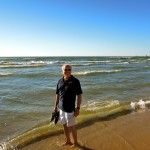 Thankfully, my dark mood lifted with the brighter weather on Sunday. Doug and I spent a memorable evening on a gorgeous Lake Michigan beach, then rode the Silver Beach carousel after a casual dinner in St. Joe. (I chose the horse representing Michigan State, my alma mater.) Riding the carousel with my dear husband made me feel like a kid again, which is quite a feat, given that I just turned 58 years old.
Taking a long walk back to the car, the two of us watched the sunset on the beach. The majesty of Lake Michigan — my favorite lake in the world — reminded me that my problems are relatively small; that my mother's dementia is part of a midlife journey that many others have traveled before me. Blessed with an incredibly patient and loving husband, I know I can handle any rough water ahead. And so turns another year. — Cindy La Ferle
Top photo: The sun begins to set on Lake Michigan in St. Joe. Bottom photo: Doug walks the beach.