Essay: Antiques Roadshow at Meadow Brook
"Our most treasured family heirlooms
are our sweet family memories.
The past is never dead; it is not even past."
~William Faulkner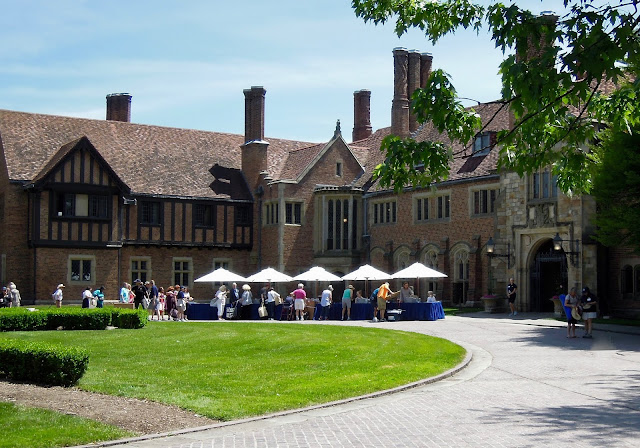 Lining up for the Antiques Roadshow event at Meadow Brook Hall, Rochester Hills / Cindy La Ferle

It really doesn't matter how much cash they're worth — because my family heirlooms will always have priceless sentimental value to me. That said, when Doug and I were offered an opportunity to participate in the Antiques Roadshow event at Meadow Brook Hall in Rochester Hills last week, we jumped at the chance.

As longtime fans of the popular PBS show, we were excited to learn how it's organized, produced, and filmed. This was Antiques Roadshow's first visit to Rochester and its fourth time filming in Michigan. Produced in association with Detroit Public Television, the event will be segmented into three hour-long episodes that will air on PBS in 2019.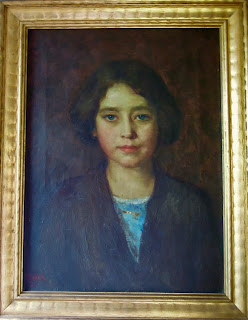 Bart Finney's portrait / La Ferle
Each Roadshow ticket holder was invited to bring two items for appraisal — portable items that we could easily haul around the grounds of the Meadow Brook estate. Doug and I chose items from four categories: a small Persian rug, a 1920s Japanese ceramic bowl, an oil portrait of my maternal grandmother, and a colorful woodblock print of a garden.
The weather was picture-postcard perfect and the event was incredibly well-organized. We'd been warned to expect lots of waiting, but found instead that most of the appraisal lines moved quickly and efficiently. It also helped to use the divide-and-conquer approach: Doug headed off with the rug and my grandmother's portrait while I stood in other lines for the ceramic bowl and the woodblock print.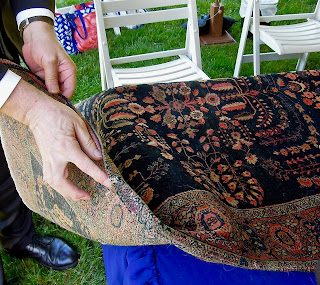 Appraising the rug / Cindy La Ferle
I was a bit surprised to find that the first three items had less value than we'd guessed. My gorgeous Japanese bowl was worth only $45, for instance, and Doug was told that there's not much of a market for family oil portraits. The rug wasn't in perfect condition, so its estimated value didn't blow us away.

But I discovered that the woodblock print is a highly collectible piece by a well-known artist who'd spent time in an artists' colony in Brown County, Indiana — just an hour south of my maternal grandparents' home in Indianapolis. And it's steeped in nostalgia.

I have sweet memories of gazing at this print in the guest room of my grandparents' home, where I stayed during my childhood visits every summer. I recall drifting off to sleep while my parents and grandparents chatted in the living room or outside on the porch. It was the first piece of art I ever wanted — and the first item I asked my mother to save for me from my grandparents' estate.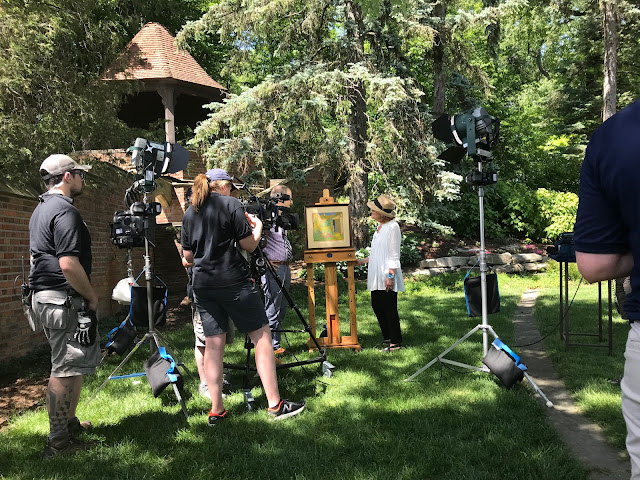 Getting ready for my pop-up interview with print appraiser Nigel Freeman / Photo by Doug La Ferle





Print appraiser Nigel Freeman (from Swann Auction Galleries in New York) asked if I'd like to meet Roadshow's executive producer Marsha Bemko to discuss the possibility of being filmed with my piece in a pop-up interview for an episode. I didn't hesitate — and I hope it makes the final cut.

At the request of the Antiques Roadshow production team, I'm not at liberty to reveal the estimated value of my woodblock print before the episode runs — so you'll have to watch for it on PBS next year. ~Cindy La Ferle
_________________________________

Please visit the home page for additional content. Parts of this blog do not show on iphones and other digital devices.