Posted on December 2, 2016
Filed Under Events & news | Leave a Comment | Email This Post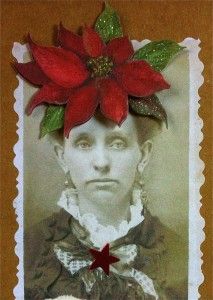 As we gather together for the winter holidays — at office parties and in the homes of our relatives — we'll all be walking around a huge elephant in the middle of the room. The elephant's name is Politics.
Chances are, a few of your friends, colleagues, and loved ones didn't vote for the presidential candidate of your choice. Can you remain cordial and keep the peace? That's the topic of my column in the December issue of Michigan Prime, delivered this Sunday with your Detroit News and Free Press. Flip to page six to read the column in the online edition.
Posted on November 18, 2016
Filed Under Events & news | Leave a Comment | Email This Post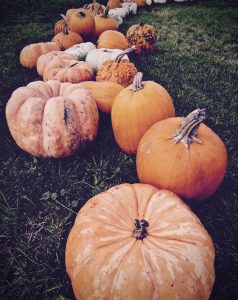 Earlier this month, I deactivated my Facebook and Twitter accounts. I'll continue to post news on this Web site as well as on Instagram and LinkedIn. You'll also find a new photo and an inspirational quote every morning on my photo diary, Something Beautiful Every Day (see the post below).
I'm forfeiting Facebook time to work on new book projects in addition to my newspaper columns. And speaking of breaks from Facebook, I ran across this insightful piece on PsychCentral.com. 
Happy Thanksgiving to all!
Posted on November 10, 2016
Filed Under From my quote journal, My artwork | Leave a Comment | Email This Post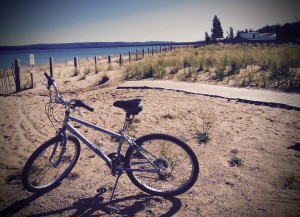 If you're struggling to find peace in the aftermath of the presidential election, you're not alone.
Several months ago, when I needed relief from divisive news headlines, I launched Something Beautiful Every Day, a daily blog that features my own photography and uplifting quotes from famous (and not-so-famous) authors.
You won't find partisan politics on "Something Beautiful." What you will find are photos of my gardens, things I've collected, and discoveries I've made on my travels. Each daily photo is paired with an inspirational  or literary quote that will lift your spirit, motivate your creativity, or get you thinking.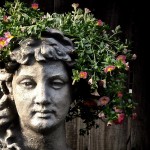 If you haven't had a chance to explore this online photo diary, I hope you'll visit soon. And if you opt to subscribe to "Something Beautiful Every Day, you'll receive a daily inspirational post from me each morning. You can subscribe on the site, or I can sign you up if you email me at cindy@laferle.com using "Something Beautiful subscribe" as the subject heading.
Posted on November 7, 2016
Filed Under Columns & essays, Just for writers | Leave a Comment | Email This Post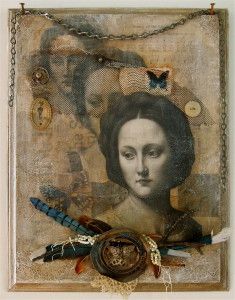 Though I have few regrets in my life — and I count my blessings daily — I am sorry I didn't keep my maiden name or use it professionally when I married my husband 36 years ago. How much are we giving up when we stop using our own names? It's a dilemma married women face, even now, and I touch on the issue in Michigan Prime this month. To read the column online, click here and flip to page 3.
Artwork by Cindy La Ferle
Posted on October 28, 2016
Filed Under Columns & essays, Events & news | 5 Comments | Email This Post
Sorting through my mom's papers after she died, I found a copy of this essay, which I wrote after my father's passing in 1992. First published in the October 1998 edition of Mary Engelbreit's Home Companion, it's also included in my book, Writing Home.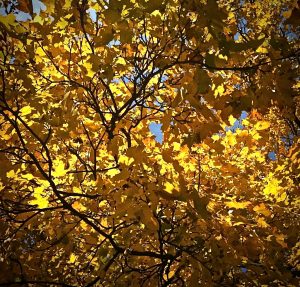 Lately I've been thinking of these lines from Anne Mary Lawler's poem about the seasons: October dresses in flame and gold, Like a woman afraid of growing old. 
This is a potent month for memories. Yesterday I watched while my son and the children next door tumbled like acrobats in the fallen leaves. (Is there a kid in the Midwest who hasn't done this?) And later in the evening, I sniffed the familiar aroma of wood-burning fires, another indisputable sign that winter is on its way.
For me, the smoky scents of October always evoke a favorite memory of my father raking leaves in the small backyard of our first home. The memory is more than three decades old, but it glows as vividly as the logs crackling in the grate tonight.
When I was growing up — before environmental laws — everyone in my neighborhood raked leaves into neat brown piles, then burned them near the curb or in backyard bonfires. Dry and brittle as bones, the leaves and twigs snapped furiously when introduced to a match. In those days, October weekends seemed to drift in clouds of gray-blue smoke — the perfect prelude to Houdini's Halloween.
Like most fathers, mine worked on weekdays, and often spent his weekends doing yard work. Long before the term "quality time" was coined by childcare experts, Dad would enlist my help raking leaves on Sunday after church.
I offered very little assistance, preferring to toss his neatly piled leaves back into the air, or to roll in what remained of his handiwork. Regardless, he seemed to enjoy my reckless company — and I enjoyed the novelty of helping him. Unlike my mom, who would have seized the opportunity for "girl talk," my dad didn't always communicate with words.
On those brisk autumn afternoons, with the sun glinting through bare branches of oak and maple, it was enough for us to be together. He raked, I rolled, and nothing of dire importance was ever said.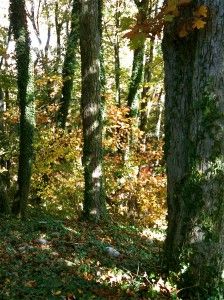 Still, young as I was, I felt the ancient ache and pull of October.
By then, I understood the seasons were cyclical; that the easy days of summer would return as surely as apples had ripened every fall. But I'd also begun to grasp the concept that time trudges ahead in a straight line, like it or not, ruffling the smooth texture of our days as it marches forward. I couldn't have explained it quite this way, but suddenly I knew I'd have to "yield with a grace," as Robert Frost once wrote, "the end of a love or a season."
I recall watching my handsome young father in his plaid flannel shirt while he whistled and tended his banks of smoldering leaves, their acrid smoke filling my nostrils and forcing tears. I remember wishing that everything could stay the same — that I wouldn't have to grow up or grow old; that autumn afternoons wouldn't bleed to winter.
It was as if I had glimpsed the distant future and seen my father's empty chair at our Thanksgiving table.
Of course, Dad had no idea that I had stumbled on a vast, disturbing truth and was forever changed by it. He worked contentedly, pausing only to watch me or to loosen the dried leaves from the long teeth of his rake. And that is the way I like to remember him: arrested in time on that golden fall afternoon, living in the moment, always whistling.
— Cindy La Ferle
keep looking »