Posted on March 7, 2015
Filed Under Events & news | 6 Comments | Email This Post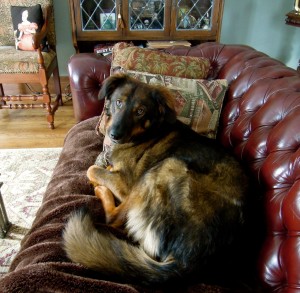 "Once you have had a wonderful dog, a life without one is a life diminished," wrote Dean Koontz.
I was a contented "cat person" for more than three decades, owning at least two adorable felines at a time. So I never realized something was missing from my life — though I'd always entertained fantasies of adding a large dog to our family … someday.
As a new dog owner at 60, I've had a lot to learn. But I'm totally smitten with Coco, the beautiful shepherd-collie we adopted last fall, not long after my mom died. In this month's Michigan Prime column, I had a little fun with the topic, and shared several life lessons I've learned from Coco. Watch for the print edition in your Sunday Detroit Free Press, or flip to page 5 to read it online.
Posted on February 19, 2015
Filed Under Events & news | 7 Comments | Email This Post
Browsing through a stack of women's magazines in a waiting room recently, I counted no less than half a dozen features outlining how to "banish clutter" or "simplify and organize" everything that's muddled in my chaotic household.
One article suggested that dumping the contents of my junk drawers would enhance my self-esteem. Another promised I'd experience more "positive energy" in other areas of my life — if I'd spend a week purging my closets and drawers, and clearing the tabletops throughout my home. If only it were that simple, right?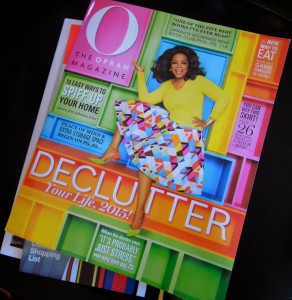 By now, we all know that the simplicity movement dates back to Henry David Thoreau's famous sabbatical in the woods. And it kicked up some new dust in the early 1980s with the publication of Duane Elgin's classic handbook, Voluntary Simplicity. Suffice it to say that the movement is more than a passing new-age trend.
Real Simple magazine, for instance, is taking Elgin's movement for yet another spin. I should disclose that I'm the grateful recipient of a gift subscription to Real Simple. It's a beautiful magazine and, for the most part, has the best intentions. Life is complicated enough these days, especially for families, and most of us could use some handy tips on streamlining our recipes and cleaning routines.
Cleaning frenzy?
Still, I worry. To magazine editors, simplicity has become a religion for the stressed. Order is godliness. Blank space is Nirvana. If these editors had their way, our homes would be totally purged of clutter — and nearly devoid of character. Our living rooms would be as sparsely furnished as a Quaker meetinghouse. Our kitchen and bathroom cabinets would be sanitized, organized, and alphabetized. The tools in the basement and garage would be labeled and stored in clear plastic boxes on shelves within easy reach.
If your inner slob is cringing, take heart: Most shelter magazines advertise a wide variety of products that will aid your efforts to simplify. Once your cabinets and closets are cleared, of course, you'll have lots of room to stash all the spiffy new organizing components they want you to buy.
Problem is, I'm a born collector with years of garage sale shopping under my belt. Getting rid of things works against my nature. Just one example: My favorite hobby is making collage art – a messy pastime that's fueled by my hopeless flea-market addiction. Over the years I've developed finely tuned radar for locating miscellaneous junk for potential art projects. According to the Statistical Manual of Mental Disorders, I don't (yet) qualify as a "compulsive hoarder," since my clutter hasn't reached the point where it produces "severe distress" or blocks entrance to our living room.
We're only human
I envy disciplined homemakers with a talent for controlling clutter. And I salute them as they empty their junk drawers and attics. Nothing warms my heart more than the sight of these good people hosting rummage sales in my neighborhood.
But I'm trying to make peace with the reality that my home will never be featured in a magazine like Real Simple. My furniture is often covered with the flotsam and jetsam of a busy life — books, souvenirs, family photos and heirlooms, dog hair, cat hair, and unprocessed laundry. Sometimes I go through phases when this drives me crazy, and I end up parting with mementoes that, later, I wish I'd kept.
As I settle into middle age, I'm learning to value the richer textures of complexity. Real life is messy and difficult, and its broken parts can't always be sorted by category or tastefully hidden from view. Our homes, along with all our crazy things, tell the stories of our lives.
If I'm ready to unload anything this season, it's the ton of guilt I've accumulated after reading too many magazine articles on simplifying life. Like the ancient Egyptians in their pyramids, I plan to be buried with all my stuff. – Cindy La Ferle
Posted on February 7, 2015
Filed Under Columns & essays | 2 Comments | Email This Post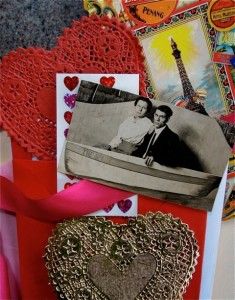 The divorce rate may be rising again, but I didn't have to look far to find many happy couples to interview about their long-running marriages. And last month, when I asked Facebook friends to share the secrets of keeping an old love new, I received more responses than I had room to quote in a short, 550-word column. So what are the common ties that bind?
Look for my tribute to "old love" in the February issue of Michigan Prime, delivered with your Sunday Detroit Free Press this weekend. Or read it online here, on page 5.
– "We're in the Same Boat" Collage by Cindy La Ferle –
Posted on January 9, 2015
Filed Under Columns & essays | 7 Comments | Email This Post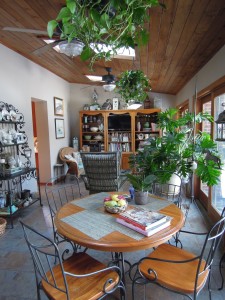 The flu bug hit me with a double-whammy at Christmas, rebounding as a respiratory infection on New Year's Day. Out of courtesy to the public, I cancelled social plans and stayed home during my weeks of recovery.
It took getting sick to remind me that I hadn't taken a moment to sit quietly since my mother died in September, exactly six months after she'd been placed in hospice care. Doug and I had barely recovered from an epic August flood that devastated our community (and drenched our basement). As another friend put it, for many of us, last year was a TV series that should have been titled "One Thing After Another."
I'm not the sort of person who likes to stay in bed all day, even to nurse a flu virus. And so, in between cat naps, I listed the household projects I'd put off for ages, including new linens for the bed. (I'd just published a column on the topic of breaking out of our metaphorical comfort zones, which also made me realize, ironically, that I'd neglected my own "comfort zone" here at home.)
Having adopted a large rescue dog in October, Doug and I needed to rearrange some furniture to accommodate our new family member and lifestyle. So, while nursing our nagging coughs, we tinkered with our surroundings. The dog's crate was moved to a better location in the garden room, where we also created a cozier seating area for the humans. In the process, I enjoyed a renewed interest in the domestic arts and found that my post-holiday depression (if not the flu) was starting to lift.
Along the same lines, I remembered an old column I wrote back in 2003 for The Oakland Press. Titled "Puttering," the full version of the essay is included in my book, Writing Home. Here's a short excerpt:
THE LOST ART OF PUTTERING 
Cheaper than air fare or psychotherapy, puttering lets your mind wander while your body hangs out around the house. Unlike fall or spring housecleaning, which involves physical energy and high-powered appliances, puttering puts you in a Zen-like state of bliss. Not to be confused with slacking, fidgeting, noodling, fiddling, or piddling, puttering is good for mental health.
Sadly, ours is a goal-directed, work-till-you-drop culture. And since most of us like to boast about how terribly busy we are, puttering is never easy to pull off.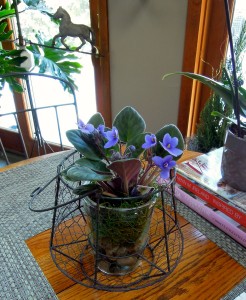 For those who practice on the sly, like I do, puttering styles are varied and highly personal. Puttering can be the act of sorting through a box of college textbooks in the basement; tinkering under the hood of an old Chevy; or rearranging things on a shelf while you listen to jazz on the stereo. Puttering is a way of clarifying life's myriad details, especially when it's done with reverence for the objects at hand. It's an opportunity to reconsider what we most enjoy in our homes, and to make a mental list of what we'd like to edit later.
Feeling sluggish and blue last week, I decided to putter in the kitchen. Taking inventory of my good china, I lost myself in happy memories of the two grandmothers who had actually used all the serving pieces for holiday dinners. I marveled, too, at how both sets of dishes have survived several moves and kitchen renovations – and somehow outlived their original owners.
If puttering still sounds like a chore you've postponed, it's only because you haven't found a method that cheers or relaxes you. One man's notion of drudgery, after all, can be another's idea of soul craft.
"I can't explain it, but I enjoy doing dishes," writes Thomas Moore, a former Catholic monk and author of the best-selling Care of the Soul. "I've had an automatic dishwasher in my home for over a year, and I have never used it. What appeals to me, I think, is the reverie induced by going through the ritual of washing, rinsing, and drying." Thomas Moore can come over to my house and wash dishes any time he visits Detroit (especially if his visit coincides with another power failure). Meanwhile, I'll keep loading my dishwasher.
Still, there's merit in savoring the ordinary tasks of daily living. A lot of us spend our lives reaching for lofty goals, or at least trying to look productive 24/7. This wouldn't be such a bad thing if so many of us weren't scratching our heads and wondering what's missing even after we've won all the trophies. (Consider all those baby-boomer executives who can't wait to retire.)
"My life has no purpose, no direction, no aim, no meaning, and yet I'm happy. I can't figure it out. What am I doing right?" observed Charles M. Schulz, creator of Peanuts.
Charlie Brown, after all, was pretty good at puttering.
Top photos: Our garden room, after rearranging the furniture this week. 
Posted on January 2, 2015
Filed Under Columns & essays, Events & news | 4 Comments | Email This Post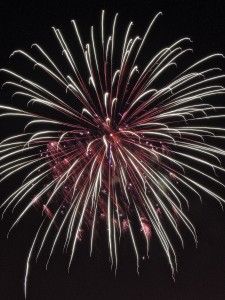 Are you stuck in a rut? Set in your ways? Afraid to take risks or try something new? The start of a new year is the perfect time to break free of our self-sabotaging beliefs and habits. My January column in Michigan Prime highlights several brave people who've taken the leap in midlife, plus I've provided a few tips and resources to help you get started. The whole issue has great articles to motivate and inspire you. The print edition is delivered to subscribers of the Sunday Detroit Free Press, or read the January 2015 issue online (my column is on page 4).
keep looking »