Cooking and baking my way through the pandemic ~ Notes from my quarantine journal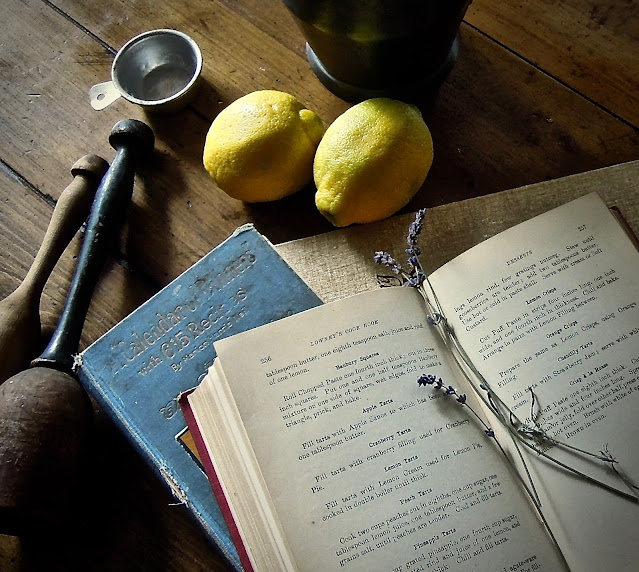 Cindy La Ferle
"No one who cooks, cooks alone. Even at her most solitary, a cook in the kitchen is surrounded by generations of cooks past, the advice and menus of cooks present, the wisdom of cookbook writers." ~Laurie Colwin
Lately I've been thinking that Tiffany & Co. ought to design a small silver charm to represent an oven range — or maybe even a miniature frying pan. Either would be the perfect symbol for my daily life in the time of COVID-19 — and the ideal gift for Christmas this year.
Since early March, I've logged untold hours of labor in our kitchen. Even the upheaval of a stalled remodeling project couldn't keep me away from the stove. I've scribbled scores of grocery lists, baked dozens of loaves of pumpkin and banana bread, simmered countless stews and soups in my Dutch oven, reorganized the refrigerator, and upgraded old cookware.
I've purged the pantry and re-stocked canned goods — sometimes in panic mode — each time Covid rates started spiking in our part of Michigan.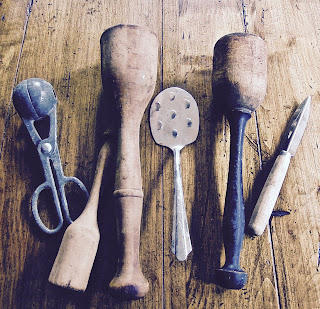 Vintage tools / Cindy La Ferle

In the early spring days of sheltering in place, I was so overwhelmed by pandemic anxiety that I couldn't muster a teaspoon of creativity for writing, or artwork. When I wasn't reading novels or biographies for escape, I pored over cookbooks for new recipes, always finding my way back to the kitchen twice a day to prepare meals for the two of us.
And I'm surprised at how much relief this has given me.
I'm surprised because I've never thought of myself as a good cook; my skills are decent but hardly noteworthy — except to well-mannered friends who've claimed to enjoy a few of my simple signature dishes and hoped to be invited back for dinner again. Not that the pandemic has made a four-star chef out of me. But it has forced me to find different, healthier recipes, and to try culinary methods I hadn't considered before.
For the most part, kitchen work has given me a sense of order and purpose, even in these politically chaotic times — and even when things don't turn out like the photos in my cookbooks or online recipes.
The days of wine in restaurants
Before the pandemic, my husband, Doug, and I ate in restaurants or diners several times a week — breakfast, lunch, or dinner. If I didn't feel like cooking, we'd hop in the car and drive to a restaurant quicker than you could say, "What's for dinner?" We'd meet our friends for meals or drinks, toasting birthdays, anniversaries, or any special occasion we could name. Those days seem like ancient history now. We haven't dined inside a restaurant for eight months.
According to a recent study by the Center for Disease Control, in-person restaurant dining carries one of the highest risks for COVID-19 transmission. Even ordering carry-out felt risky at the beginning of the pandemic. We've gotten over our initial fears since then, and sometimes order a special meal "to go." We believe in supporting our favorite restaurants when we can.
For the most part, however, I cook at home now.
Doug will be the first to admit that he's a terrible cook. While he always offers to help me in the kitchen, I prefer working alone. We both joke about his sincere attempts at meal preparation, recalling the burned and blackened offerings he's contributed in the past.
Some friends (all women) ask if I ever resent being responsible for the majority of our meals. Most of the time, I don't. Doug handles so many other things in our household, and cooking our meals seems like the least I can do.
If I resent anyone or anything these days, it's the bone-headed Federal Government leaders (and their supporters) who've denied or ignored the reality of this pandemic from the start, calling it a "hoax" and dismissing the very real suffering everyone has endured on so many levels this year. You can argue with me all you want, but in my heart, I believe this crisis would have resolved earlier if preventative measures had been implemented much, much sooner.
Still a lot of blessings to count
All said and done, kitchen duty calms my nerves; it provides the comfort and nurturing I've yet to find elsewhere.
As cliche as it sounds, I'm very grateful for the privilege of shopping for food and preparing our meals, knowing there are so many Americans who've been standing in food lines throughout the pandemic.
Looking through the seasonal haze of nostalgia, I'm amazed at how much communing-around-the-table that all of us took for granted until this year. I miss breakfast at the local diner, intimate dinners in fine restaurants, neighborhood potlucks, meals inside the homes of dear friends, and holiday parties. There's no denying the comfort and festivity of gathering around a table with others.
Doug and I will be alone this Thanksgiving. We've opted to follow medical community guidelines suggesting that we limit holiday gatherings to our own household. Does it make me sad? You bet it does. We'll miss seeing the rest of our sweet family. Yet I'm also grateful that we've both remained healthy throughout this prolonged, godforsaken pandemic. I look forward to happier Thanksgiving meals with loved ones in the future. But only if we are wise and careful right now. ~Cindy La Ferle
________
To view featured posts, additional content, and social media sharing options, please visit the home page. All posts from "My Quarantine Journal" are posted in order (from last to first) here.