Remembering powerful women: Notes from my quarantine journal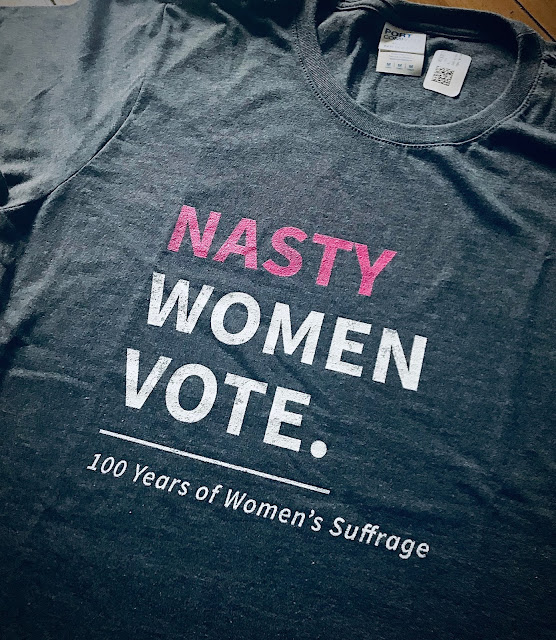 My new T-shirt / Cindy La Ferle
"Fight for the things you care about, but do it in a way that will lead others to join you." ~Ruth Bader Ginsburg
September 22
Minutes after the death of Ruth Bader Ginsburg was announced, my cell phone starting buzzing like crazy. More than half a dozen of my besties, including an old college room mate who'd lived with me in the 1970s, started texting from all over the country. Nobody wanted to process this piece of news by herself, and I felt a surge of gratitude for these kindred spirits, my posse of politically informed women.
Floored by Ginsburg's death, my friends admired the tiny powerhouse of a woman who fought throughout her career to foster civil rights and eliminate gender-based stereotyping in legislation. She was the second woman to sit on the bench of the U.S. Supreme Court, and boasted one of the most supportive and inspiring marriages in history.
The following day, another friend told me she'd been feeling defeated, weighed down by the gravity of Ginsburg's passing and the implications of her newly vacant SCOTUS seat. We exchanged notes on the films about Ginsburg's life and how we planned to watch them again soon.
Ginsburg's death was painfully wedged between the anniversary of my mother's death (September 13) and her birthday (September 20).
I've always thought of September as my mother's month, making it an emotionally reflective and nostalgic time for me. This year, with the COVID pandemic draped so heavily around my daily routines — and so much divisive political rancor everywhere I turn — I've often found myself melting in an unstoppable flow of tears.
Along with the news about Ruth Ginsburg (and the loss of more than 200,000 American lives to COVID-19), I've been thinking often about my own mother, and how much I've missed her friendship and support over the past six years.
Just as Ruth Ginsburg was a champion for women, my mother always rallied for me. When I was a young girl with big dreams, Mom worked hard to instill confidence in my abilities, always encouraging me to get a higher education. She married young and told me several times that she regretted not earning a college degree, as my father had. But after I was born, she worked at home and earned a respectable living as a commercial artist while making a beautiful life for my father and me. My mother wanted me to take full advantage of any opportunity to live my own dreams and advance my own career. In many ways, she was ahead of her time.
After I graduated from college and struggled to find a job in my field, my mother faithfully checked the newspaper ads with the hope of helping me locate entry level jobs in journalism or publishing. It was the mid-1970s — a time when our city newspaper was on strike and most daily newspapers were cutting back on staff. If it weren't for my mom scanning the employment ads in The Detroit News, I wouldn't have landed my first job in publishing after months of no leads.
Ginsburg was in her teens when she lost her own mother to cancer, just a day before her high school graduation.
"I pray that I may be all that my mother would have been had she lived in an age where women could aspire and achieve, and daughters are cherished as much as sons," Ginsburg said in her 1993 Supreme Court acceptance speech.
Ruth Ginsburg was known for serving as a mentor — as well as fighting for women's rights. She said she took pride in working toward a better future for all Americans — for the greater good — never for her own self-interest. She elevated her career by uplifting others, campaigning for social justice in the true sense of the term. Despite the creepy politics and duplicitous battles swirling around her vacant Supreme Court seat this week, I hope we will all pause to remember Ginsburg's contributions — and aim to be a little less selfish and a lot more compassionate in our own lives. ~Cindy La Ferle
You can read earlier posts from my quarantine journal here. All previous pieces will appear in order, last to first.