Patience, porches, and other silver linings: Notes from my quarantine journal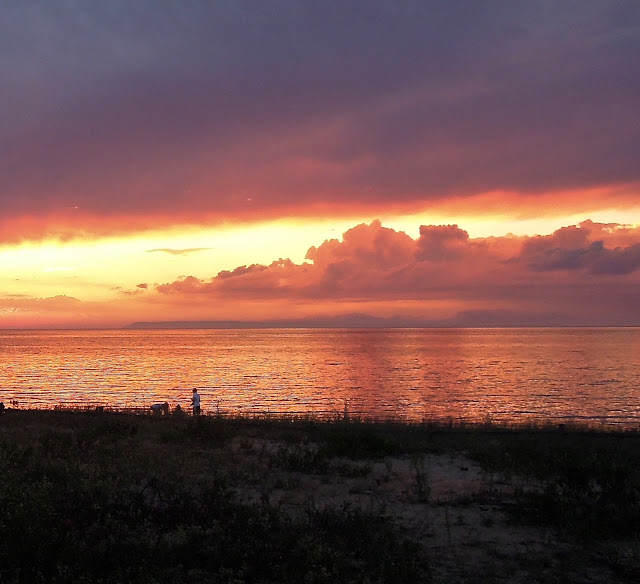 On Lake Michigan / Cindy La Ferle

"It is easier to find men who will volunteer to die than to find those who are willing to endure pain with patience." ~Julius Caesar
June 22, 2020

Until this morning, I didn't have the emotional strength to process several events that spiraled downward in the past couple of weeks. To protect the privacy of friends and family, I won't rehash everything here.

Suffice it to say that too many good people I know have been battling relentless challenges, grief, or loss — personal battles that would try anyone's soul outside the frame of a global pandemic.

Last week, just for starters, a dear friend's elderly mother-in-law fell and broke her hip. The following day, a longtime neighbor asked for hospice recommendations for her sweet husband, who suffered through a difficult surgery and isn't expected to recover. At the same time, yet another friend's beloved family dog, with cancer, had to be euthanized — while another friend's cat was hit and killed by a car. Meanwhile, younger family members are struggling under the burden of managing full-time jobs from home while caring for babies and small children.

Our toxic political climate, along with new national spikes of coronavirus, only compounds the sense that this massive shit-storm isn't over yet. As one of my friends admitted, "There are too many days when it doesn't feel safe to get out of bed and get dressed."

Little glimmers of hope

The thing is, we all have to get out of bed and get dressed.

We have to gather enough courage and strength to support the people who need us even when we're running on empty ourselves. And we have to keep looking for sparks of hope, positive outcomes, and silver linings.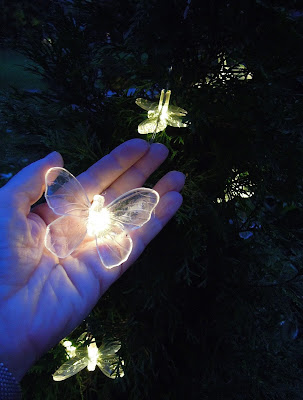 Cindy La Ferle

I'm pleased to report that I'm finding a few. Or at least trying to weave some lighter moments around the inevitable shadows whenever I can.

For one thing, the pandemic has forced me to learn the elusive skills of patience and restraint — rarely my strong suits. Like most Americans, I believed patience was the enemy of instant gratification. When the pandemic started, I expected quick solutions, remedies, or vaccines. Months later, I finally understood that being patient in the face of uncertainty was my only option.

I'm encouraged by the fact that Michigan — which had nearly topped the grim national stats of COVID deaths and cases in the spring — now shows a significant decline in the number of cases, hospitalizations, and deaths compared to other states. (As of today, the U.S. coronavirus death count tops 120,000.) Thanks to a governor who wasn't afraid to implement some "tough love" restrictions — and savvy residents who were disciplined and patient enough to follow them — we're able to reopen more businesses and resume a modicum of normalcy.

Growing my hair out versus tearing my hair out

Before the pandemic, I often talked about growing my hair longer. I've admired women who can twist their ponytails into a chignon on hot summer days, yet I've never had the patience to endure the awkward "growing out" stages of shorter haircuts. Then along came COVID-19.

Last week, even after the beauty salons reopened in Michigan, I decided not to book a hair appointment. As I teased my pal Deb (who got an adorable haircut last week), I thought it best to let other women serve as the proverbial canaries in the mine. I waited to see if they felt comfortable with safety precautions at their salons — and most of them did.

Truth is, I realized there was absolutely no hurry to get my hair cut. Nobody who's seen me in recent weeks has recoiled in horror at the sight of my outgrown bob. Furthermore, I think this is the ideal time to test the limits of my hard-won patience — as well as the length of my hairstyle — just a while longer.

Oddly enough, making that simple decision gave me a sense of mastery, a chance to turn a bad hair month into an opportunity.

Front porch pleasures

Now that pandemic restrictions are being relaxed, Doug and I are "social distancing" outdoors with a handful of friends, neighbors, and family members. Doug sat outside with his mom on her patio for her birthday last month. And what a treat it was to get our first invitation to sit on our friends' front porch in Royal Oak. We brought a picnic basket with our own drinks; our friends provided music and candlelight.

At our second home in St. Joseph earlier this month, we hosted our own porch party with neighbors we hadn't seen since last year. We dutifully kept six feet between our chairs while we exchanged news of how we'd all coped with the craziness of the past few months. One couple had just returned from Florida, and described their risky trip back to Michigan.

As we chatted through the evening, it struck me how the pandemic had unexpectedly revived a few old pleasures — including impromptu outdoor gatherings with friends and neighbors. We've often talked about the charms of summer porch-sitting, but how often did we really do that before the pandemic?

That night in St. Joe, I happened to mention how I couldn't locate Clorox wipes, anywhere, and asked my neighbors where they buy them. The next morning, I discovered that Roxanne, next door, had left a large new container of Clorox wipes by our side entrance. You would have thought she'd left me a box of chocolate truffles — that's how excited I was. Truly, it was the most thoughtful "Welcome back" gift I've received since the start of the pandemic. ~Cindy La Ferle

To read more posts from my Quarantine Journal, please visit: