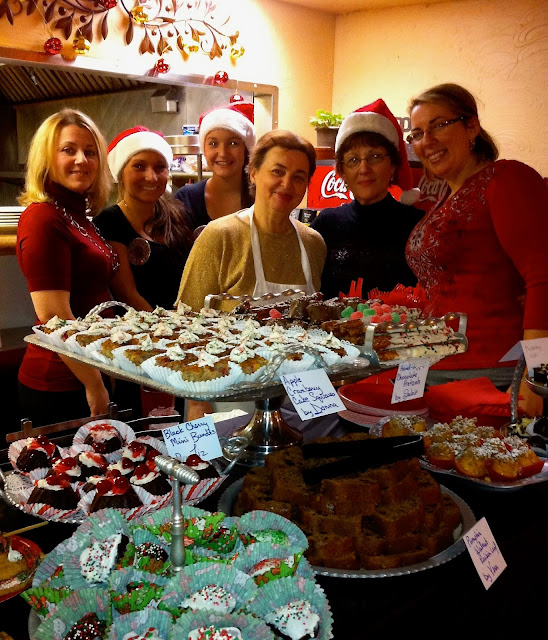 Where everybody knew your name
"The table is a meeting place, a gathering ground, the source of sustenance and nourishment, festivity, safety, and satisfaction. A person cooking is a person giving: Even the simplest food is a gift." ~Laurie Colwin


When a family diner closes, you might feel as if you've lost an old friend. Here in Royal Oak, Niki's was a favorite neighborhood hangout — our own private Cheers without the booze — for about 30 years. 

When my son was a small boy, it was also my home-away-from-home. In those days, I was writing freelance for several local papers, so I'd often head to Niki's to work on my stories in the back-corner booth while eating lunch. It was cozier than writing at home alone, especially during the dark midwinter months. 

Owner Donna Iljkoski, who opened Niki's three decades ago with her late husband, Tony, always made me feel nourished and welcomed. I could scribble my column notes while enjoying a Greek salad along with one of Donna's homemade soups. 
When Nate was out of school for the summer, we'd ride our bikes to Niki's for lunch (while Doug worked at the office). Nate typically ordered Donna's chicken club sandwich with French fries — and no tomatoes. Year later, after Nate grew up and left home, Donna still remembered "no tomatoes" when Nate returned to Niki's and ordered the same sandwich. 
Friends and family  

Once Doug was semi-retired, the two of us routinely dined together at Niki's at least twice a week. (It didn't take long to get Doug hooked on Niki's ever-popular Greek salad.) We'd always stop in on Monday nights when Donna served her spinach tortellini soup and broccoli quiche with potato crust. 
Niki's menu was always more creative than your average diner. A tireless chef, Donna once told me she loved watching cooking shows on TV and experimenting with new recipes at home. She also offered several meatless dishes for vegetarian customers, including a hearty lasagna — and I've yet to find a breakfast entree as delicious as her savory Mediterranean crepes. 
And did I mention Donna's waitstaff? Over the years, we also appreciated the hard-working crew that remembered our special requests and menu favorites without prompting. 

As longtime staffer Vanessa Kaiser told me: "It was always a team effort at Niki's. I borrowed this motto from a sign I saw, 'Come as a friend, leave as family.' I like to believe that's how we all felt." 

Doug and I got to know the other regulars on our dining schedule, too. If you frequented Niki's, you couldn't walk in the door without hearing someone shout your name, or at least spotting another familiar face from your neighborhood. Donna and her staff had a knack for fostering an atmosphere like that. 

It wasn't just about the food, after all. Like Luke's Diner in the Gilmore Girls TV series, Niki's became a central campfire for our whole community — students, families, reporters, retailers, city officials, grocers, police officers, retirees, hair stylists, and every other imaginable character in town. Whether we were perched at the counter or hunkered over mugs of coffee in a corner booth, we dished out local gossip along with our own stories of illness and recovery, success and failure, love and loss.    

A serving of real connection  
About five years ago, several women in my neighborhood decided to form a weekly Breakfast Club. Choosing a restaurant was a no-brainer. We began meeting at Niki's every Tuesday morning.  
All of us were concerned when we first spotted the "Closed" sign on Niki's entrance in February. We were twice as worried when we learned, not long afterward, that a health scare had influenced Donna's decision to close the place indefinitely, maybe permanently. We're all wishing Donna the best, of course — but we're going through withdrawal right now. 

I miss those Greek salads, but most of all, I miss my friend Donna. I'm writing this because it's the only way I know how to thank her (I can't bake anything she'd want to eat) and because I could use some closure. 

Not long ago, another friend and I were talking about why family diners like Niki's are so important to us.  

Despite our countless cyber-connections and followers on social media sites, most Americans feel lonelier now, according to current studies. Robert Putnam, who wrote about building community in his book, Bowling Alone, noted that we spend more time watching Friends rather than having friends.  

What we're seeking, in one form or another, is real community. Who doesn't dream of visiting a brick-and-mortar gathering place — like Cheers, Luke's Diner, or Niki's — where there's always friendly conversation and a bottomless pot of coffee?  ~Cindy La Ferle
Above photo: The staff at Niki's, courtesy of Niki's