Posted on March 10, 2014
Filed Under Columns & essays | 2 Comments | Email This Post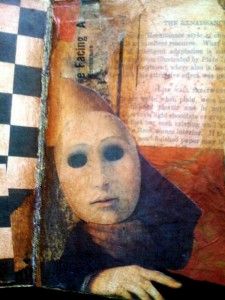 We've come a long way, baby, yet our culture still honors youth and beauty over wisdom and experience. For most women, learning how to accept our changing faces and bodies is one of the toughest challenges of maturing. My column in the March issue of Michigan Prime (delivered with your Sunday Detroit Free Press) focuses on the debate over cosmetic surgery (and "anti-aging" products) and spotlights two new books on the topic. Please click here to read the online edition, and flip to page 15 in the Detroit/Wayne County edition.
Artwork by Cindy La Ferle. To view more, please click here. 
Posted on February 26, 2014
Filed Under Book reviews, Columns & essays | 4 Comments | Email This Post
"One is never over-dressed or underdressed with a little black dress." –Karl Lagerfeld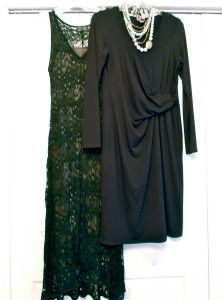 Few things in this world are more fun than shopping with a friend.
Earlier this week, one of my besties asked me to join her on a mission to bag the perfect little black dress. Deb will be attending a fancy wedding in New York next month. While she has a great wardrobe for her job as a school social worker, I totally understood her need to buy some "grown-up clothes" (her words) for this special occasion.
And so, starting with lunch at 11:30, Deb and I ended up spending nearly six hours at Somerset Mall, where we managed to find two gorgeous black dresses — one on sale! — and some killer blingy accessories to go with them. We had a blast.
While I watched Deb model her finds, I couldn't help but wonder: Is there anything handier than a basic black dress that makes a woman look slim and glamorous?
Of course, the fashion police keep trying to push bright colors on us, especially this time of year when the spring resort lines hit the stores. And I have absolutely nothing against color. Still, you won't convince me that red or orange or navy (or any other color) is "the new black." Because nothing out-performs beautiful black.
I could keep waxing poetic here, but instead I'll nudge you toward a book review I wrote for The Christian Science Monitor. Titled "It's Black and Chic and Seen All Over", it also offers a short history of the little black dress — and lists all the reasons why every woman needs at least two perfect LBDs.
Posted on February 18, 2014
Filed Under Events & news, Just for writers, My artwork | 1 Comment | Email This Post
Sometimes I suggest family recipes as points of entry for writing a memoir. Does your Italian grandmother's pasta sauce stir up memories of holiday gatherings? Do you recall your kid brother's grin every time you bake the oatmeal cookies he loved? Using this approach, some writers end up compiling cookbooks laced with treasured family stories and traditions.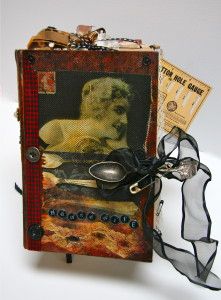 Anyone can turn a memoir into a work of art by combining keepsakes and recipes. For inspiration on how to start this type of project (shown at left), you might want to visit my new art blog. Please click here to learn more.
Speaking of memoirs, I'll be teaching an evening class on memoir writing at the Royal Oak Public Library on March 24, and participating as a panelist in a discussion on blogging on March 31. Complete details on the ROPL's Spring Writing Series (including how to register for the classes) are included in this feature on Royal Oak Patch.
Photo: "House Wife" (an altered book) by Cindy La Ferle
Posted on February 12, 2014
Filed Under Columns & essays, Just for writers, My artwork | 6 Comments | Email This Post
"Be yourself. Everyone else is already taken." — Oscar Wilde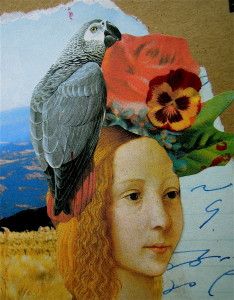 One of my favorite episodes on the hilarious Portlandia series is the one that popularized the phrase: "Put a bird on it." Now listed in urban dictionaries, the expression refers to any creative trend that's become so common that it's a cliche. If you haven't seen the episode, think of the times you've visited a boutique or gallery and noticed how many items are embellished with a bird. You get the idea.
On the topic of originality, freelance writer Pam Houghton recently posted several excellent tips on building a satisfying career. For me, the tip that resonated most was the one emphasizing the importance of listening to your own voice — instead of following trends.
"Some people make success look easy," Pam wrote. "The times I tried to imitate them never worked even after repeated attempts….I had no choice then but to step back and ask, what is it that I do well?"
Pam's post got me thinking about my early years as a journalist in the 1980s. I was a huge fan of New York Times columnist Anna Quindlen, whose "Life in the Thirties" pieces were so fresh that I wished I'd written them. I wanted to draw "aha!" moments from my readers, like Quindlen did every week. I wanted to be a family columnist, but how could I hold a candle to Anna Quindlen?
Then there was Anne Lamott, who wrote the exquisite memoir, Operating Instructions: A Journal of My Son's First Year, and lots of juicy essays for Salon. Add to the fact that I also admired essayist Annie Dillard, and you'll get why I considered adopting my middle name, Anne, as a pen name. The Annes and Annas were rocking the writing world.
On one hand, I learned something about my own taste — and writing goals — when I examined the nuts and bolts of their work. Quindlen spun the personal into the political; Dillard brought both depth and poetry to her nonfiction; Lamott broke rules and made me laugh out loud.
Luckily, I stopped short of stealing their pet adjectives or mimicking their styles. But it took a while to feel confident in my own voice.
It's tempting to reach for something quick and easy — a bird? someone else's idea? — when we're timid or lazy. (As a mixed-media artist, I've been guilty of pasting too many birds on my collages.) Of course, it's natural to follow trends when we're starting out, whether we're designing furniture or writing poetry. And while it's true that we learn by observation, the trick is to avoid getting stuck in copycat mode. (Plagiarism is illegal, period.)
Being an original is twice as hard in the digital age. Everyone is chirping for attention, building a platform, following trends. The biggest challenge is to keep stretching your wingspan, then landing on something that's truly your own.
– Artwork by Cindy La Ferle; copyright 2012 —  
Posted on February 10, 2014
Filed Under Events & news | 2 Comments | Email This Post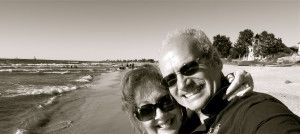 Retirement? One of my friends calls it "the R word," claiming she can't imagine what she and her husband will do when they're "stuck at home together." Doug and I are semi-retired, but we're both busier than ever and enjoying this stage of life. Still, it took a while to adjust to the changes in our routines. That's the topic of my newest column in Michigan Prime magazine, delivered with your Sunday Detroit Free Press this weekend. If you don't get the paper, check out the online edition here, and flip to page five.
P.S. Doug is celebrating a landmark birthday on Valentine's Day — we're starting the month-long celebration this week!
« go back
—
keep looking »