Posted on January 2, 2015
Filed Under Columns & essays, Events & news | 4 Comments | Email This Post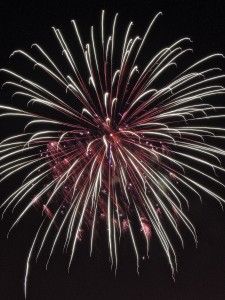 Are you stuck in a rut? Set in your ways? Afraid to take risks or try something new? The start of a new year is the perfect time to break free of our self-sabotaging beliefs and habits. My January column in Michigan Prime highlights several brave people who've taken the leap in midlife, plus I've provided a few tips and resources to help you get started. The whole issue has great articles to motivate and inspire you. The print edition is delivered to subscribers of the Sunday Detroit Free Press, or read the January 2015 issue online (my column is on page 4).
Posted on December 21, 2014
Filed Under Events & news | 2 Comments | Email This Post
This essay was originally published in The Daily Tribune on December 24, 1998, and is included in my book, Writing Home.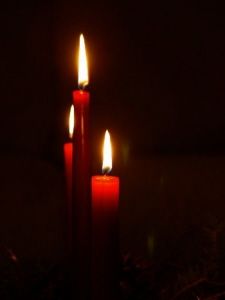 Over the centuries, Christmas has been reinvented and repackaged, promoted and pummeled, like the cookie dough we cut into festive shapes and decorate every year in December. Christmas is a mass of contradictions.
The day was chosen to honor the birth of a king in a lowly manger — a king who ultimately advocated a life of humility and charity. Yet today the holiday is celebrated more as a buying frenzy than as the birthday of a humble messiah.
Then again, Christmas is a mirror reflecting our culture.
As author Bill McKibben explains in Hundred Dollar Holiday (Simon and Schuster), "Christmas has been, and always will be, a product of its time, shaped to fit the particular needs of people, society, and faith in particular moments of history. And nowhere is that clearer than at the very beginning."
Historians can't certify the exact date of Christ's birth. Christian church leaders decreed in the fourth century that the Feast of the Nativity would be observed December 25 — originally a pagan holiday.
The date was deliberately selected to replace the rowdy winter solstice festivals held in those days. On the old Julian calendar, December 25 was the longest night of the year, which partly explains why the torch-carrying pagans had chosen it to glorify the sun. As church leaders hoped, Christianity took root, and by the end of the thirteenth century, most Europeans celebrated the birth of Jesus. But the pagan aspects of Christmas never were completely snuffed out.
Today, the weeks between Thanksgiving and New Year's serve as an extended invitation to indulge our national craving for activity and entertainment. We've forgotten that the sentimental Christmas we long for, as McKibben explains in his book, evolved during the 1840s when Americans "were mostly poor, worked with their hands, and lived with large, extended families." Today it would be impossible to re-create such a Christmas in suburban America.
"More and more, that old Christmas finally feels played out," McKibben writes. If we've grown ambivalent about the holiday – or even disappointed in it — that's partly why.
Still, at its heart, Christmas remains a celebration of light's triumph over darkness. A celebration of miracles.
Light is also the enduring symbol of Hanukkah, the annual Jewish festival that coincides with the Christian holiday season. Hanukkah marks the rededication of the Temple of Jerusalem and the ceremonial oil that burned miraculously for eight days. With the ritual lighting of the menorah at its core, Hanukkah prevails as a tribute to religious freedom.
It's sobering to remember, especially now, that many people still struggle for the right to worship as they choose. In Ireland, the Middle East, and other parts of the world, many have lost their lives in the names of conflicting gods or warring denominations. Even here, in our own community, we're not totally free of violence, poverty, hunger or hypocrisy. We know it's not enough to donate last year's coats to the poor, or to serve meals at a soup kitchen, but we still haven't figured out how to solve the dilemma of our homeless and needy. And our personal difficulties pale in comparison.
Yet Christmas can be, to borrow from Luke 1:79, "a lamp to give light to those who sit in darkness."
So tonight we rekindle the embers of our faith.
Like pagan revelers, we build fires and throw one last party before surrendering to winter's chill. Like hopeful Magi, we track the glimmer of a distant star, trusting there is something wondrous and good at the end of our most difficult journey. We plug in the lights on the Christmas tree and leave the porch light on for Santa. In church, we light the last candle of Advent to invoke the Divine.
And we still believe in miracles.
______________
Posted on December 5, 2014
Filed Under Columns & essays | 5 Comments | Email This Post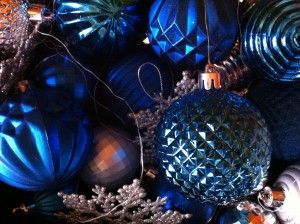 There's no escaping the fact that Christmas is the most nostalgic — and over-hyped — American holiday. To anyone who's battling a tough case of seasonal depression or a death in the family, the season of "comfort and joy" often feels like a month-long endurance test. Or, as Garrison Keillor once quipped in my all-time favorite Christmas quote: "Christmas is compulsory, like a thunderstorm, and we all get through it together."
My December column in Michigan Prime offers tips on how we can survive and celebrate the holidays as we face loss and change in our families. The print edition is delivered to subscribers of the Sunday Detroit News and Free Press. Or you can view the December 2014 issue online. You'll find my column on page 6.
Posted on November 8, 2014
Filed Under Columns & essays | 6 Comments | Email This Post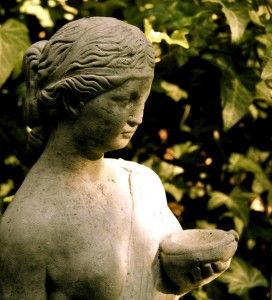 Losing a beloved parent is difficult, no matter how old you are. As we age, we find ourselves attending more funerals for the parents of our friends. So, how do we support and comfort each other after such a life-altering loss?
My November column in Michigan Prime discusses this issue. Look for the print edition in your Sunday Detroit News and Free Press (subscribers only) or read it in the online edition.
Posted on October 7, 2014
Filed Under Columns & essays, Events & news | 3 Comments | Email This Post
Sorting through my mom's papers after she died last month, I found a copy of this essay, which I wrote after my father's passing in 1992. First published in the October 1998 edition of Mary Engelbreit's Home Companion, it's also included in my book, Writing Home.
Lately I've been thinking of these lines from Anne Mary Lawler's poem about the seasons: October dresses in flame and gold, Like a woman afraid of growing old. 
This is a potent month for memories. Yesterday I watched while my son and the children next door tumbled like acrobats in the fallen leaves. (Is there a kid in the Midwest who hasn't done this?) And later in the evening, I sniffed the familiar aroma of wood-burning fires, another indisputable sign that winter is on its way.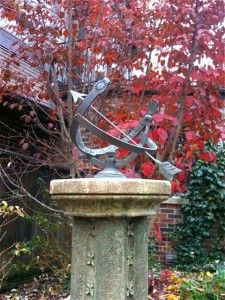 For me, the smoky scents of October always evoke a favorite memory of my father raking leaves in the small backyard of our first home. The memory is more than three decades old, but it glows as vividly as the logs crackling in the grate tonight.
When I was growing up — before environmental laws — everyone in my neighborhood raked leaves into neat brown piles, then burned them near the curb or in backyard bonfires. Dry and brittle as bones, the leaves and twigs snapped furiously when introduced to a match. In those days, October weekends seemed to drift in clouds of gray-blue smoke — the perfect prelude to Houdini's Halloween.
Like most fathers, mine worked on weekdays, and often spent his weekends doing yard work. Long before the term "quality time" was coined by childcare experts, Dad would enlist my help raking leaves on Sunday after church. I offered very little assistance, preferring to toss his neatly piled leaves back into the air, or to roll in what remained of his handiwork. Regardless, he seemed to enjoy my reckless company — and I enjoyed the novelty of helping him. Unlike my mom, who would have seized the opportunity for "girl talk," my dad didn't always communicate with words. On those brisk autumn afternoons, with the sun glinting through bare branches of oak and maple, it was enough for us to be together. He raked, I rolled, and nothing of dire importance was ever said.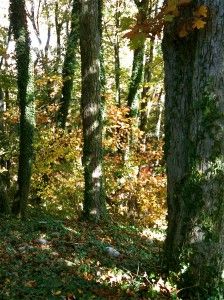 Still, young as I was, I felt the ancient ache and pull of October.
By then, I understood the seasons were cyclical; that the easy days of summer would return as surely as apples had ripened every fall. But I'd also begun to grasp the concept that time trudges ahead in a straight line, like it or not, ruffling the smooth texture of our days as it marches forward. I couldn't have explained it quite this way, but suddenly I knew I'd have to "yield with a grace," as Robert Frost once wrote, "the end of a love or a season."
I recall watching my handsome young father in his plaid flannel shirt while he whistled and tended his banks of smoldering leaves, their acrid smoke filling my nostrils and forcing tears. I remember wishing that everything could stay the same — that I wouldn't have to grow up or grow old; that autumn afternoons wouldn't bleed to winter.
It was as if I had glimpsed the distant future and seen my father's empty chair at our Thanksgiving table.
Of course, Dad had no idea that I had stumbled on a vast, disturbing truth and was forever changed by it. He worked contentedly, pausing only to watch me or to loosen the dried leaves from the long teeth of his rake. And that is the way I like to remember him: arrested in time on that fall afternoon, living in the moment, always whistling.
– Cindy La Ferle
« go back
—
keep looking »