Posted on August 1, 2015
Filed Under Columns & essays | 3 Comments | Email This Post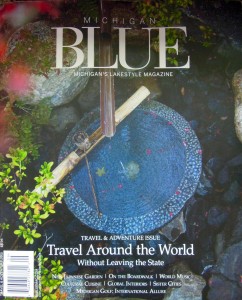 Look for my new garden feature on the Richard & Helen DeVos Japanese Garden (at the Frederik Meijer Garden & Sculpture Park in Grand Rapids) in the Aug/Sept issue of Michigan BLUE magazine. Editor Lisa Jensen invited me to write a narrative piece on this world-class garden project after learning about my lifelong interest in Japanese gardens. Now available on newsstands, this special "Travel & Adventure" issue features exotic destinations throughout our beautiful state. I'm excited to see my story featured on the cover.
Posted on July 29, 2015
Filed Under Events & news | 4 Comments | Email This Post
It takes courage to grow up and be who you really are." — e.e. cummings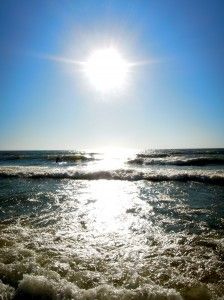 For me, the highlight of vacationing on Lake Michigan is the rare chance to collect my wits and a few beach stones.  Adventurous souls will dive into its frigid waves or skim its surface on motor boats and jet skis, but I'd rather mine the shore for treasures.
Morning is the best time to hunt for beach stones. The water is usually calm, your outlook is refreshed, and, if you're really lucky, fellow beachcombers are still asleep. Rising with the sun, you'll get first pick of the gems that rolled in with the tide.
It's always a thrill to uncover exceptional Petoskey stones, which are rare these days. But don't overlook the subtle beauty of milky quartz, and keep an eye out for perfect skipping stones that were tumbled smooth by the waves.
Look closely, and you'll find beach stones imprinted with fossils, some bearing an uncanny resemblance to ancient tablets carved with runes or hieroglyphics. Others are miniature works of art — and you'd swear they'd been painted by an Asian calligrapher. As many Northern Michigan jewelers have already discovered, some of these beauties are worthy of stringing on a necklace.
During a recent visit to the Sleeping Bear National Lakeshore, where I celebrated my fiftieth birthday, it occurred to me that collecting beach stones is a bit like crafting a life. You have to remain grounded and focused, yet always open to new possibilities.
For starters, you need deep pockets to collect your bounty. And you must begin your quest believing that you'll be rewarded with more than you bargained for. If you focus solely on the obvious — Petoskey stones, for instance — you might miss the other jewels of the lake. In my search for something rare or perfect, I've nearly overlooked other stones of beauty and character.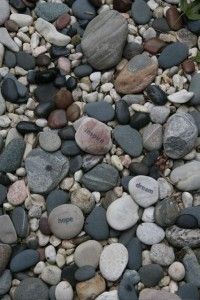 And as every seasoned beachcomber knows, the rippling water teases like a mirage, making it hard to see things as they really are. I've rescued many stones that looked tempting under water, but were lackluster when they dried in the sun. Some were merely pieces of beach glass.
Selecting beach stones, in fact, is a bit like choosing what is essential in life: friends, partners, schools, career paths, a church, and a place to call home. It's wise to make these choices slowly and carefully; to consider what feels right, lasting, and true.
As the cliché goes, it's possible to have too much of a good thing, and beach stones are no exception. I always end up with too many, and have to edit down my finds to an exemplary few. Otherwise, I'd need a gravel truck to haul them back to Detroit.
This is a lesson I need to apply at home, too.
I tend to hang on to some things longer than I should — outdated clothing, fair-weather friends, silly grudges, bad ideas, hairstyles, broken tools, receipts, and stale opinions. And over the years I've tolerated things I should have protested, including dumb TV shows, insensitive comments, junk food, energy vampires, unfair wages, and degrading articles in women's magazines.
Wandering the shore at sunset, I ask myself: What's truly essential now? How much of what I buy do I really need? How can I make better use of my time and the blessings I've been given? And what in this overbooked/ over-connected world of ours is most in need (or deserving) of my attention?
Collecting beach stones, I'm reminded that the second half of life offers the freedom to choose again — to polish, edit, refine and reconsider.
Once again, I empty my pockets before returning home.
This essay is reprinted from my essay collection, Writing Home. It appeared in slightly different form in my Daily Tribune "Life Lines" column in August 2004. Photos are of Lake Michigan (top) and a detail from my Zen garden in Royal Oak. TO ORDER A COPY OF WRITING HOME in Kindle or paperback, CLICK HERE.
Posted on July 7, 2015
Filed Under Book reviews | 1 Comment | Email This Post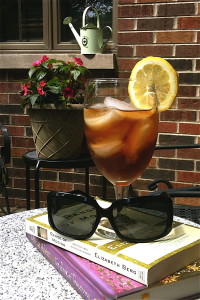 Whether you're planning a vacation at the beach or a day off in your own back yard, summer is the best time to chill with a great book. There's no shortage of articles and reviews of new summer fiction, so my July column in Michigan Prime (delivered this week with your Sunday Detroit Free Press) highlights several nonfiction titles that will appeal to mature readers. Please flip to page 4 in the online edition.
Posted on June 19, 2015
Filed Under Columns & essays | 6 Comments | Email This Post
This short piece was first published in The Daily Tribune on Father's Day, 2002, in my old "Life Lines" column. It's reprinted in my essay collection, Writing Home.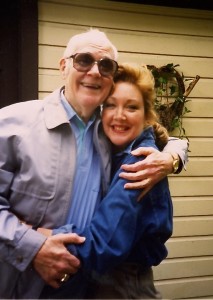 It's my favorite photograph of Dad and me — one of those priceless family icons I'd rescue if the house caught fire.
Taken on Father's Day in 1992, it reveals the totally uncomplicated relationship we'd enjoyed right up to the moment the shutter clicked. I use the word uncomplicated because I can't think of a more lyrical way to describe my father or the way he lived.
Even when pop psychologists urged us to scrutinize our parents and find them suspect, I saw my dad as a sweet, patient man whose agenda was rarely hidden. He was the kind of guy who appreciated most people just as they were, and I think that's what we all loved best about him.
But let me explain the photograph.
Dad and I were standing on my back porch, having just finished the surprise dinner I'd hosted for him and my father-in-law. Dad wore a pale blue-gray windbreaker and an outdated pair of glasses that somehow looked right on him. My hair was orange, thanks to a failed experiment with a drugstore highlighting kit. The late afternoon sun shimmered through the maples in our yard, and my mother was anxious to finish the film left in her camera.
Dad and I hugged tightly for the shot.
He was sixty-five and grinning — despite the grim diagnosis of degenerative heart disease he'd been given a few months earlier. At thirty-seven, I was newly unemployed and unsure of my career path. The travel magazine I edited for nearly six years had folded abruptly, dropping me off at midlife without a new map. Still, summer had arrived and we were optimistic. Dad's diabetes was under control, or as he put it, he'd been "feeling pretty darned good lately."
Better yet, the ball games were in full swing. It wasn't shaping up to be a stellar season for the Tigers, but Cecil Fielder and Lou Whitaker were giving it their best. While I never shared my dad's religious devotion to baseball, I still can't hear the crack of a bat against a ball without remembering the old transistor radio he kept tuned to his games.
But there's something else about the photo. Looking at it today, you'd never imagine the two of us had a major-league concern beyond what we'd be eating for dessert that evening. Nor would you guess that this 35mm print chronicled one of our last days together.
The inevitable phone call came two weeks later on a Monday morning: "Your dad collapsed in the driveway. The ambulance is coming."
So this week I'm very grateful for that luminous Father's Day afternoon ten years ago — grateful I hadn't waited another day to throw my dad a surprise party. I usually postpone my good intentions, adding them to a long list of things I plan to do later. Later, when there's more time…
"Today is the only time we can possibly live," wrote Dale Carnegie, whose work my father read often and admired. I see now that Carnegie's philosophy is gleefully captured in my father's grin, which my mother wisely captured on film.
Posted on June 5, 2015
Filed Under Columns & essays, Events & news | 1 Comment | Email This Post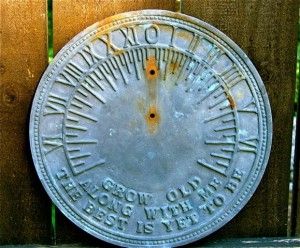 Are you officially a "senior" when your first issue of the AARP Bulletin arrives in the mail? Or do you become a senior when you earn your first senior discount at a movie theater or restaurant? And, while we're at it, when does old age really begin? For the answers, check out my "Life Lines" column in the June issue of Michigan Prime, delivered this weekend with your Sunday Detroit Free Press. Or flip to page 5 to read it online.
« go back
—
keep looking »