Posted on April 17, 2015
Filed Under From my quote journal | 2 Comments | Email This Post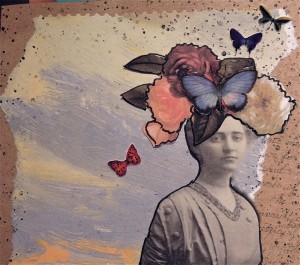 "My little bit of earth in the front garden is one of the places that I find my bearings. The rhythm of my day begins with a cup of coffee and a little bit of weeding or dreaming." ~Betsy Cañas Garmon
Artwork by Cindy La Ferle
Posted on April 15, 2015
Filed Under Columns & essays, Just for writers | 6 Comments | Email This Post
Earlier this week, a student in my writing workshop read a wonderful essay about working as a newspaper carrier when he was a boy. It brought back a memory of a column I wrote for The Daily Tribune when my son was in high school. I promised I'd post this after our class discussion on nostalgia pieces. Here you go, Jim …
Newspaper careers seem to run in families. My great-great grandfather was a foreign correspondent based in Washington D.C., and while my work isn't nearly as glamorous, I must have inherited his passion for newsprint. And I shouldn't have been surprised this year when my son Nate decided to run for the editorship of his high school newspaper – and won.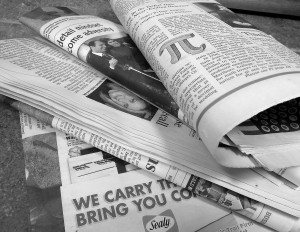 I've always been careful not to push Nate in the direction of my own journalism career, but I discovered early on that printer's ink runs in his blood, too. As soon as he turned twelve, the kid begged for his own paper route. His dad and I were ambivalent at first — and secretly relieved to learn that no routes for the local daily were available. But following a major blizzard that winter, Nate got a call with the good news: A route had opened up in our neighborhood. He couldn't wait to get started.
"I hope you know what you're getting into," another parent warned me. "Not only are you writing for the paper, Cindy, but you'll be delivering it, too."
Soon after, mile-high stacks of freshly printed newspapers and ad supplements arrived daily on our porch. Rubber bands, plastic bags, and other delivery doodads littered every surface in the house.
In retrospect, I think it was worth the hassle. The smart-alecky seventh-grader got a sharp taste of the business world. He learned that customers expected his product on time, regardless of whether he was late from school or had "tons of math homework." He discovered that readers were paying for the convenience of home delivery, not for papers tossed in puddles on the sidewalk. He learned the diplomacy required of every bill collector, as well as how to balance accounts when money was due. This was real-life math.
He also found that the biggest challenge for any newspaper carrier is crawling out of bed before sunrise on Sunday mornings – hours before the local pastors have opened their Bibles. Though Nate covered his own route on weekdays, his dad and I helped deliver the bulkier Sunday papers at dawn. Other parents told us we were spoiling the kid by chauffeuring him block to block when we could have been sleeping in, but I never saw it that way.
There was magic in those Sunday mornings. Since I've never been an early riser, it was a rare gift to watch the sun rise. In the summer, especially, the color show was spectacular – neon streaks of lavender, orange, and gold flashing above scarlet treetops on the suburban skyline. As each bundled newspaper hit its targeted porch, it also struck me that my relationship with this gangly boy had morphed overnight into a tug-of-war between my moody middle age and his stubborn adolescence. His boyhood was ending too quickly.  
"Please… slow… down!" I'd holler as he frantically scaled porch steps, two by two, trying to finish the route before 9:00 a.m.
The cheerful camaraderie we'd shared in the early grade-school years had recently given way to recurring battles over household messes and Internet use, but during the time we worked the neighborhood route we were back on common ground. If only for an hour or so a week, we were a team again.
To everyone's surprise, Nate kept that job for nearly two years, quitting it only because homework and high school commitments had to take priority. It was a learning experience for the whole family. We never rushed home after the last paper was delivered, but made a special ritual of stopping for hot chocolate and hash browns. The rest of the day, and its deadlines, could wait. — Cindy La Ferle, June 21, 2003
A slightly different version of this column was first published in The Daily Tribune (Royal Oak) on June 21, 2003, and later reprinted in my essay collection, Writing Home.
Posted on April 14, 2015
Filed Under From my quote journal | Leave a Comment | Email This Post
"It never failed to amaze me how the most ordinary day could be catapulted into the extraordinary in the blink of an eye." ― Jodi Picoult
Photo: Cindy La Ferle
Posted on April 13, 2015
Filed Under From my quote journal, Just for writers | 2 Comments | Email This Post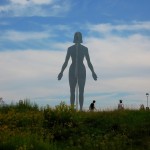 Today's quote is for the students who attended my three-part "WRITING IT REAL" workshop series at the Royal Oak Public Library. All of you inspired me with your courageous essays and conversation. Thank you for spending the time with me. I found this excerpt in one of Martha Beck's blog posts last week and thought of all of you …
"Toni Morrison said that 'the function of freedom is to free someone else.' This is the final step necessary for keeping your heart at liberty, and you do it in just one way: by telling your story. However you do it—a journal, an artistic creation, the pictures you hang on your walls, or the way you raise your children—telling your story demolishes the barriers between your heart and the outside world. I won't lie: This means that your heart will be exposed and, yes, broken. But it's important to remember that a heart is imprisoned not by being broken but by being silenced. There will be people who won't like what you say. It's going to hurt—and it's going to heal… As you learn to live by heart, every choice you make will become another way of telling your story, finding your tribe, and liberating not only your heart but the hearts of others. This is the very definition of love, the process that makes people and societies capable of true humanity." — Martha Beck
Posted on April 12, 2015
Filed Under Book reviews, Columns & essays | 4 Comments | Email This Post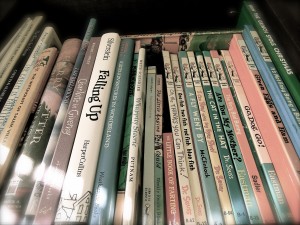 There's a bookshelf in my home office that might make you question my sanity, if not my age. It's crowded with titles like Madeline and the Bad Hat, The Polar Express, Green Eggs and Ham, Eloise Goes to Paris, Little Women, Alice's Adventures in Wonderland, and Laura Ingalls Wilder's Little House series.
Some are worn around the edges. Others are brand-new replacements of old favorites I read as a child. Several belonged to my son, now grown, who will get them back when he has a home of his own someday.
Nestled around these books are nostalgic toys and dolls, including the infamous Thing One and Thing Two from Dr. Seuss's The Cat in the Hat. When I bought my blue-haired "Things" before Christmas last year, I swore I'd give them to my little nephew in New Jersey. But then I changed my mind. I'm not always good about sharing my toys.
My kids' bookshelf has become an altar in the true sense of the word. It pays homage to the stories and characters that made me fall in love with reading. Every time I sit down to work, I'm reminded that literature can inspire kids to overcome challenges, explore new ideas, and even grow up to be writers.
And here's the craziest part: I've never outgrown these books. Sometimes, when I'm feeling stuck or uninspired, I revisit their pages.
Way out at the end of a tiny little town was an old overgrown garden, and in the garden was an old house, and in the house lived Pippi Longstocking…
So begins my all-time favorite tale by Swedish author Astrid Lindgren.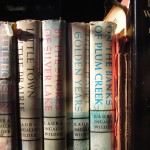 An only child and a little too sensitive, I was at the critical juncture between childhood and early adolescence when a grade-school teacher introduced me to red-haired Pippi. By today's standards Pippi would need Ritalin, but I wanted to be exactly like her.
She was certifiably wacky — the first free spirit I'd encountered. I admired the way she bent rules and colored outside the lines, yet always handled the consequences with charm and tact. Best of all, Pippi lived by herself at Villa Villekulla, managing quite nicely with her own horse and a pet monkey.
Pippi was indeed a remarkable child. The most remarkable thing about her was that she was so strong. She was so very strong that in the whole wide world there was not a single police officer as strong as she!
My love affair with the printed word has pulled me through some of the toughest times in my life. When I was recovering from hip surgery, for instance, books eased my pain and helped me take flight — even when my legs didn't work. Books helped me heal and grow strong, though I never figured out how to lift a horse like Pippi did.
Last Tuesday was the 100th birthday of Theodor Seuss Geisel, the beloved Dr. Seuss. Since 1998, the National Education Association has used the author's birthday to launch its Reading Across America program. And this month, schools, bookstores and libraries will host numerous activities to get kids excited about reading.
But you don't need a formal program to get started. Round up some kids — your own or a neighbor's — and read your childhood favorites aloud with them. Arrange an impromptu field trip to your local library. Find a character your kids can relate to, and help them learn more about its author.
As Aldous Huxley once wrote, "Everyone who knows how to read has it in their power to magnify themselves, to multiply the ways in which they exist, to make their life full, significant, and interesting."
Books do change lives. And that's worth celebrating any day of the year. – Cindy La Ferle, March 7, 2004  
This column was excerpted from my essay collection, Writing Home, and is available in local shops and on Amazon.com. See the link at the top of this page for ordering information.
« go back
—
keep looking »