Posted on December 5, 2014
Filed Under Columns & essays | 5 Comments | Email This Post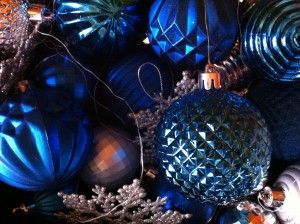 There's no escaping the fact that Christmas is the most nostalgic — and over-hyped — American holiday. To anyone who's battling a tough case of seasonal depression or a death in the family, the season of "comfort and joy" often feels like a month-long endurance test. Or, as Garrison Keillor once quipped in my all-time favorite Christmas quote: "Christmas is compulsory, like a thunderstorm, and we all get through it together."
My December column in Michigan Prime offers tips on how we can survive and celebrate the holidays as we face loss and change in our families. The print edition is delivered to subscribers of the Sunday Detroit News and Free Press. Or you can view the December 2014 issue online. You'll find my column on page 6.
Posted on November 8, 2014
Filed Under Columns & essays | 6 Comments | Email This Post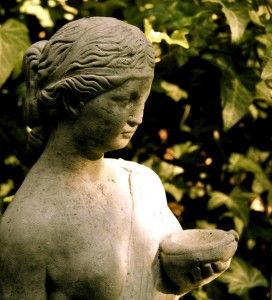 Losing a beloved parent is difficult, no matter how old you are. As we age, we find ourselves attending more funerals for the parents of our friends. So, how do we support and comfort each other after such a life-altering loss?
My November column in Michigan Prime discusses this issue. Look for the print edition in your Sunday Detroit News and Free Press (subscribers only) or read it in the online edition.
Posted on October 7, 2014
Filed Under Columns & essays, Events & news | 3 Comments | Email This Post
Sorting through my mom's papers after she died last month, I found a copy of this essay, which I wrote after my father's passing in 1992. First published in the October 1998 edition of Mary Engelbreit's Home Companion, it's also included in my book, Writing Home.
Lately I've been thinking of these lines from Anne Mary Lawler's poem about the seasons: October dresses in flame and gold, Like a woman afraid of growing old. 
This is a potent month for memories. Yesterday I watched while my son and the children next door tumbled like acrobats in the fallen leaves. (Is there a kid in the Midwest who hasn't done this?) And later in the evening, I sniffed the familiar aroma of wood-burning fires, another indisputable sign that winter is on its way.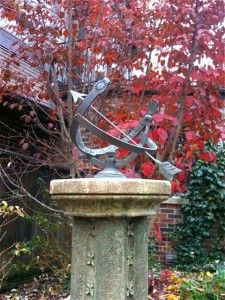 For me, the smoky scents of October always evoke a favorite memory of my father raking leaves in the small backyard of our first home. The memory is more than three decades old, but it glows as vividly as the logs crackling in the grate tonight.
When I was growing up — before environmental laws — everyone in my neighborhood raked leaves into neat brown piles, then burned them near the curb or in backyard bonfires. Dry and brittle as bones, the leaves and twigs snapped furiously when introduced to a match. In those days, October weekends seemed to drift in clouds of gray-blue smoke — the perfect prelude to Houdini's Halloween.
Like most fathers, mine worked on weekdays, and often spent his weekends doing yard work. Long before the term "quality time" was coined by childcare experts, Dad would enlist my help raking leaves on Sunday after church. I offered very little assistance, preferring to toss his neatly piled leaves back into the air, or to roll in what remained of his handiwork. Regardless, he seemed to enjoy my reckless company — and I enjoyed the novelty of helping him. Unlike my mom, who would have seized the opportunity for "girl talk," my dad didn't always communicate with words. On those brisk autumn afternoons, with the sun glinting through bare branches of oak and maple, it was enough for us to be together. He raked, I rolled, and nothing of dire importance was ever said.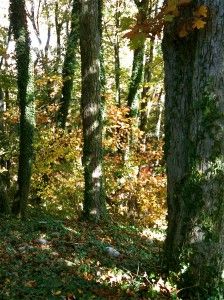 Still, young as I was, I felt the ancient ache and pull of October.
By then, I understood the seasons were cyclical; that the easy days of summer would return as surely as apples had ripened every fall. But I'd also begun to grasp the concept that time trudges ahead in a straight line, like it or not, ruffling the smooth texture of our days as it marches forward. I couldn't have explained it quite this way, but suddenly I knew I'd have to "yield with a grace," as Robert Frost once wrote, "the end of a love or a season."
I recall watching my handsome young father in his plaid flannel shirt while he whistled and tended his banks of smoldering leaves, their acrid smoke filling my nostrils and forcing tears. I remember wishing that everything could stay the same — that I wouldn't have to grow up or grow old; that autumn afternoons wouldn't bleed to winter.
It was as if I had glimpsed the distant future and seen my father's empty chair at our Thanksgiving table.
Of course, Dad had no idea that I had stumbled on a vast, disturbing truth and was forever changed by it. He worked contentedly, pausing only to watch me or to loosen the dried leaves from the long teeth of his rake. And that is the way I like to remember him: arrested in time on that fall afternoon, living in the moment, always whistling.
– Cindy La Ferle
Posted on October 4, 2014
Filed Under Columns & essays, Events & news | 1 Comment | Email This Post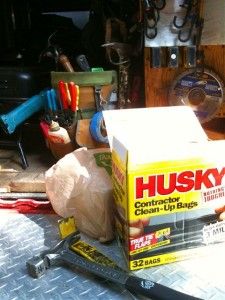 If your home suffered serious flood damage in Macomb, Oakland or Wayne County on August 11, you've probably spent the last half of your summer finishing basement repairs as well as finding safer ways to store your keepsakes. My new column in the October 5 issue of Michigan Prime chronicles what we lost and what we learned after the horrific flood of 2014. Look for your print copy in this Sunday's Detroit News and Free Press or click here and flip to page 9 to read my column online.
Posted on September 17, 2014
Filed Under Columns & essays, Events & news | 13 Comments | Email This Post
Friends who attended my mother's funeral on Tuesday asked if I would post a copy of the eulogy I wrote. In loving memory of Carlesta (Geisel) Gullion, the following was read at her memorial service on September 16, 2014.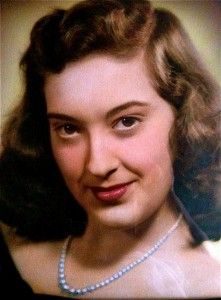 When you're deep in the trenches of caring for a parent who's battling advanced dementia, it gets harder with each passing year to remember the heart, the core, of the person he or she used to be.
The mother who drove you to the pediatrician becomes a child who requires an ongoing series of medical appointments and countless trips to the hospital. The father who once provided wisdom and advice can no longer make decisions about his own finances or even choose a brand of toothpaste. The mother who once cooked and hosted holiday dinners can barely hold a fork to her own mouth.
So, you find yourself at war with your own conscience, fighting sadness, anger, pity, denial, fatigue, and frustration. And then you feel guilty for feeling all of those feelings — because you remember that your mom or dad would never in a million years want to send you on this part of the journey.
Of course, nobody is ever truly prepared for The Phone Call — the final phone call that carries the mixed blessing. The phone call that announces Mom or Dad is finally at peace or "at home" in a better place. Like everyone else who loses a parent and goes about the somber business of making funeral arrangements, I used the time between that phone call and this funeral to reflect on earlier memories of my mother.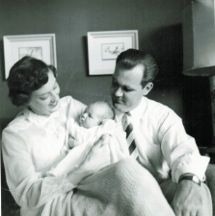 And for the first time in a while, I forgot about my mother's debilitating illness and remembered instead the beautiful heart and generous soul of Carlesta Gullion – the person my mother was before she lost herself and her memories to vascular dementia.
All at once, my feelings of sadness, guilt, and frustration gave way to a much larger emotion that has guided and comforted me throughout these past few days. That emotion is gratitude.
Looking through sepia-toned photographs of my mother as a young girl, I remembered many of the stories she shared with me about her difficult childhood.
Carlesta's father had abandoned her own mother before she was born, and later on, her mother and stepfather both struggled with alcoholism. But there were happy times too, and Mom shared those stories just as freely. She wanted me to hear about her maternal grandparents, who took care of her during the Great Depression while her mother worked. In her teens, Carlesta reconciled with her father — and even grew close to her new stepmother.
Mom also loved to tell me about her loyal collie dog, Sonny, and the carefree times they spent playing in her grandparents' Tudor house by a river in Indianapolis, her hometown. And she often shared stories of her beloved Irish grandfather — a watercolor artist and a great character whose creative talents she inherited.
Recalling the early challenges she had as a kid, I can't help but feel incredibly grateful for the happy childhood my mother gave me. She was determined to create the stable home and family she'd never quite had – and I have always been proud of her for accomplishing that.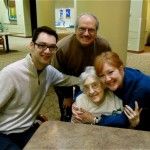 Among my earliest happy childhood memories are the times I sat next to Carlesta on the living room couch, or in bed, with a picture book propped in my lap. We'd read aloud and laugh through the sing-song stories of Dr. Seuss, who was a distant (Geisel) cousin of Mom's. Thanks to my mother, I learned to read before I entered kindergarten, and literature became a guiding light throughout my youth.
I'm grateful that she chose to marry Bill Gullion, who was the dearest and most reliable father any child could hope for. My dad was born to a sturdy pair of Scottish immigrants, and they were the anchors of my mother's new family in Detroit.
I like to think that the fine example set by my parents' marriage – which lasted 42 happy years until my father died – has been a loving influence in my marriage to Doug La Ferle, the love of my life, and my rock.
Carlesta often told me she couldn't have asked for a finer son-in-law than Doug. She was proud of Doug's talents as an architect and artist, and she regarded him as her own son.
Likewise, Doug helped me care for her as if she were his own mother. During Carlesta's long illness, there were many times in the hospital and in the nursing home when Doug gave her the comfort and reassurance she needed after I had lost patience as her caregiver. Surely there is a special place in the heart of heaven for spouses like Doug.
As an only child, my mother also had a close relationship with her sister-in-law, Chris Gullion, and the two of them took turns hosting many holiday dinners over the years.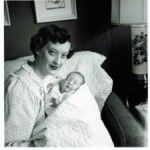 Having come from such a small family, my mother frequently reminded me that good friends are "a family one chooses." When I was growing up, she often advised me to choose my friends carefully. Teaching by example, Carlesta maintained many of her longtime friendships, some dating back to high school. She was also a member of a stock club, PEO, and the Starr House Guild.
I am deeply grateful for all the times my mother helped me become a mother after my son Nate was born. Carlesta loved her grandson more than the world, and I don't think she ever said "no" when I asked her to babysit him. Just as she had done for me, my mother created many happy memories for Nate, and she couldn't have been more proud of all his accomplishments.
Such was her love for her only grandchild, in fact, that she became a Notre Dame football fan while he was a student at the University of Notre Dame. Mom wasn't remotely interested in sports before then – so this was a testimony of their relationship. Going through Carlesta's papers recently, I found dozens of cards and letters from Nate, which she had lovingly saved, in just about every drawer in the house.
My mother worked as a freelance color artist for several photography studios — including Royal Oak's Bill Williams — throughout my childhood and teen years. She was among the first "work-at-home" moms in the late 1950s and '60s, setting up a home studio in our family room.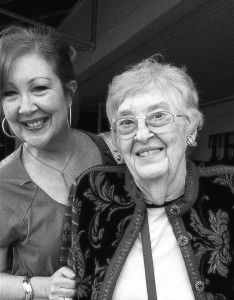 Later on, when I began my own career as a freelancer writer, I had my mother to thank for teaching me how to strike a balance between work and family. What a role model I had! I remember coming home from school as a kid and finding my mother at work at her easel, leaning over her photographs and mixing her oil paints. She always had time to listen as I shared the highlights or low points of my days at school.
I am forever grateful for that too.
As I type these thoughts, it occurs to me that what defined my mother more than anything was her reverence for home.
Though it's a small word with just four letters, "home" meant everything to Carlesta. Home was a refuge and a sanctuary. To her, the word encompassed the people inside its walls – both family and friends – as well as its gardens and furnishings. Inspired by our family's many road trips to historic Williamsburg, Virginia, and New England, she collected antiques and decorated every room in the house with treasures from our trips.
With her gift for hospitality, she entertained with style and care. She brought beauty to everything she crafted, whether it was a birthday party for a large group or a planter on the front porch. Making a home was an art form.
Once dementia had incapacitated her, moving Mom out of her beloved Royal Oak condo and into a nursing home was, by far, the hardest and most heartbreaking thing I've ever had to do.
All said and done, of all the gifts my mother has given me – including the gift of life itself – I'm most grateful for that abiding love of home.
This occurred to me not long after I learned that she had died. At the time, Doug and I were on the last day of our vacation. As soon as we got the call (at 5:45 on Saturday morning) we packed everything as quickly as we could and headed down the dark highway back to Royal Oak. It was the longest drive I've ever taken, though I don't think the reality of my mother's passing had really taken hold in my mind.
But finally, as we turned down Vinsetta Boulevard and our own house came into view like a mother with arms opened wide, the tears came and I felt embraced by something I can only describe as boundless gratitude for my home, my family, and this community – the roots of which my mother had planted inside me years ago.
My father, who passed away in 1992, had always found comfort in the Bible passage (John 14:2), "My father's house has many dwelling places."  It was read at his own mother's funeral. When Dad died, I asked a pastor to read that verse in the eulogy I wrote for him.
And so, with a full and thankful heart, I hope my parents have found their place together in the "house with many dwelling places," and that they are, finally, at peace and at home.
After this eulogy was read by pastor John Miller, my son Nate La Ferle read my favorite poem by Celtic poet David Whyte, "The House of Belonging." Please click here to read it. 
Carlesta Gullion's obituary is posted here.
« go back
—
keep looking »