Cindy La Ferle on December 8th, 2013
If you do a good job for others, you heal yourself at the same time." — Dietrich Bonhoeffer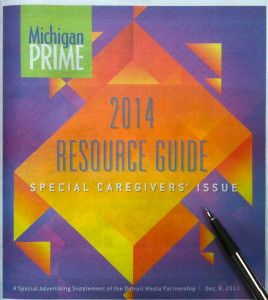 The signs were subtle, at first. Mom was starting to forget names and repeating the same stories at family dinners. But isn't that common for older people? Until my mother was officially diagnosed with vascular dementia in 2009, I wasn't sure how to deal with her changing behavior. And I didn't know where to turn, at first, to get the help we'd both need as her disease progressed. I was often frustrated and exhausted — and very worried.
Whether your elderly parent is showing signs of a memory loss disorder or other major health problems, you won't want to miss Michigan Prime's 2014 Resource Guide: Special Caregivers' Issue. (The magazine is delivered with the Sunday Detroit News and Free Press, and can be accessed online with this link.)  This issue includes my piece, "Ten Essential Tips for New Caregivers," as well as helpful features on choosing an assisted living residence, getting transportation for a loved one who can't drive, and other key caregiving topics.
I wish I'd had a resource like Michigan Prime several years ago. And that's why it's so important to me to write about caregiving issues today. I hope that my experience — including a few blunders along the way — will help others who are just setting foot on this difficult journey with their own parents.