When I go into the garden with a spade and dig a bed, I feel such exhilaration and health that I realize I have been defrauding myself in letting others do for me what I should have done with my own hands."  ~Ralph Waldo Emerson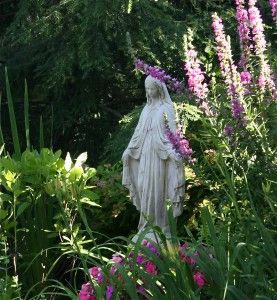 Throughout my life, gardens have provided many spiritual lessons and moments of refuge.
Among them was the fern garden my Scottish grandfather tended in his back yard on Detroits west side — an oasis that restored his spirit during the sad summer my grandmother died. The essay I wrote about that garden was published in both British and American editions of Reader's Digest magazine, and is included in my book, Writing Home.
Today, my own garden is so much more than a plot for herbs and perennials. Working the soil, I'm often mentally untangling one of my elderly mother's health problems. Or, while preparing a bed for basil and rosemary, I might be digging my way through a stubborn case of writer's block. Or just daydreaming.
As I reminded my husband recently, gardening is the best therapy I know. (The money I ought to save for a psychiatrist is well spent on garden gadgets and plants at the local nurseries.)
Along these lines, several authors have written inspiring books on gardening as soul work. Here are a few of my favorites.
Praised as a hymn to nature, Diane Ackermans Cultivating Delight (HarperPerennial Library) is a sensuous garden memoir. With the keen eye of a naturalist, Ackerman recounts her back-yard discoveries through the seasons, including the time she uncovered a tiny frog asleep inside a tulip.
"By retreating farther and farther from nature," Ackerman warns, "we lose our sense of belonging, suffer a terrible loneliness we cant name, and end up depriving ourselves of what we need to feel healthy and whole."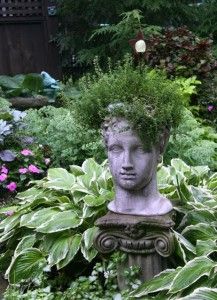 "No matter how saddened I become by the events of life, when I see the world as a garden, I feel better," writes author Julie Moir Messervy in The Magic Land: Designing Your Own Enchanted Garden (Macmillan). A landscape designer and consultant, Messervy also sees the garden as a perfect outlet for personal growth. Her book includes exercises to plan your own paradise, whether you want an elaborate storybook garden with a gazebo or a Zen-like oasis. I used many of her tips when I plotted my own Japanese garden a few years ago.
The Sanctuary Garden (Fireside) reminds us that any garden can be a place of reflection. Authors Christopher Forrest McDowell and Tricia Clark-McDowell are founders of the Cortesia Sanctuary for Natural Gardening and Healing in Eugene, Oregon. Their illustrated guide provides tips on attracting wildlife as well as ideas for creating space for prayer and meditation.
"One of the most powerful examples of our relationship to the land came to me when witnessing the end of the war in Bosnia," writes McDowell. "I was touched to learn that the first act of many of the citizens of Sarajevo was to till and plant their gardens."
So what are you waiting for? Dust off your garden boots, grab a trowel, ditch your bad mood, and dig in.
— Garden photos (copyright) by Cindy La Ferle —