"Be yourself. Everyone else is already taken." — Oscar Wilde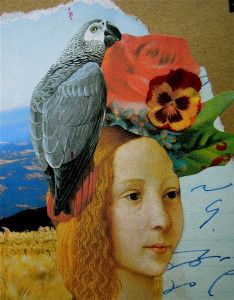 One of my favorite episodes on the hilarious Portlandia series is the one that popularized the phrase: "Put a bird on it." Now listed in urban dictionaries, the expression refers to any creative trend that's become so common that it's a cliche. If you haven't seen the episode, think of the times you've visited a boutique or gallery and noticed how many items are embellished with a bird. You get the idea.
On the topic of originality, freelance writer Pam Houghton recently posted several excellent tips on building a satisfying career. For me, the tip that resonated most was the one emphasizing the importance of listening to your own voice — instead of following trends.
"Some people make success look easy," Pam wrote. "The times I tried to imitate them never worked even after repeated attempts….I had no choice then but to step back and ask, what is it that I do well?"
Pam's post got me thinking about my early years as a journalist in the 1980s. I was a huge fan of New York Times columnist Anna Quindlen, whose "Life in the Thirties" pieces were so fresh that I wished I'd written them. I wanted to draw "aha!" moments from my readers, like Quindlen did every week. I wanted to be a family columnist, but how could I hold a candle to Anna Quindlen?
Then there was Anne Lamott, who wrote the exquisite memoir, Operating Instructions: A Journal of My Son's First Year, and lots of juicy essays for Salon. Add to the fact that I also admired essayist Annie Dillard, and you'll get why I considered adopting my middle name, Anne, as a pen name. The Annes and Annas were rocking the writing world.
On one hand, I learned something about my own taste — and writing goals — when I examined the nuts and bolts of their work. Quindlen spun the personal into the political; Dillard brought both depth and poetry to her nonfiction; Lamott broke rules and made me laugh out loud.
Luckily, I stopped short of stealing their pet adjectives or mimicking their styles. But it took a while to feel confident in my own voice.
It's tempting to reach for something quick and easy — a bird? someone else's idea? — when we're timid or lazy. (As a mixed-media artist, I've been guilty of pasting too many birds on my collages.) Of course, it's natural to follow trends when we're starting out, whether we're designing furniture or writing poetry. And while it's true that we learn by observation, the trick is to avoid getting stuck in copycat mode. (Plagiarism is illegal, period.)
Being an original is twice as hard in the digital age. Everyone is chirping for attention, building a platform, following trends. The biggest challenge is to keep stretching your wingspan, then landing on something that's truly your own.
— Artwork by Cindy La Ferle; copyright 2012 —