A garden is always a series of losses set against a few triumphs, like life itself."  ~May Sarton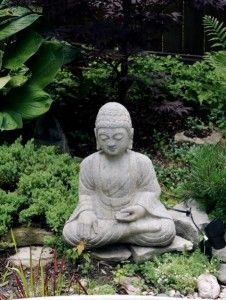 I'm taking a week off to work in the garden, so I'll leave you with one of my gardening essays. This one was published in Victoria magazine, March 2010. I'll be back next week after a few more trips to the nursery ….

ZEN AND THE ART OF MIDLIFE GARDENING
Last spring, members of our Oakland County Master Gardener Society invited me to speak at one of their meetings. I was honored, at first, but as soon as the date of the talk rolled around, I started getting nervous.
And with good reason.
Master Gardeners arent just fooling around with bulbs and Miracle-Gro. These folks earn a minimum of 40 hours of instruction in horticulture science. Meeting for at least 11 weeks, they take classes in caring for indoor and outdoor plants; establishing lawns; growing vegetables and fruit trees. I bow to their expertise.
Barely getting my hands dirty, Ive written a few magazine pieces and newspaper columns on my romance with plants and flowers. Ive shared back-yard memories of sweet peas and apple trees and my grandfathers ferns. But set me loose with a shovel, and Im a dangerous amateur with a record of murdering rose bushes and planting azaleas in the wrong spot.
Regardless, the kindly president of our Master Gardener Society assured me that his group of green thumbs would be open to anything I had to say about writing and gardening. They would humor me — and even offer some tips on deadheading tulips. Somewhat relieved as I prepared for the talk, it occurred to me that gardens have taught me many valuable lessons. At this stage of my life, especially, gardening is rich with metaphor.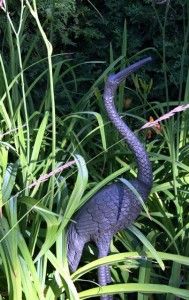 Five years ago, when my husband and I turned 50, our only child left home for college. That same year, we also lost several stately maple trees to disease. The removal of those trees wreaked havoc on our back yard: The lawn was totally destroyed and the surrounding beds were trampled. Not a single root or shoot was left of the delicate woodland shade perennials – trillium, Solomons seal, or bleeding heart – that Id collected over the years.
As every gardener knows, the natural world reminds us that change and upheaval are part of the master plan. Likewise, our bulldozed back yard reflected my emotional state as I adjusted to the changes in my menopausal body and my newly emptied nest. For a while, I felt uprooted in my own household. Yet it also occurred to me that when a new space opens up – by choice or by accident – you have an opportunity to try something else; something you couldnt do before.
A Japanese garden had been at the top of my wish list for several years, but until all those dead trees were removed, Id never had the right spot for my dream garden. And so, with the help of a landscaping team, I created a path and some raised beds for my meditation garden, which now includes a small wooden bridge and a dry river of beach stones my husband and I collected from Lake Michigan. The garden has become an outdoor sanctuary, a peaceful escape from deadlines and the clutter inside our home. Its also living proof that middle age can be a signpost to a new life — not just the end of our greener years.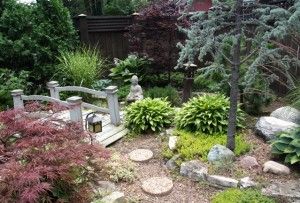 At the end of my talk, I reminded the Master Gardeners that I often struggle with acute writers block, or fallow time. I would guess that anyone whos been doing the same work for so many years does too. Fallow time is the desert where ideas shrivel and evaporate, if they sprout at all. Fallow time is the waiting season, the creative slump, when black moods hover like pending thunderstorms.  But we can turn to the garden for another lesson.
Michigan winters are incredibly long and dull. For those of us who battle the blues, its easy to believe that spring might forget us on its way north. But just when things cant get any gloomier, usually in early April, along comes a balmy 60-degree day — a day drenched in the scent of moist earth, tulip bulbs, and tender new grass waking up. Suddenly, a glimmer of hope breaks through, melting all those months of doubt and dejection. The frozen river thaws. Possibility stirs.  And that when I know it's time to grab my tools, dig in, and begin again. — Cindy La Ferle
–Reprinted from Victoria magazine. All garden photos copyrighted by Cindy La Ferle. Please click on each photo for a larger view. —