Let her have a chair, her shadeless lamp, the table." — Jane Hirshfield, "The Poet"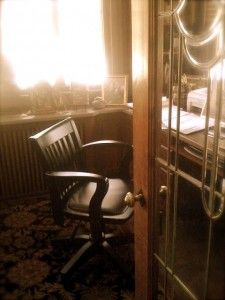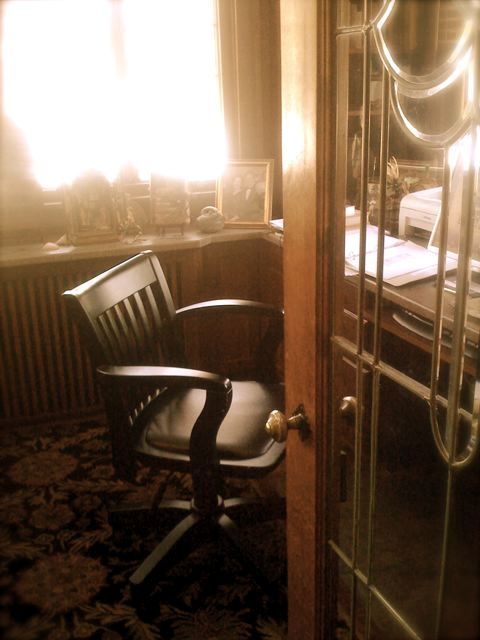 The place in which we work — an art studio, a home office, a spare bedroom, or the corner booth at the local diner — is essential to our creative lives.
I often hear would-be writers and artists complain that they can't practice their craft because they don't have a studio or a home office. But if we really want to write or paint, sculpt or sew, we'll find a way to make a space for it. My friend Debbie, for instance, makes no apologies for keeping her sewing machine set up in the living room while she's working on her projects. And nobody thinks she's messing up the place. Her visitors are inspired by the cool things she's creating.
An evocative portrait of an unknown poet's writing room, this sweet poem, below, always tugs at my heart. It's a universal image — the writing desk with a single lamp — but Jane Hirshfield makes it intensely personal. She also reminds us that the support of family and loved ones is just as essential as having a room of one's own. –– CL
The Poet
By Jane Hirshfield
She is working now, in a room
not unlike this one,
the one where I write, or you read.
Her table is covered with paper.
The light of the lamp would be
tempered by a shade, where the bulb's
single harshness might dissolve,
but it is not, she has taken it off.
Her poems? I will never know them,
though they are the ones I most need.
Even the alphabet she writes in
I cannot decipher. Her chair —
Let us imagine whether it is leather
or canvas, vinyl or wicker. Let her
have a chair, her shadeless lamp,
the table. Let one or two she loves
be in the next room. Let the door
be closed, the sleeping ones healthy.
Let her have time, and silence,
enough paper to make mistakes and go on.
—Reprinted from The Lives of the Heart, by Jane Hirshfield; HarperPerennial; 1997
This post is part of a new weekly series of poetry appreciation. To read more, please click on "Poems to inspire" in the CATEGORIES column at right. As always, I welcome your recommendations, too.
–Top photo "My Desk Chair" (copyrighted) by Cindy La Ferle–