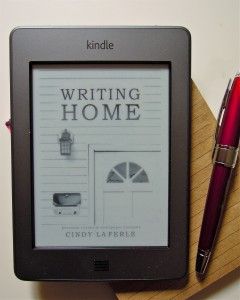 Though I dragged my feet initially, last month I joined the legions of enthusiastic ebook readers — as a reader and a writer.
When my son surprised me with a Kindle for my birthday, I was immediately impressed at how handy and economical it is. Whether I'm sitting in a medical waiting room with my mother or traveling on vacation, I've got a mini electronic library that fits in my purse. Best of all, I downloaded Thoreau's Walden for free, and found that e-reader versions of bestsellers are cheaper than the print editions.
Of course, I had to make my own book, Writing Home, available on Amazon's Kindle store — complete with a new introduction. A memoir of my earlier motherhood years and a tribute to my family, this book is especially dear to my heart and I'm thrilled to make it available to another set of readers.
If you'd like to add Writing Home to your own electronic library, this link will take you directly to the book's page on Amazon. (The paperback edition can be ordered there, too.) You can read sample pages from Writing Home as well as several national and local reviews of the book on Amazon.
How about you? Do you use an electronic reader, or do you prefer ink on paper?