Perseverance is not a long race; it is many short races one after the other." — Walter Elliott
Speaking at a writers' conference last year, a magazine editor fielded questions from an eager audience. Inevitably, a new freelance writer asked, "What does it take to break into national magazines now?" The editor's answer: "Good old-fashioned perseverance."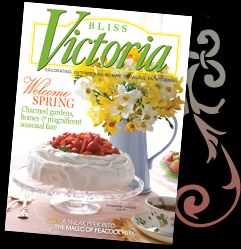 It's true what they say about perseverance. It really pays off. So I'm sharing the following news not in the spirit of boasting — but to remind you to stay the course and keep trying, whatever goals or dreams you're pursuing.
Several times over the past decade, I've tried to break into Victoria, one of my favorite shelter magazines. In the meantime, I published pieces in other national glossies and kept submitting new work, but the Victoria byline eluded me. (The magazine folded in 2004, then resumed publication in 2007.)
Over a year ago, I wrote a garden essay from threads of a talk I gave at a regional Master Gardener Society meeting. With high hopes, I submitted "The Art of Midlife Gardening" to Victoria. And then I waited.
Months passed — which isn't unusual in this line of work — and I nearly forgot about the piece. So you can imagine how thrilled I was when Victoria's managing editor contacted me last year to ask if it was still available for publication in the March/April 2010 issue. That issue is now on the stands, and my essay's on the back page. When I found a copy today at our local Barnes & Noble, I did a little happy dance right there in the magazine aisle. –CL