"The thing that is really hard, and really amazing, is giving up on being perfect and beginning the work of becoming yourself."– Anna Quindlen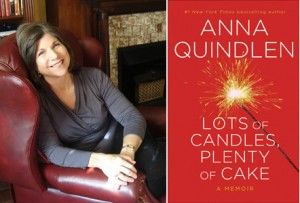 I was in awe of Anna Quindlen's writing when I started reading her syndicated New York Times column, "Life in the Thirties." Her highly personal yet carefully crafted reflections on being a woman in the 1980s struck a resonant chord. As Publishers Weekly put it, Quindlen shared our "chronology of adulthood," from college to marriage to children. Even readers who didn't subscribe to her political views were charmed by her writings on parenthood.
"The Lightning Bugs Are Back," included in her Living Out Loud collection (1988), is possibly one of the loveliest tributes to childhood ever written. "The lightning bugs are my madeleine, my cue for a wave of selective recollection," Quindlen wrote. "My God, the sensation the other night when the first lightning bug turned on his tail too soon, competing with daylight during the magic hour between dusk and dark."
I've been hooked ever since.
Several novels and column collections later, Quindlen is back with Plenty of Candles, Lots of Cake, her memoir crafted on the cusp of age 60. Quindlen has acquired a house in the country and Botox treatments for a wrinkled brow. She's less attached to the "stuff" she's accumulated. Her three kids are grown. And she stopped going to Mass.
While Plenty of Candles includes a couple of sweet-but-predictable pieces about friendship and parenting, Quindlen goes deeper in this collection. In "The Little Stories We Tell Ourselves," she considers the damage inflicted on American women: "We have a culture that elevates women in advertisements who are contoured like thirteen-year-old boys, a culture that showcases actresses on television so undernourished that they look like bobblehead dolls…. In other words, we have a culture that reflects contempt and antipathy toward a realistic female body."
Her essay on faith and why she left the Catholic church is brave and complex (and ambivalent in places). It must have been difficult for Quindlen to go public with it. "At some level I may have lost my religion, despite the deep talons of its traditions and forms within me," she writes. "But I've never lost, and will never lose, my faith."
Married more than three decades to Gerry Krovatin, Quindlen also tackles the thorny subject of marriage. "I tell my children that the single most important decision they will make is not where to live, or what to do for a living, it's who they will marry," she writes. Still in love with Krovatin, Quindlen praises his loyalty: "He may not remember our social schedule or the names of some of our kids' friends, but he never forgets who wrote the bad review of my last book. And woe betide that individual if they ever meet him at a cocktail party."
No longer "muddling through the middle," as she described her life in Living Out Loud, Quindlen embraces maturity without fear or regret: "That's the hallmark of aging, too, that we learn to go deeper, in our friendships, in our family life, in our reflections on how we live and how we face the future."  — CL
Note: Anna Quindlen's son recently interviewed her for The Christian Science Monitor. Click here to read the interview.