Damn everything that won't get into the circle." — e.e. cummings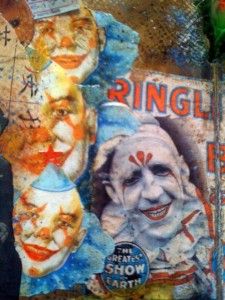 I've been a fan of the big top as far back as I can remember. It was the highlight of every spring when I was child. Later, as a local freelance reporter, I was thrilled when I was assigned to interview the lion tamer when the traveling Shrine Circus came to town.
And I love how E.E. Cummings (also spelled e.e. cummings) uses the circus as a metaphor for a rich and juicy life — a life bursting with color, sparkle, muscle, and magic.
In another poem in this series, Rumi reminded us to seat ourselves next to our own joy. Along these lines, Cummings rallies against the safe and the dull. His poem is a warning against those who run around putting holes in other people's balloons. So let's hear three cheers for the risk-takers and joy lovers — for the fearless ones who dance on the tightrope of life. — CL
Damn everything but the circus!
By E.E. Cummings
…damn everything that is grim, dull,
motionless, unrisking, inward turning,
damn everything that won't get into the
circle, that won't enjoy, that won't throw
its heart into the tension, surprise, fear
and delight of the circus, the round
world, the full existence…
— Reprinted from E.E. Cummings: Complete Poems: 1904 – 1962; Liveright; Revised Edition; 1994

— Detail from "Damn everything but the circus!" (an altered book) by Cindy La Ferle —