There is something about a wedding gown prettier than any other gown in the world." –Douglas Jerrold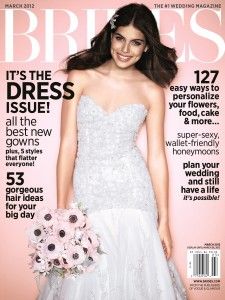 When my son, Nate, and his fiancee, Andrea, announced their engagement last July, their September 2012 wedding seemed ages away. But here we are, with six months left to go until the Big Day.
Working with Andrea's mom, Matilda, we've spent the past few days meeting with the florist, mapping out the dance floor for the reception, debating the placement of the wedding cake, and discussing restaurant options for the post-wedding brunch. As parents of the groom, Doug and I are absolutely thrilled to be part of the decision-making.
Still, I have to admit that the loveliest part, so far, has been getting a preview of Andrea's wedding dress. Last fall, I was touched when Andrea invited me to tag along when she started shopping for The Dress. Over the years I've logged more than a few hours with Andrea and Matilda at our local shopping mall — but this was, by far, our most memorable shopping trip.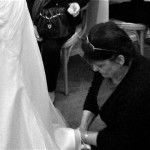 According to suburban wedding lore, there's a perfect dress for every bride. Andrea had a vision of what she wanted, and was lucky enough to find her dress at the first salon we visited in Birmingham.
Watching Andrea make her selection from rows of dresses embellished with yards of white lace, beaded satin, silk and tulle, I couldn't help but recall the high school years when she posed with Nate in front of my camera in her prom gowns and homecoming dresses. How quickly those years flew.
And, yes, I blinked back a few happy tears as my future daughter-in-law stepped up to the small platform in front of the mirror at the bridal salon, moving rivers of silk behind her as the sales consultant offered opinions and made adjustments to the various gowns.
As every mother of a daughter knows, it's a bittersweet privilege to witness a young lady blossom into a self-assured woman with a rich future ahead of her. Since I've never had a daughter of my own, I felt honored to be part of this special moment at the bridal salon.
Of course, Andrea looked like a dream in all of the gowns she tried on. But one in particular was, as everyone agreed, an elegant selection. The perfect dress for her.
When we returned for her first fitting last weekend (above), I couldn't resist snapping a few photos with my iPhone — but I promised Andrea I wouldn't share any close-ups or key details until after the wedding. Even so, I can tell you in no uncertain terms that she will be the most beautiful bride I've ever seen. — Cindy La Ferle