A crisis is a holy summons to cross a threshold. It involves both a leaving behind and a stepping toward, a separation and an opportunity." – Sue Monk Kidd, When the Heart Waits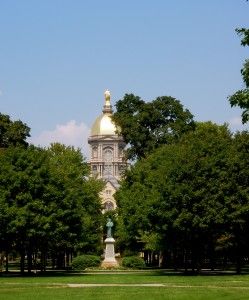 As every frequent flyer knows, airline passengers are required to perform a series of rituals before the aircraft takes off. Your seat must be in its upright position; the seat belt fastened securely. The tray in front of you must be locked firmly in place.
Likewise, freshman orientation weekend prepares students for college – and is a major rite of passage for their parents.
The University of Notre Dame is just a three-and-a-half-hour drive from our home in suburban Detroit. But when Doug and I left Nate there to begin his freshman year in 2004, it seemed as if we were launching our only child to Jupiter.
As the orientation program kicked off on that hot August weekend, flocks of Notre Dame freshmen were herded off to other parts of campus for their introduction to university life. Parents were corralled inside the Joyce Center Fieldhouse for a series of pep talks on the importance of giving children "roots and wings."
The Joyce Center is cavernous, and I suddenly felt like Jonah in the belly of the whale. Fighting tears, I bolted to the nearest restroom and locked myself in a toilet stall to indulge in a private meltdown — a meltdown that must have been waiting to erupt from the moment we'd packed the car that morning. Remembering that Doug was waiting for me, I managed to leave the restroom in time to catch most of the introductory speech.
As we took our seats, one of the deans was already reminding parents not to panic if our kids called home sounding lonely or homesick.  Or if days stretched into a week and we didn't hear from them at all. Our children were standing "at the threshold of opportunity," and they would adjust and thrive, he promised. In other words, helicopter parenting was not encouraged.
Our role in this tender rite of passage was to let go of our children."
Next, a woman in a crisp linen business suit stepped up to the lectern and reminded all parents to exit the campus at the conclusion of the orientation program. At that point, she said, the Notre Dame marching band would give us a rousing sendoff as we headed back to the parking lot.  We were advised to say our good-byes quickly and cheerfully. No tears, no drama, no clinging. Our role in this tender rite of passage was to let go of our children.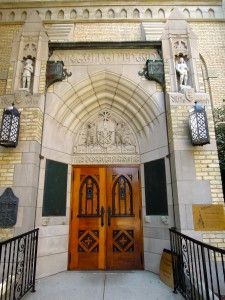 Easy for her to say.
Like many mothers, I'd often sought advice in the pages of childcare guides and parenting magazines. But as Karen Coburn and Madge Treeger remind us in Letting Go: A Parent's Guide to Understanding the College Years (Perennial), once our kids head off to college, "there are no Dr. Spocks to reassure us."  We're on our own.
Watching Nate survey the campus — his new home for the next four years — I recalled an early memory of a wiry little guy who often begged to escape the boundaries of our suburban Detroit back yard. And it occurred to me that I'd always fostered his keen sense of adventure, his drive to be independent. Now a six-foot-tall young man with a five o'clock shadow, he was ready to move on.
So, the real question was: What would my days be like without him? While Nate worked on his degree at college, I'd have some homework of my own to do. Now that my starring role as Mom was fading to a cameo, it was time to redesign my life.
Touring several buildings before we left the campus, I drew comfort from the dignified beauty of Notre Dame's architecture and manicured gardens. And even though I'm not Catholic, I was buoyed by the stunning view of the Sacred Heart Basilica, not far from Nate's dormitory. I was reminded, too, that "Notre Dame" translates to "Our Lady" — the most celebrated mother in world history. My boy would be in good hands.
And how could anyone feel sad in the midst of so much excitement and pageantry? The whole campus throbbed with youthful energy.  The school fight song blared from every window, and rallying cries of "Go Irish!" echoed across campus.
That afternoon, the sky was postcard blue, and the university's famous Golden Dome shimmered reassuringly in the late summer sun.  Heading back to our car in the parking lot, I squeezed Doug's hand and congratulated him for making it through the long weekend. Doug eyed me cautiously, knowing full well that I'd been the one struggling to compose myself. Smiling and dry eyed, I assured him that I knew our son was going to be just fine — and, yes, I'd be just fine, too.
— Cindy La Ferle
Photographs of the University of Notre Dame campus and Sacred Heart Basilica by Cindy La Ferle