To exist is to change, to change is to mature, to mature is to go on creating oneself endlessly." — Henri Bergson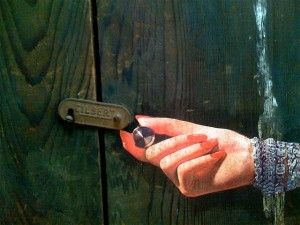 It's so much easier to stay rooted in the same place, whether it's a desk chair or an old neighborhood. Or even a toxic relationship.
Once we nestle into our proverbial comfort zone, it takes work to pull ourselves up to the next level or move to a better place.
Staying in a rut has its benefits. Even when we know we deserve more, for instance, we tend to justify earning low wages while working at jobs we've already mastered. We tell ourselves that the economy is lousy; that we're lucky to have any job with pathetic wages. We lower our expectations.
Likewise, instead of seeking out healthier relationships, it might feel safer to put up with neglect or abuse from friends or relatives who've been part of our history. Or we keep performing the same family "roles" we outgrew ages ago. (Victim? Competitor? Big brother? Benefactor? Brat?)
Change is hard, and asking for what we need takes courage. It also requires that we take risks and face what scares us. Is there a new door you've been waiting to open? Are you leaning your ladder against the wrong wall? –CL
— Photo: detail from "What We Remember", a mixed-media construction by Cindy La Ferle —