The eye is meant to see things. The soul is here for its own joy." –Rumi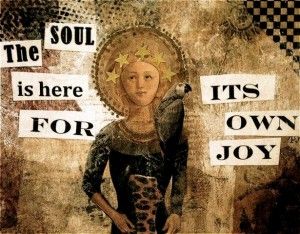 For collectors of inspirational quotes, the ecstatic poems of the Persian mystic Rumi are pure gold. I find most of my favorites in one of the finest anthologies of Rumi's work, The Soul of Rumi, translated by the incredible Coleman Barks. "The Soul is here for its own joy" is such a powerful line that I just had to use it in a collage earlier this year.
Click on the images for a detailed view. You'll note that the dress was assembled from magazine ads and scraps of wrapping paper. The word "ops" appears on the elbow of the figure. This was totally unintentional; I didn't notice it until after I layered another coat of glaze on the piece. Talk about a message for a recovering perfectionist!