The more you clean, the more brilliant your writing will be." — Billy Collins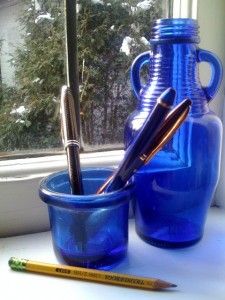 Last week I shared Jane Hirshfield's "The Poet" (about a writer at her desk), and in the comment section we all compared notes on where we do our own creative projects.
Writers are inherently messy — in a good way. We save scraps of paper scribbled with notes and ideas. We collect more pens and blank journals than we'll ever use. And when we're in the middle of editing an article or composing a poem, we litter and trash our workspace. But I'm not convinced that's what Billy Collins is talking about in the poem below.
It's open to interpretation, of course, but I like to think Collins is playing with the idea of clearing the mind to make room for fresh ideas. Each time I begin a new project or assignment, for example, I need to push past my fears, self-imposed limits, and creative road blocks.
Or maybe Collins is talking about writing rituals — the small acts we must perform (procrastination?) before we can lift our "yellow pencil."  What do you think? In any event, I think you'll agree that Collins has both a wicked sense of humor and a knack for spotting the beauty in the ordinary. –CL

ADVICE TO WRITERS
By Billy Collins
Even if it keeps you up all night,
wash down the walls and scrub the floor
of your study before composing a syllable.
Clean the place as if the Pope were on his way.
Spotlessness is the niece of inspiration.
The more you clean, the more brilliant
your writing will be, so do not hesitate to take
to the open fields to scour the undersides
of rocks or swab in the dark forest
upper branches, nests full of eggs.
When you find your way back home
and stow the sponges and brushes under the sink,
you will behold in the light of dawn
the immaculate altar of your desk,
a clean surface in the middle of a clean world.
From a small vase, sparkling blue, lift
a yellow pencil, the sharpest of the bouquet,
and cover pages with tiny sentences
like long rows of devoted ants that followed you in from the woods.
–Reprinted from The Apple That Astonished Paris, by Billy Collins (The University of Arkansas Press); 1988
— Top photo "Blue Glass" (copyrighted) by Cindy La Ferle —