It was the weirdest thing. A pair of brass candlesticks Id kept on top of the curio cabinet had suddenly disappeared. It was the night before Thanksgiving, and up until then, I was operating under the delusion that everything on my to-do list was checked off or in good order.
My dining room table was polished and carefully set with cloth napkins and my Grandmothers Haviland china.
But after putting the final touch on my harvest-themed centerpiece, I noticed the two candlesticks were missing. They werent the ones Id planned to use — but their absence was a real mystery. Doug swore he hadnt seen them, and our son Nate was out with friends that evening.
Ill never know what possessed me to go outside and look through Nates car, but I did. There, in a small box on the front seat, were the kidnapped candlesticks plus a pair of partially burned black candles leftover from Halloween.
Why on earth would a high school senior have these items stashed in his car? I could hardly wait for the detailed explanation.
Well, the candlestick thief returned home shortly thereafter, followed by a noisy troop of teenagers. All were in good spirits and looking forward to their long holiday weekend. To my surprise, the topic of the evening was the traditional Thanksgiving meal they had shared that same afternoon in the high school cafeteria. The feast had been their own idea, in fact, with no prompting from teachers or school administrators. Few parents knew theyd planned it.
One student brought a large roasted turkey; others brought side dishes, tablecloths, and trimmings. Nates contribution to the feast was – you guessed it — the pair of candlesticks with the half-burned Halloween candles, which hed grabbed in his usual rush out the door that morning.
"Why didnt you tell me?" I grilled him. "I would have given you some new candles."  I reminded him, too, that he shouldnt remove things from our dining room without asking. To his credit, Nate apologized, and then informed me that hed grabbed the "ugliest, most hideous pair of candlesticks" he could find, to avoid upsetting me.
Let parents bequeath to their children not riches, but the spirit of reverence." – Plato
Hideous candlesticks aside, teenagers never cease to amaze and delight me. Just when you wonder if theyd even care about ceremonial things like candlelight and holiday dinners, they turn the tables on you.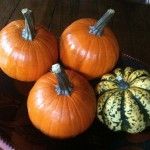 That Thanksgiving feast in the cafeteria was one of the last Nate and his friends (a.k.a. "The Crew") would celebrate as the extended family theyd become. Like all families, biological or adopted, they were sharing a ritual as ancient as recorded history. Feasting together provides comfort and forges lifelong memories.
It also occurred to me that my candlestick thief is one lucky young man, especially since hes an only child, to have grown up with other youngsters whod bother to create a holiday meal together. Last week, in fact, another parent told me that the kids enjoyed it so much that they hoped to do something equally festive for Christmas and Easter.
"Family ritual is pretty much anything we do together deliberately, as long as its juiced up with some flourish that lifts it above humdrum routine," notes Meg Cox, author of The Book of New Family Traditions (Running Press). As Cox points out, anthropologists have yet to discover a human culture that didnt practice rituals. Rituals impart a sense of identity and help us navigate change. Even the simplest routines we practice when our children are very young, in fact, will help them feel grounded and secure.
So its definitely worth the trouble – using your Grandmas silver, setting a nice table, and recreating holiday menus that have special meaning to your family. While you're at it, dress up for the occasion and memorize a toast. And always be sure to keep extra candlesticks on hand. — Cindy La Ferle
First published in

The Daily Tribune

 (Dec. 2003) and Ideals' Thanksgiving anthology, "Feasting by Candlelight" (above) is included in

Writing Home

, a collection of my home and family stories. The book is available nationally on Amazon in print and

Kindle

editions, with holiday season proceeds benefitting organizations serving the homeless in my community.