Midlife is a time to listen deeply to your heart, a period of transition and reappraisal." — Carl Jung
I have a hunch that fall is arriving early. Maybe its the angle of sunlight on the last of the black-eyed Susans in my perennial garden. Or maybe it was the sound of berries and acorns crunching under my bicycle tires on the nature trails yesterday.
Whatever triggered it, I cant ignore the maternal instinct to shop for back-to-school supplies – even though I dont have a student to buy them for.
My only child did exactly what all parents hope their kids will do. He grew up. He attended the university of his choice, then started a grown-up's job just two months after commencement ceremonies.  His dad and I helped him pack up the car, headed with him down the expressway, and waved a tearful good-bye in front of a small flat in Chicago after we unloaded the last piece of stereo equipment.
That was two years ago. But sometimes I struggle to get my mind around the fact that Im officially an empty nester now.
Watching the younger moms in my neighborhood – the ones buying new Crayolas and lunch kits – I recall the exhilarating sense of freedom I'd get when my son started school each year.  In those days, it was a blessing to have six quiet hours a day to meet writing deadlines and run errands all by myself. At the time, the calendar on our kitchen wall was scribbled top to bottom with kid-related events and appointments – a perpetual list of band concerts, school conferences, homeroom baking marathons, and carpool schedules.  Not to mention all the medical appointments for my pending hip-replacement surgeries.
I still cant fathom how any mother finds the time to do it all — no matter how many kids she has. In any event, I'm not sure how I kept my own balance on the roller-coaster ride we call "the parenting years."  But I did, and sometimes I really miss those years.
Retiring or redefining?
It took several months to regain equilibrium after my son first left for college in 2004.  His bedroom at home looked so eerily clean and empty that I made a habit of keeping the door shut. Until then, I hadnt fully realized that the career I'd loved most — more than writing or publishing or teaching — was being a mom. It caught me off-guard, like a thunderstorm on the freeway, or the tears that roll unexpectedly when you catch the lyrics of an old song on the radio while you're driving.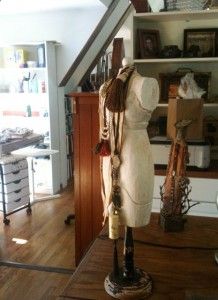 So I had to figure out where to devote my enthusiasm in this uncharted phase of my midlife.
My relationship with my husband was (and always will be) at the top of my priority list. And yes, I'd have more time to devote to writing and long lunches with friends. But I also needed to explore something creative and different. Something just for myself.
The ancient ritual of buying school supplies provided my very first clue — and Im sharing it with the hope that every empty nester whos reading this will look for the bread crumbs on the path leading to her own passion.
The inner artist emerges
I was browsing at the office supply store with my son a week before he moved into his freshman dorm. While he wandered the computer aisles in search of an essential gizmo, I was magically drawn to a rainbow display of felt-tipped calligraphy pens, colored pencils, and drawing pads. My inner artist, whod been hushed and banished to a corner of my psyche after I graduated from college, pushed forward and made herself heard. At the time I wasn't sure what she'd do with all those pens and markers, but she refused to leave the store without them.
I think John Updike explained it best when he said, "What art offers is space — a certain breathing room for the spirit." Because that's exactly what I needed.
A month later, I started shopping for real art supplies at the local craft store, where I also discovered several gorgeous art magazines featuring how-to articles on mixed-media collage and altered books. I couldn't learn fast enough. And by the end of that year, I found myself clearing space for an art studio upstairs above the garage. My son reveled in his freshman year at the University of Notre Dame while I happily painted, cut, and pasted another path of my own.
So, it's getting to be that time of year again. Time to get the garden ready for bed. Time to head upstairs to the art studio and see what art will teach me next.
I've already started making notes on projects I'd like to begin — a line of greeting cards, a mixed-media collage or two, and a deliciously creepy construction for an upcoming Halloween show. Preparing for the new season, I swept the floor of the studio last week and took stock of what I'll need to begin again. I can hardly wait to shop for my new supplies. — Cindy La Ferle
— Art studio photos by Cindy La Ferle —