Yes, summer was rituals, each with its natural time and place. The ritual of lemonade or ice-tea making, the ritual of wine, shoes or no shoes, and at last, swiftly following the others, with quiet dignity, the ritual of the front-porch swing." -Ray Bradbury, Dandelion Wine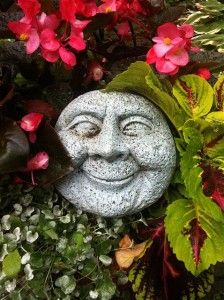 It's finally here — the first day of summer! One of my early summer rituals is re-reading favorite passages from Ray Bradbury's Dandelion Wine.  A childhood classic, the novel is a tribute to the summer of 1928 — a summer we couldn't possibly imagine today, given that our kids rarely entertain themselves without computers and cell phones.
In particular, I enjoy the chapter describing how Grandfather Spaulding ceremoniously retrieved the front porch swing from the basement and installed it for the summer.
What are you doing to celebrate the beginning of the season?  — CL
–Summer garden photo by Cindy La Ferle–