"Deep summer is when laziness finds respectability." — Sam Keen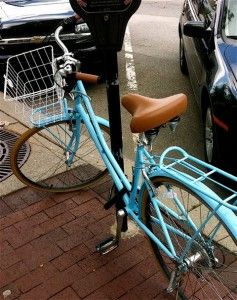 Fourth of July weekend is summer's unofficial kickoff, starting with family picnics and ending in a blast of public fireworks.
According to my calendar, there are roughly 12 weeks of summer left. For many of us, it's tempting to cram those weeks with action-packed vacations and side trips — if we're not already booked with weddings, showers, graduation parties, and other special events.
So what happened to those old-fashioned, "lazy" days of summer? I've outlined a way you can enjoy the season without running yourself ragged and finding yourself wondering where summer flew when August rolls around.  Click here to read "Your Guide to Productive Summer Loafing" in this Sunday's Royal Oak Patch. How's your summer going so far? — CL
— Bicycle photo taken in downtown Royal Oak by Cindy La Ferle —