We are all hungry for this other silence…. In its presence we can remember something beyond the moment, a strength on which to build a life. Silence is a place of great power and healing." — Rachel Naomi Remen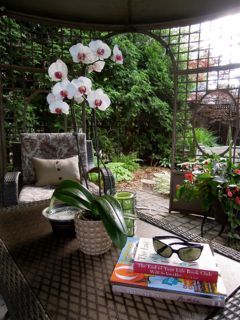 Summer's first week rolled in on a brutal heat wave in more ways than one. For starters, last Tuesday I visited the Rochester Skin Cancer Center to have a basal cell skin cancer removed from my cheek.
Prior to my appointment, I'd read about the Mohs method, which, thankfully, incorporates plastic surgery immediately following the cancer removal. So I knew what to expect from the procedure itself. But I didn't expect to come home with a black eye, a painfully swollen cheek, and three inches of black stitches that made me look like the Bride of Frankenstein. I'll be writing more about this sobering experience in an upcoming magazine column — so I won't elaborate here.
For now, let's just say that I've been spending the week in recovery, following the doctor's orders to sit quietly with an icepack on my face until the sutures are removed. With the exception of visiting my mother — who's now back in the hospital for more surgery — I've stayed close to home. (I really don't want to frighten my neighbors or re-explain to curious bystanders why I'm sporting a shiner and a giant bandage.)
Luckily, I'd anticipated this "recovery time" earlier in the spring. With that in mind, I worked twice as hard and fast to get my backyard garden — my sanctuary — whipped into shape, paying special attention to favorite areas where I could retreat with a book, a newspaper, or my journal.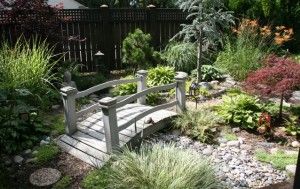 With a nod to Asian ambiance, our "tea house" (as we call it) is my favorite outdoor retreat. It's perched near the back of our property, facing my beloved Zen garden and overlooking the swimming pool. The metal gazebo-like structure provides overhead protection from the sun without blocking the views of the garden. This tiny outdoor room is furnished with two cushioned patio chairs, a love seat, and a coffee table. Nothing more.
Thanks to my husband's electrical wizardry, the tea house glows at night with several strands of dragonfly twinkle lights. This is nothing short of magical, especially when you're sipping a glass of Pinot Grigio after a long day at the hospital. Best of all, you can't hear the phone ringing inside the house.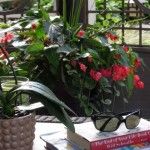 "Not knowing how to feed the spirit, we often try to muffle its demands in distraction," wrote Anne Morrow Lindbergh. "What matters is that one be, for a time, inwardly attentive."
I'm convinced that it's so much easier to be "inwardly attentive" when you have the perfect spot to retreat — a soul-soothing place where you can nurse your wounds in peace or escape the chatter and clutter of the outside world. Where is yours?