Browsing through a stack of women's magazines in a waiting room recently, I counted no less than half a dozen features outlining how to "banish clutter" or "simplify and organize" everything that's muddled in my chaotic household.
One article suggested that dumping the contents of my junk drawers would enhance my self-esteem. Another promised I'd experience more "positive energy" in other areas of my life — if I'd spend a week purging my closets and drawers, and clearing the tabletops throughout my home. If only it were that simple, right?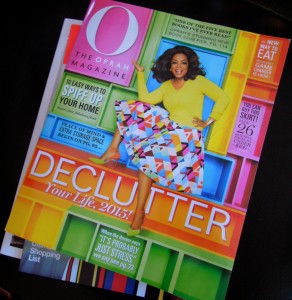 By now, we all know that the simplicity movement dates back to Henry David Thoreaus famous sabbatical in the woods. And it kicked up some new dust in the early 1980s with the publication of Duane Elgin's classic handbook, Voluntary Simplicity. Suffice it to say that the movement is more than a passing new-age trend.
Real Simple magazine, for instance, is taking Elgin's movement for yet another spin. I should disclose that I'm the grateful recipient of a gift subscription to Real Simple. It's a beautiful magazine and, for the most part, has the best intentions. Life is complicated enough these days, especially for families, and most of us could use some handy tips on streamlining our recipes and cleaning routines.
Cleaning frenzy?
Still, I worry. To magazine editors, simplicity has become a religion for the stressed. Order is godliness. Blank space is Nirvana. If these editors had their way, our homes would be totally purged of clutter — and nearly devoid of character. Our living rooms would be as sparsely furnished as a Quaker meetinghouse. Our kitchen and bathroom cabinets would be sanitized, organized, and alphabetized. The tools in the basement and garage would be labeled and stored in clear plastic boxes on shelves within easy reach.
If your inner slob is cringing, take heart: Most shelter magazines advertise a wide variety of products that will aid your efforts to simplify. Once your cabinets and closets are cleared, of course, you'll have lots of room to stash all the spiffy new organizing components they want you to buy.
Problem is, I'm a born collector with years of garage sale shopping under my belt. Getting rid of things works against my nature. Just one example: My favorite hobby is making collage art – a messy pastime that's fueled by my hopeless flea-market addiction. Over the years I've developed finely tuned radar for locating miscellaneous junk for potential art projects. According to the Statistical Manual of Mental Disorders, I don't (yet) qualify as a "compulsive hoarder," since my clutter hasn't reached the point where it produces "severe distress" or blocks entrance to our living room.
We're only human
I envy disciplined homemakers with a talent for controlling clutter. And I salute them as they empty their junk drawers and attics. Nothing warms my heart more than the sight of these good people hosting rummage sales in my neighborhood.
But I'm trying to make peace with the reality that my home will never be featured in a magazine like Real Simple. My furniture is often covered with the flotsam and jetsam of a busy life — books, souvenirs, family photos and heirlooms, dog hair, cat hair, and unprocessed laundry. Sometimes I go through phases when this drives me crazy, and I end up parting with mementoes that, later, I wish I'd kept.
As I settle into middle age, I'm learning to value the richer textures of complexity. Real life is messy and difficult, and its broken parts can't always be sorted by category or tastefully hidden from view. Our homes, along with all our crazy things, tell the stories of our lives.
If I'm ready to unload anything this season, it's the ton of guilt I've accumulated after reading too many magazine articles on simplifying life. Like the ancient Egyptians in their pyramids, I plan to be buried with all my stuff. — Cindy La Ferle