Be aware of wonder. Live a balanced life. Learn some and think some and draw and paint and sing and dance and play and work every day some." — Robert Fulghum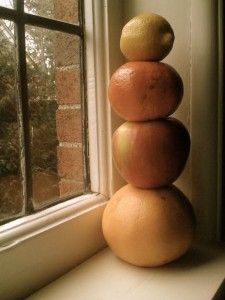 This year I'm trying to strike a healthy balance between living creatively and being consumed by creative work. All too often, when I'm immersed in an art project or engrossed in a piece of writing, it's as if I'm living on another planet. I neglect other things I care about. I might forget to brush my teeth or return phone calls or feed my family.
When I first started writing weekly columns, for instance, everything was potential fodder for the newspaper. I couldn't watch a new TV show or shop for toilet paper without thinking I should scribble some commentary about it. For weeks I carried a notebook everywhere, and would even jump out of the shower to jot down ideas for a column. Thankfully, that ridiculous phase was short-lived. As a photo-journalist friend reminded me: We need to ask ourselves if we're living from the depth of our lives or merely documenting them.
Then there was the time I slaved for weeks on a book manuscript. I got into the habit of working until midnight, then rising at daybreak to revise or proofread what I'd typed the day before. My husband worked full-time then, so we grabbed most of our meals at local restaurants. Our son was away at college, and I was living the life I'd dreamed about for years — working 24/7 on my writing.
That's when it hit me: My dream life wasn't quite as satisfying as I'd imagined. I was exhausted and vaguely disappointed.  Something essential was missing. And it's not that the work wasn't going well. For the most part, my writing was getting published in places I was proud to list on my resume. With my nest was empty, I'd even found extra hours to teach writing.
And there was problem, hidden in plain sight. Given my newly won freedom from parenting responsibilities, I'd become a woman obsessed. My whole life was about writing, writing, and more writing. I'd become so one-dimensional that I bored myself.
Kitchen lessons
The thing is, I've always believed the "good life" is a balanced life. A richly textured, multifaceted life.
After my epiphany, I made a list of "ingredients" that remain as essential to my happiness and well-being as writing. The list includes long talks with my husband and friends; gardening; keeping house; reading for pleasure; volunteering in my community; making art; visiting museums, and more. Of course, I've always enjoyed cooking (and reading about food) but my love affair with my computer left little time for the sensual pleasures of the kitchen.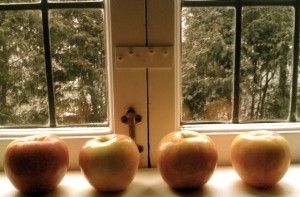 And so, after putting my book project aside for a few days, I spent my first free morning poring over my cookbooks. Shopping for groceries later, I found even more inspiration in the colorful produce aisles at the local market. I couldn't wait to get home and start cooking again. My mood lifted as I chopped and sauteed onions and red peppers, crafting a simple but satisfying meal with my hands.
"Real nourishment involves our whole being," writes Anne Scott in Serving Fire: Food for Thought, Body, and Soul (Celestial Arts). "The search for it takes us on a journey into ourselves, confronting us with our inner hunger."
In other words, my soul had been starving for something more than words and ideas heaped on a page or a computer screen. I was tired of living in my head, and kitchen work provided the physicality I'd been missing. For me, the ordinary arts of daily living are not optional — and I try to remember that whenever I'm off-kilter or obsessed.
Even if cooking isn't your thing, you have your own list of pleasures to draw from when you need to feel balanced and whole.
"Be moderate in order to taste the joys of life in abundance," advised the philosopher Epicurus. In the Epicurean view, the hallmarks of the good life include tranquility, freedom from fear, a variety of experiences, and the pure enjoyment of simple pleasures.  Easier said than done, of course, but worth aspiring to. — Cindy La Ferle
— Kitchen photos (our kitchen in Royal Oak) by Cindy La Ferle–