It's guid to be merry and wise. It's guid to be honest and true. It's good to support Caledonia's cause, and bide by the buff and the blue!" — Robert Burns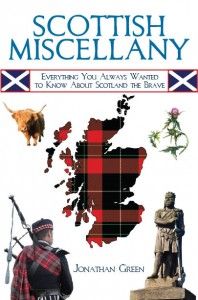 Remember the old Saturday Night Live sketch starring Mike Myers as the curmudgeonly owner of an import shop named All Things Scottish? As the routine progressed, shoppers would walk in and ask for items that weren't remotely Scottish in origin — Scotch Tape, for example. Or — gasp — they'd unwittingly request goods made in Ireland.
"If it's not Scottish, it's crap!" Myers' character would shout, pushing the offending customers straight for the door.
If you're a real fan of all things Scottish, Scottish Miscellany: Everything You Always Wanted to Know About Scotland the Brave, will speak to your inner bagpiper.
As the granddaughter of immigrants from Scotland's Orkney Islands, I couldn't resist a peek at a review copy of this handsome new guide. Illustrated with color photos of Scottish castles, clan lore, and national foods, it's already provided hours of entertainment while serving as a test of my knowledge of the old country.
From ancient folklore to modern recreational pursuits, author Jonathan Green answers any question you might have about Scotland and its people. And even if you're not of Celtic ancestry, you might like to know how deeply Scottish roots still grow in American soil. Just for fun, see if you can answer the following questions:
–Why is there an Aberdeen, a Dundee, and a Glasgow in the United States?
— We all sing "Auld Lang Syne" on New Year's Eve, but what does it really mean?
— What does the ubiquitous hamburger giant have to do with Scottish clans?
— Who was the real Macbeth … or was there a real Macbeth?
— Why is Scotland known as the home of golf, and what's the origin of a "caddie"?
— Why was Harry Potter author J.K. Rowling adopted by Scotland as one of their own?
Scottish Miscellany would make an idea Christmas gift for armchair travelers as well as for the devoted Scots in your family. Likewise, if you're planning a real trip to Scotland, this book will help pinpoint key sites for your visit. It even includes a short pronunciation guide to help translate a brogue. So, grab a copy, pour yourself a cuppa tea, break open the shortbread, and enjoy! — Cindy La Ferle