Enjoy a tiny adventurous moment close to home. It changes your perspective, reminding you that the world is deep and rich and full of color and miracles." –SARK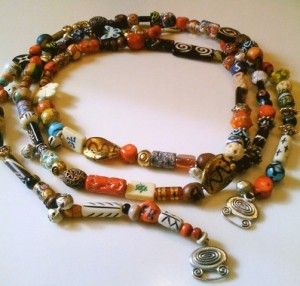 A lot of us are stumbling over creative blocks lately. Those who live in the wintry Midwest and Northeast blame it on lack of sunshine. Or cabin fever. Even if things are going reasonably well in other areas of our lives, we might gaze out our windows at the icy moonscape that once bloomed with roses or black-eyed Susans and feel twinges of ennui, or even despair.
Whatever the cause, it's hard to get inspired when you're sluggish and blue.
Last month I tripped over a huge creative block and hit a wall. For starters, what began as a satisfying home renovation project was abruptly stalled by a carpet order gone wrong, thanks to the evil Home Depot. (As a result, our master bedroom stayed torn apart for weeks.) Meanwhile, my elderly mom's dementia-related health problems took a turn for the worse, requiring several trips to her doctor — and the hospital — for tests. As her sole caregiver, I felt helpless and exhausted.
Worst of all, I couldn't seem to write or talk my way out of any of it. It was time to work from another side of my brain. Time to shift creative gears and to make something tangible and fun.
Bead therapy

Just in time, I received a clothing catalog featuring one of the coolest fetish necklaces I'd ever seen. Strung with African trading beads, brass trinkets, and a wild collection of charms, it evoked long walks on Caribbean beaches and cabana cocktails under the stars. A summer-fantasy vacation on a string!
I was tempted to pull out my credit card and purchase the fetish necklace online or over the phone. Instead, I decided to treat myself to the pure fun of making it myself.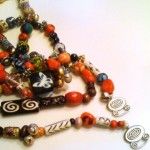 Things were slow at the local craft store when I arrived on a gray Wednesday afternoon with the catalog photo in hand. The salesclerk working in the bead section was just as intrigued by the necklace, and eager to help with the project. Taking my time, I chose a few imported beads that had special meaning to me: a wooden bead with a butterfly motif (symbolizing transformation); another with a Celtic spiral; others that simply caught my eye.
At home I played with the beads until they became a necklace, stringing them together one by one and finding myself in a sunnier frame of mind. Of course, our master bedroom was still in chaos, beyond my control. And my mother's dementia-related "episodes" were still unresolved. Regardless, I'd made something cheerful and new. The necklace wasn't exactly like the one in the catalog — but I'd made it my own.
I often tell my workshop students that writing an essay or a chapter is a bit like stringing beads to form a beautiful necklace. Like the right bead, each word or sentence must do its share of the work to bring meaning or sparkle to the whole piece. You need to take your time, choose carefully, and take pleasure in the process.
That said, no matter what you're working on, you could find yourself getting tangled up in "the process" at some point. When that happens, it helps to take a break. Or try making yourself a real necklace. — Cindy La Ferle
— Fetish necklace in photos by Cindy La Ferle —