Filmmaking is a chance to live many lifetimes." — Robert Altman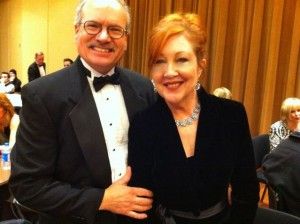 Some people head for the golf course in their spare time; others play tennis or bridge. But Doug and I find our fun dabbling in the arts and on movie sets. Thanks to Michigan's tax incentives — which we're rallying to keep — the two of us have had the opportunity to work as extras in 16 film and television productions since the fall of 2009. (If you missed the column I wrote on the topic for Patch.com, here's the link.)
Last week, we drove to Ann Arbor to play senior staffers on the campaign trail in George Clooney's Ides of March. I can't begin to describe the excitement Clooney brought to southeast Michigan during the filming — especially to swooning female fans. Of course, my girlfriends wanted to know if I got to meet him … or touch the sleeve of his jacket. The answer is no, but I did see him up close, since my role as an extra involved standing a few feet from him (and clapping vigorously) while he delivered a campaign speech on stage. Clooney was a class act, sharing his trademark charm and sense of humor with everyone on set. For photos of last week's shoot in nearby Clawson with Clooney and Ryan Gosling, click here.
We're featured in the new AARP Bulletin

Earlier this year, Detroit journalist Maureen McDonald asked if she could write about our foray into background acting. She pitched the idea to the AARP Bulletin (yep, we're in that age group) and you can read Maureen's feature in the online edition in the "Job Hunting" section. I know it's a dubious honor to be featured as an "older adult" who works as a film extra, but hey, Doug and I enjoyed being mentioned and quoted. The story includes a sidebar with tips on how to get booked as a background performer. See you in the movies! — CL
____________________
–Top photo: Doug and I dressed for a gala scene in the TV series Detroit 1-8-7.