"There's nothing half so pleasant as coming home again." — Margaret Elizabeth Sangster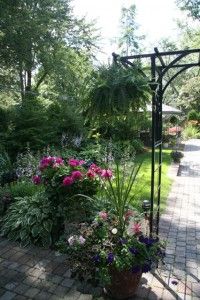 Last Sunday, Doug and I drove across the state for a film shoot in Grand Rapids, then clocked nearly 60 hours of work, Monday through Friday.  Totally pooped but satisfied with our "film fix," we drove to our summer place in St. Joseph to meet our son and his girlfriend for a short-but-sweet visit yesterday.
This morning we returned to reality in Royal Oak: a huge pile of snail mail, lots of phone messages, a painfully slow computer, and two lonely pets who'd obviously missed us.
Being a homebody, I nearly wept at the sight of my own house and garden when we pulled into the driveway today. First thing I did was call my mom, then I started attacking that bottomless pile of mail…
I'm looking forward to sharing some reflections on our latest film adventure in my new "Sunday column" on August 29. This will launch my return to a regular blogging schedule. From now on, I will post a new column/essay every Sunday. I'll also post occasional "midweek updates," including news on writing workshops, conferences, and other special events I'm involved in. Until then, enjoy these final days of summer freedom! –CL
— Garden photo by Cindy La Ferle —