Movies are like an expensive form of therapy for me." — Tim Burton
Most people who work in creative fields are jockeying to land a leading role, a front-page story, or first prize in an art competition. Aiming high, we usually compete for the spotlight. We're all trying to make it in a culture that worships overnight success and holds its collective breath for the latest American Idol winner.
So, who'd want to work long, repetitive hours as a background extra in films? Who'd get a kick out of working for little more than minimum wage and a few fleeting seconds of screen time?
Lots of people. And I'm one of them.
Thanks to Michigan's new film incentive program, Hollywood has been sending a variety of productions to our state, creating thousands of new jobs for labor, crew, and actors.
My first gig as a background extra in a feature film began on a lark last fall — another item on my bucket list. Along with my husband Doug and several of our neighbors, I was cast in the opening scene of the big-budget Red Dawn remake when our own neighborhood was used as a film set. Humvees and assorted army vehicles rolled down our tree-lined suburban streets while a troop of gun-wielding Communist soldiers took us captive. It was a total blast, literally and figuratively, and some of us were called back to work in additional scenes in Detroit.
Doug and I had so much fun, in fact, that we registered with a couple of casting agencies, and have worked in several more projects. Among our favorites was the soon-to-be-released Lifetime TV movie, Secrets in the Walls, in which we were cast as a doctor and a nurse in a hospital scene. As Doug likes to joke, "Now I can finally tell people, 'No I am not a real doctor, but I played one on TV."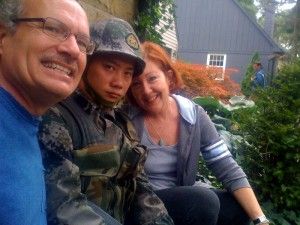 Now that we're listed with casting agencies, the toughest part is learning to deal with the unpredictability. We might get a call or an e-mail inquiring about our availability a week (or a day) before a particular shoot. At that point, we must commit to a time frame — with no immediate guarantee that we'll be booked for the job. We're usually left hanging until the casting agents confirm our roles and send additional details. The agents aren't being coy or cruel — they're also waiting for a schedule from the production people.
So it can be hard to plan your life around this sort of work. Last-minute bookings  — and production schedule changes — aren't unusual. Last year, Doug got an emergency call from a casting agent, asking him to pack a sports jacket and drive immediately to Ann Arbor to cover for another extra who couldn't show up on the set that morning. (He made it in record time.)
Lights, camera …
Pay rates vary, depending on each film's budget. As a rule, hourly pay is rarely much more than minimum wage, so I wouldn't advise anyone interested in this work to consider quitting your day job or ditching your best freelance clients. There's always a chance that your 15 seconds of "face time" will end up on the proverbial cutting room floor, anyway.
But there are untold rewards, especially if you love movies as much as I do. For starters, background extras get a rare look behind the scenes and a chance to learn more about filmmaking. This takes most of the glitter out of the stardust, yet you can't help but return home with a deeper respect for the hard work and long hours invested in any given film project. You meet some of the nicest people too — everyone from legal administrators to retired engineers and stay-at-home dads will show up for work. And yes, sometimes you do rub elbows with celebrities.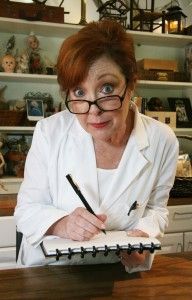 For me, film work provides an interesting contrast to my (real-life) role as a professional writer. Writers are often loners out of necessity — but we enjoy company too. Working in a film, I enjoy the same rush of adrenaline and camaraderie I used to get when I was in theater years ago. I thrived on the nervous hum of activity backstage while the crew geared up and my fellow actors prepped for their scenes.
Last week I worked as a background extra in an HBO television series. I was waiting for my cue from an assistant director half my age when it hit me that this sort of work is both humbling and freeing.
No matter which production I'm working for, I know I'm just a very small part of a much bigger picture. I have no lines to memorize or deliver, and mugging for the camera is strictly prohibited. Unlike writing a story — where I'm in creative control and get my own byline — I'm merely fulfilling someone else's vision while working as an extra. My role in a film might be as simple as running across the street from an explosion, singing hymns in a church, working at a desk, hanging around the town square, or standing in a corner with a drink in hand.
Years ago, I worked with a director who liked to remind everyone on stage that "there are no small parts, just small actors." And that's still terrific advice for every performer.
But hey, I'm not going to get rich or famous working as a background extra. It's honorable work, and while I'm on set, I take it seriously. I show up on time and follow the instructions I'm given to the letter. Yet I know I won't be discovered and given a one-way ticket to Hollywood. And I'm really OK with that. This is teamwork. This is what I do for fun. — Cindy La Ferle
Top photo: I'm on the right, hamming it up with Laurie and Bryan Valko, fellow background extras, after getting fitted for a hospital scene in Secrets in the Walls, a Lifetime TV thriller scheduled to air this fall. Middle photo: My husband Doug (left) posting with background extra Vong Lee, the Communist soldier who held us captive on the set of Red Dawn in our Royal Oak neighborhood last year. Bottom Photo: One of several head shots I use for background extra gigs.