Nobody cares if you can't dance well.  Just get up and dance."  ~Dave Barry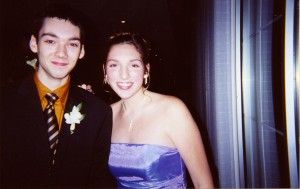 My son Nate is 25 now, and past the stage of high school homecoming dances. But this week, some of my neighbors are gearing up for this sweet tradition, and I remembered this essay from my book, Writing Home. Happy news: Nate is engaged to the young woman mentioned at the end of the essay and shown in the photo at left. –CL

"The Homecoming Dance"
September 21, 2003
From baptism to bar mitzvah, rituals and rites of passage honor the milestones in our lives.  Certain rituals are so closely tied to autumn, in fact, that I cant imagine the season without them. Raking leaves, visiting cider mills, and digging woolens out of storage are just a few.
But the annual high school homecoming dance crowns them all.
At our house, as surely as the maples shed yellow leaves on the lawn, this semi-formal event kicks up a whirlwind of activity and emotion. Some of it is not pretty.
Since Im the mother of a son, my homecoming rituals do not include shopping for the ultimate evening gown and the perfect shade of nail polish. Admittedly, I miss playing Fairy Godmother to Cinderella, so I live vicariously through other moms who have teenaged daughters. Thats how Ive learned that things are different with boys. The angst level, for instance, is much lower in the wardrobe department. Guys dont worry about their hair, and they dont have to obsess over finding a purse to coordinate with a pair of shoes that will be worn only once.
Traditionally, a boy waits until forty-five minutes before the big event to consider whether or not his dress shirt needs to be unearthed from the closet floor. (This is based on the assumption that he owns a dress shirt.) At that point, all hell breaks loose, sending his beleaguered parents in search of an ironing board while the boy hunts down a pair of matching socks. He also waits until the final hour to announce that his good suit has cake frosting on the lapel – a souvenir from the last semi-formal event he attended.
Homecoming rituals will test any parents mettle, but I believe Im a sturdier person because of them.
I miss playing Fairy Godmother to Cinderella, so I live vicariously through other moms who have teenaged daughters.
Last year, a week before the big dance, we drove Nate to Nordstroms to shop for a new shirt and tie. Anticipating conflict, I backed off and let him sort through the merchandise with his dad. I tried to keep quiet – until I spotted a handsome gold dress shirt that was perfect for his black suit.
"Look at this one, guys!" I shouted, holding up the prize. On cue, Doug spotted a great tie to go with it. Our sweet son glanced at the ensemble, rolled his eyes, and muttered his new favorite word: "Hideous."
Seconds later, Nates cell phone rang. It was Andrea – a young lady with impeccable fashion sense. Andrea happened to be shopping in the area and would come to his rescue. She would help him find the right shirt.
Well, when the fashionista arrived in the mens department, she immediately chose – you guessed it – the gold shirt. Suddenly this shirt was awesome, and the tie was fairly cool, too. (I bit my tongue and reminded myself that God really does look out for parents, and He is everywhere, including Nordstroms.)
As I type this, the next homecoming dance is a week away. Just as I did last year, and the year before that, Ive reminded Nate to ask a date in advance. Once again, Ive explained how girls need time to shop for dresses and book hair appointments. And just as he did last year, the kid kept his plans under wraps until he needed advice on ordering a corsage.
As it turns out, Nates date this year is Andrea, the sharp young lady with good taste in mens shirts. Thinking ahead last week, we bought Nate a new shirt and tie to co-ordinate with her dress. Thank goodness, Andrea approves. Meanwhile, I am not taking any chances and have dropped off the black suit at the dry cleaner.
This is senior year, after all, and weve finally learned the steps to the homecoming dance. — Cindy La Ferle
Writing Home is available in local bookstores and on Amazon.com (see link at the top of this page). Proceeds from my book sales are donated annually to organizations serving the homeless, including the Welcome Inn and South Oakland Shelter, at holiday time.