And now, let us welcome the New Year/ Full of things that have never been." — Rainer Maria Rilke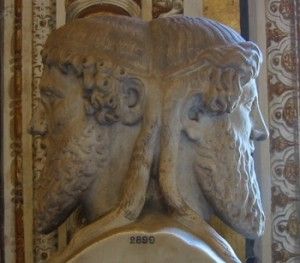 It's perfect — how the month of January is named for Janus, the Roman god of gates and entrances, beginnings and endings.  With his two heads facing opposite directions, Janus inspires us to look backward and forward as we step over the threshold and begin again.
Last year was a year of change and transition for me and my small family.
My only child, who moved to Chicago after graduating from college in 2008, purchased his first condo in the summer. On moving day, his dad helped him haul boxes up and down the elevator of his new residence while I organized his kitchen. Unpacking my son's dinnerware and utensils, I recalled other "firsts" in his young life. First day of kindergarten. First formal dance with his girlfriend. First day of driver's ed. First day of college at Notre Dame. How quickly those days flew off the pages of our family calendar.
Meanwhile — almost overnight — my widowed mother lost her old spark. Independent for years, she began forgetting things. Important things. She forgot that certain people in her life had died. She forgot phone conversations we'd had the day before. When tested by the neurologist, she couldn't recall the name of the county we live in, or what day of the week it was.  Not surprisingly, in November she was diagnosed with early stage dementia — a diagnosis that immediately reordered my priorities and changed the shape of my days.
Looking forward; looking back. My son moves ahead with his new life in Chicago while my elderly mother's world grows smaller and smaller. Clearly, the seasons of family living are unfolding exactly as they should. And despite the inevitable heartache, I find myself feeling deeply grateful for every step, stumble, or leap that brought me to this path, this life of mine.

As a freelance writer with a supportive husband, I'm lucky to have the flexibility to help my mother when she needs me. Impromptu trips with Mom to the doctor's office or the emergency room aren't fun — but they're not as much of a challenge now as they would have been when I had office jobs.
Still, there's no denying that it's been a very tough year for every writer and journalist I know. If there's a silver lining in any of it, the sad state of journalism here in Detroit forced many of us to try markets we'd neglected or overlooked when we were employed full-time or working other assignments. Out of necessity in 2009, I developed new writing workshops. I worked harder at promoting Writing Home. I outlined a viable idea for a new book project. Several of my personal essays were published in national anthologies and magazines. Best of all, a piece I wrote about my Zen garden was accepted for the March/April 2010 issue of Victoria — a lifestyle magazine I've read and admired for years. Regardless, freelance writing is a crazy business, so I'm forever grateful to my local writer pals and support groups for keeping me (somewhat) sane last year.
Typing these notes, I'm also overcome with gratitude for all of you who read my reflections here. Your comments and support always cheer me. And I apologize for not visiting (and commenting on) your blogs and Facebook walls as often as I wish I could. Too often lately, real life has made it impossible to spend as much time on my computer.
I'll be offline for most of next week too. It's time to pull down the Christmas decorations and begin the ritual of clearing out things I no longer need — holiday treats and leftovers; old clothes and grudges; bad attitudes. Getting started this morning, I opened our front and back doors to let the old year out and welcome the new one inside. It's an old Celtic custom that's still praticed in parts of Ireland and Scotland, and it makes perfect sense to me. The first cold blast of January wakes me up and hurries me back to work.
So there you have it. Doors opening and closing. Endings and beginnings. I wish you all a peaceful, healthy start for your own new year. — Cindy La Ferle