I found I could say things with color and shapes that I couldn't say any other way — things I had no words for."  ~Georgia O'Keeffe
One of the many things I appreciate about my artist-architect husband is that he's always encouraging me to push my own artwork to the next level. Given that our family has been in a crisis mode (my mother's health) for the past year, it's not easy to make time for art, let alone enter our work in competitions.
Regardless, earlier this month Doug printed out the forms for the Anton Art Center's 38th Michigan Annual Art Exhibition and nudged me to enter one of my new pieces.
I'd been working on a mixed-media assemblage (mounted on canvas) that was inspired by a post-Civil War photograph I found in my Granny Bee's family album. The woman in the photograph isn't identified, so, sadly, I have no idea who she is. Yet her pensive expression and confident pose always intrigued me.
In my assemblage, the woman's photo is surrounded by found objects — twigs, feathers, part of an old leather Bible cover, and vintage fabrics. In the background, you'll also see a scrap from a notebook of shorthand that Doug brought home from a thrift shop.
Titled "The Importance of Ancestors," this piece pays homage to the "stuff" we leave behind — and how tokens from the past can influence our memories of a person. It also plays with the idea of having roots and family trees.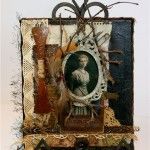 Thanks to Doug, I entered the piece in the Michigan Annual Exhibition, and was pleased to learn this week that it was accepted. The opening reception is on January 27th, 6 – 9pm. The exhibit runs through February 24th.
One final thought: Athletes typically have their own cheering sections, but most artists and writers labor in solitude. If you practice any of the arts for business or pleasure, it's important to have close friends and advocates who keep you encouraged and inspired. (Of course, a supportive spouse is invaluable.) Cherish those people — and try to schedule more time with them. Avoid the naysayers who trample your dreams or spend most of their free time watching mindless games and shows on TV.
Seek out the company of other creatives, and be sure to applaud their efforts and talents.  — Cindy La Ferle
— For a larger view, please click on each photo. —