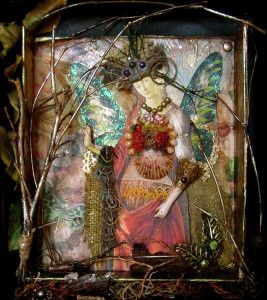 Several years ago, I stumbled on collage as a way to conquer writers block. It still works like magic.
While I love being a journalist, sometimes I'm restricted by editorial guidelines and word counts, not to mention deadlines. But my altered art projects are crafted freely from my own imagination, at my own pace. I like to think of them as another form of storytelling.
Inspired by art and craft magazines, I started experimenting with a variety of mixed-media techniques and entering juried competitions.
It doesn't matter if my work is selected or not; I take pleasure in making art from things that other people discard. Given that I'm such a magpie, it's not unusual for rusty hardware, religious medals, recycled greeting cards, vintage fabrics, feathers, and broken costume jewelry to find their way into my mixed-media pieces.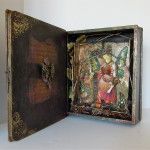 Last week, I was happy to learn that "Fairy Tale" — one of my new altered art pieces — was chosen for Anton Art Center's Michigan Annual XLI competition (Gilda Snowden, juror). Opening this Friday, the statewide exhibition showcases a variety of media and a display of Michigan art history. (UPDATE: "Fairy Tale" won the First Place award in the exhibition.)
This piece is my homage to childhood vacations with my maternal grandparents. My Granny Bee, a believer in magic, was the first to introduce me to the wonder of fireflies glowing on hot summer nights in southern Indiana. She knew how to spark a child's imagination — and knew how to conjure happy memories from ordinary experiences.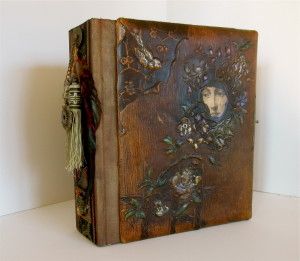 Wed often explore the woods near my grandparents' house. To keep me busy while the grown-ups scouted for edible mushrooms, Granny Bee would give me a small birdcage for capturing elves and fairies. (I never caught very many.)
I made "Fairy Tale" from a promotional whiskey box. Drained of its original contents, the wooden box had found its way to a flea market in downtown Clawson, where I purchased it for five dollars. Stamped with the words, "The Glenlivet Scotch Story," the front cover opened like an old-fashioned storybook and was ready to tell a different tale.
The leather covers (on the back and front of the piece) were rescued from Granny Bees Victorian family photo album — a brittle relic that was literally falling apart at the seams. Before attaching the covers to the box, I repaired the tooled leather and preserved it with a matte coating.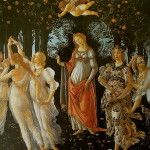 The woodland "fairy" inside the box was borrowed from Botticellis "Primavera" — a favorite image of mine — and is dressed in vintage found objects and fabrics. For a closer look, click on all the photos in this post.
The Michigan Annual XLI runs from Jan. 24 through Feb. 21. Anton Art Center is located at 125 Macomb Place, Mount Clemens, Michigan. Please visit the Web site for hours and directions. 
To view a gallery of my artwork, please visit my new art site: Cindy La Ferle's Mixed-Media.