I believe that there is a subtle magnetism in Nature, which, if we unconsciously yield to it, will direct us aright."  ~Henry David Thoreau
When I was a student at Michigan State University in the 1970s, three natural science courses were required of all liberal arts students.
An artsy kid, I'd nearly flunked math and biology in high school. So I was terrified, initially, by MSU's rigid science requirement.  But thanks to a very creative counselor who supervised my independent study track, I was allowed to replace the final natural science class with a graduate-level botany course in my senior year.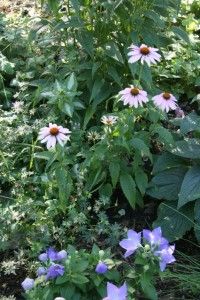 I was born with a green thumb, so this was both a thrill and a relief. The class required several field trips to outdoor nature centers, which I thoroughly enjoyed. Throughout the term, I learned to identify a wide variety of plant life, and even memorized the Latin names of species. I collected leaves, seed pods, and mushrooms. I sniffed berries and wildflowers. I learned that nature is an intelligent system; more than a thing of beauty in a controlled suburban landscape. Understanding and respecting that system — the miraculous cycle of decay and regeneration — has gotten me through some of the roughest times in my life.
But I digress. Botany was a blast — and guess what? I ended up with the top grade in the class — the first (and only) 4.0 I ever earned in a science curriculum. I'm still proud of that grade, and awed by the fact that so much of what I learned in a botany class serves me well to this day.
My love affair with plants is reflected in the Botanic Garden dish set my family uses now.
Produced by the Portmeirion Pottery company in Great Britain, the Botanic Garden pattern first caught my eye when I was outfitting my first apartment after college graduation. Durable and beautifully crafted, the designs were inspired by original 19th-century botanical drawings, replete with the Latin name of each plant. But the imported dishes were way out of my price range at the time. I was newly employed as a research assistant for a reference book publisher in Detroit, earning an annual income of $7,500.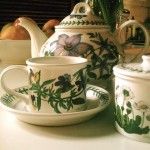 Margaret, a favorite room mate from MSU who shared the post-grad apartment with me, bought my first Botanic Garden cup and saucer for my birthday in 1979.  "If I know you as well as I think I do, then I'm sure you'll find a way to get the whole set one day," Margaret wrote on the card that came with the gift.
I didn't have the nerve to register for the Botanic Garden pattern when I got engaged 30 years ago; Doug and I thought it was too much to ask of our wedding guests during an economic recession.  But over the years, we managed to acquire a full set. Luckily, the price of the dishes started coming down in the last decade, and we found several pieces on sale at discount stores and Bed Bath & Beyond. We've also received a few of the serving pieces as holiday gifts.
Typing this, I realize it might seem silly or frivolous to romanticize plant science or a set of dishes. But at the end of a very difficult week, awaiting test results for my widowed mother's worrisome health issues, I find comfort in these simple, ordinary pleasures. And Margaret was right. When you want something badly enough and your heart is in the right place, you'll find a way to get it. That includes meeting academic challenges — and acquiring expensive dinnerware. — Cindy La Ferle
— Photos by Cindy La Ferle —