Tell me, what is it you plan to do with your one wild and precious life?" — Mary Oliver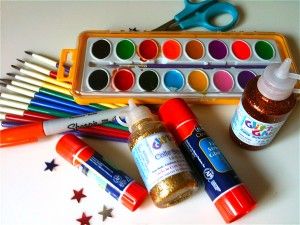 I have a hunch that fall will arrive early this year. Maybe its the angle of sunlight on the black-eyed Susans in our perennial garden. Or maybe it's the snap and crunch of acorns under my tires when I bicycle around the neighborhood.
Whatever triggers it, I cant ignore the maternal instinct to shop for back-to-school supplies — even though I dont have a student anymore.
It's been four years since my son moved to his own place in Chicago. Yet I still struggle to wrap my mind around the fact that Im officially an empty nester.
Watching the younger moms in my neighborhood — the ones buying new Crayolas and lunch boxes — I recall the exhilarating sense of freedom I'd get when my little boy started school each year. Id thank the Blessed Mother every time I dropped him off at the local Catholic grade school, believing it was a miracle to have several kid-free hours a day to meet deadlines and run errands all by myself. In those days, the calendar on our kitchen wall was a perpetual list of music lessons, Cub Scout meetings, school conferences, field trips, baking marathons, and rotating carpool schedules. (And I was the mother of an only child.)
Even now, I cant fathom how any parent finds the time to juggle it all, no matter how many children she has.
Spreading my own wings
In retrospect, Im surprised at how long it took to adjust to the void my son left when he moved into his freshman dorm at college. His bedroom at home looked so eerily clean and empty that I made a habit of keeping its door shut. Up until then, I hadnt fully realized that the vocation I'd enjoyed most — more than writing or publishing or teaching — was mothering.
Determined not to become a long-distance helicopter parent, I had to figure out where to devote my maternal energy during this uncharted phase of my middle age. I needed to explore something different — something just for myself. Was it time for a puppy or a brand-new hobby? The late-summer ritual of buying school supplies provided my first clue.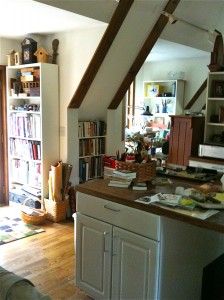 The week before his big move to college, my son and I headed for the nearest office supply store. While my son made a beeline for the computer supplies, I was magically drawn to a rainbow display of felt-tipped calligraphy pens, colored markers, glitter glue and drawing pads.
And thats when my inner artist — whod been banished to a corner of my psyche after I graduated from college — finally reasserted herself. I had no idea what she planned do with all the tubes of glitter glue and Magic Markers she tossed in our shopping cart, but she refused to leave the store without them.
I think author John Updike explained it best when he said, "What art offers is space — a certain breathing room for the spirit." Which is exactly what I needed at the time.
A month later, I went shopping for real art supplies at Michael's craft store, where I also discovered several art magazines featuring how-to articles on mixed-media collage and altered books. I couldn't learn fast enough. By the end of that fall, Id started clearing space for an art studio upstairs above the garage. While my son studied (and partied) through his freshman year at college, I happily painted, cut, and pasted a whole new path of my own.
No matter how old we are, school bells signal a change of seasons and inspire us all to start something fresh. For me, its time to put the garden to rest and head back indoors to discover where art will lead me next. In preparation for a new season of creative projects, Ive already swept the floor of the studio, which I now consider my classroom. Last week I made a list of the things I'll need to get started — and I can hardly wait to shop for my new supplies. — Cindy La Ferle
"Like"

my author page on Facebook

for additional updates, inspirational quotes, and creativity tips.