A dog, I have always said, is prose; a cat is a poem."  ~Jean Burde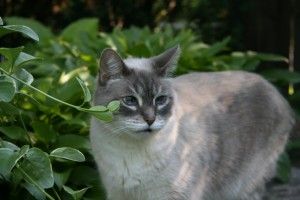 We lost a dear friend today. Sixteen years ago, when Nate was a boy, the two of us drove to the Royal Oak Animal Shelter after school. We were "just looking" and had no intention of adopting another cat. But we saw this gorgeous litter of kittens — half Siamese and half tabby. We adopted one on the spot and named her Emma Lou Lilypad.
She lived a long life, never causing a minute of trouble. She loved eating tuna for lunch and napping in the sun. She was devoted to her owners and never forgot Nate, even after he left for college.  She was one of the finest cats who ever owned us, and we will miss her.