You will always be lucky if you know how to make friends with strange cats." — English proverb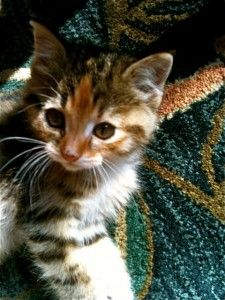 According to the Feral Cat Coalition, wild (or "feral") cats are the offspring of domestic cats. These feral kitties are the result of negligent pet owners who abandon their pets — and fail to spay or neuter them.
Feral cat colonies can be found behind local businesses or in alleys, parks, abandoned buildings, and rural areas. Or even in well-manicured subdivisions like my own Vinsetta Park in Royal Oak.
This week's "No Place Like Home" column describes how we found our new kitten, Izzie — and what our neighborhood is doing to find homes for other orphaned kittens. Also includes are tips and reader comments on what to do if you find a feral cat or kitten you're unable to keep. Click here to read it and to see more photos of the adorable, incomparable Izzie. –CL
–Photo above: Izzie relaxing at home, a week after she was rescued.–