Clutter is the disease of American writing. We are a society strangling in unnecessary words, circular constructions, pompous frills, and meaningless jargon. Remember the four basic premises of writing: clarity, brevity, simplicity, and humanity." — William Zinsser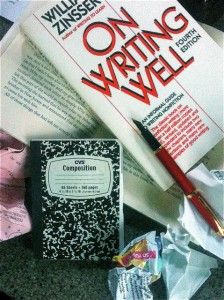 Good lord. We're getting ready to move my mother from a nursing center into an assisted living residence. But first we must wade through a murky river of paperwork.
So, I've spent a large chunk of the holiday week poring over pages of butt-covering legal documents (including a lease agreement) — and getting them signed by various doctors and assisted living staffers. Why must it be confusing and laborious? Why does it require 35 pages … instead of three or four?
In the process, I can't help but think of William Zinsser and his marvelous books on the craft of writing. Legalese (not to mention medical jargon) is the polar opposite of what the great Yale professor describes as good, clear writing. Clarity, brevity, simplicity, and humanity. I can only conclude that something isn't "legal" unless it's none of these. — CL